My Bright Abyss: Meditation of a Modern Believer (Hardcover)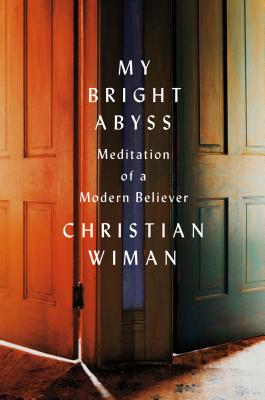 Click on "Ask A Bookseller" to contact us via email for more information about this title.
Description
---
Seven years ago, Christian Wiman, a well-known poet and the editor of Poetry magazine, wrote a now-famous essay about having faith in the face of death. My Bright Abyss, composed in the difficult years since and completed in the wake of a bone marrow transplant, is a moving meditation on what a viable contemporary faith—responsive not only to modern thought and science but also to religious tradition—might look like.
Joyful, sorrowful, and beautifully written, My Bright Abyss is destined to become a spiritual classic, useful not only to believers but to anyone whose experience of life and art seems at times to overbrim its boundaries. How do we answer this "burn of being"? Wiman asks. What might it mean for our lives—and for our deaths—if we acknowledge the "insistent, persistent ghost" that some of us call God?
One of Publishers Weekly's Best Religion Books of 2013
About the Author
---
Christian Wiman is the author of several books, including a memoir, My Bright Abyss: Meditation of a Modern Believer (FSG, 2013); Every Riven Thing (FSG, 2010), winner of the Ambassador Book Award in poetry; and Stolen Air: Selected Poems of Osip Mandelstam. From 2003 to 2013, he was the editor of Poetry magazine. He currently teaches religion and literature at the Yale Institute of Sacred Music and Yale Divinity School. He lives in Connecticut.
Praise For…
---
"[Christian Wiman's] poetry and his scholarship have a purifying urgency that is rare in this world. This puts him at the very source of theology, and enables him to say new things in timeless language, so that the reader's surprise and assent are one and the same." —Marilynne Robinson, Pulitzer Prize–winning author of Gilead
"Every generation needs someone to write about faith as lucidly as Christian Wiman does in this 'meditation of a modern believer.'" —The Wall Street Journal
"Christian Wiman's My Bright Abyss creates in the reader the keen, poetic attention of a man with a cancer diagnosis trying to remain fully present in his life. His spiritual ancestors are C. S. Lewis and Thomas Merton. Like Lewis, he's surprised by the joy of falling in love. Like Merton, he captures the smugness that can poison some atheists as it does some believers. This masterwork of doubt and faith, literature and theology, will affect nonbelievers and spiritual seekers alike." —Mary Karr, author of Lit and The Liar's Club
"In another day and age, this book would be called a revelation, a mysticism, a holy text. What does it mean for a modern man to believe? In this extremely moving narrative, this question is asked with grace and fury, with astonishing eloquence and courage that only a few can equal in our time. It will be read for years and years to come." —Ilya Kaminsky, author of Dancing in Odessa
"Forged from pain, like most masterpieces, My Bright Abyss provides an advanced course in applied mysticism for the twenty-first century." —Eliza Griswold, author of The Tenth Parallel
"Christian Wiman has written a moving, thoughtful meditation on faith and poetry that is really a treatise on meaning: where we find it, what it offers us, whether it can mitigate pain. There's a luminous clarity in these pages, the kind that comes only when a writer is facing ultimate questions." —Meghan O'Rourke, author of The Long Goodbye
"My Bright Abyss . . . has unlocked the universe for me. My soul sang alongside every word. It's an instant classic, will be revered a hundred years from now." —Jamie Quatro, The Fine Delight
"Like the classic mystics, [Wiman] often resorts to a language of paradox to convey things that ordinary language can't … Wiman speaks carefully but powerfully . . . The best that can come from contemplation of mortality, perhaps, is a kind of wisdom that can give others strength--not by answering questions, like those best-sellers which claim to tell you what happens after you see the white light, but by asking questions honestly . . . My Bright Abyss is a book that will give light and strength, even to those who find themselves unable to follow its difficult path." —Adam Kirsch, The New Yorker
"This is a daring and urgent book . . . More than any other contemporary book I know, My Bright Abyss reveals what it can mean to experience St. Benedict's admonition to keep death daily before your eyes . . . Wiman is relentless in his probing of how life feels when one is up against death . . . With both honesty and humility, Wiman looks deep into his doubts his suspicion of religious claims and his inadequacy at prayer. He seeks 'a poetics of belief, a language capacious enough to include a mystery that, ultimately, defeats it, and sufficiently intimate and inclusive to serve not only as individual expression but as communal need. This is a very tall order, and Wiman is a brave writer to take it on . . . Wiman mounts a welcome, insightful and bracing assault on both the complacent pieties of many Christians and the thoughtless bigotry of intellectuals who regard Christian faith as suitable only for idiots or fools . . . This pithy and passionate book is not easy, but it is rewarding. Wiman's finely honed language can be vivid and engaging . . . He exhibits a poet's concern for precision . . . This is, above all, a book about experience, and about seeking a language that is adequate for both the fiery moments of inspiration and the 'fireless life' in which we spend most of our days. It is a testament to the human ability to respond to grace, even at times of great suffering, and to resolve to live and love more fully even as death draws near." —Kathleen Norris, The New York Times Book Review
"Burnished and beautiful, My Bright Abyss is a sobering look at faith and poetry by a man who believes fiercely in both, but fears he might be looking at them for the last time. Wiman's memoir is innovative in its willingness to interrogate not only religious belief, but one of its most common surrogates, literature . . . Wiman's story is chiefly a love affair: of a poet with words, of a husband with his wife and two daughters, of a believer with the holy . . . Here is a poet wrestling with words the way that Jacob wrestled the angel . . . Wiman calls his memoir the "Meditation of a Modern Believer," and it is that, but more than meditation, it is an apologia and a prayer, an invitation and a fellow traveler for any who suffer and all who believe." —Casey N. Cep, The New Republic
"In verse and poetry alike, Christian Wiman possesses and endearing and profound spiritual sensibility . . . My Bright Abyss is built of prose so lyrical and true you want to roll it around in your mouth and then speak it to strangers on the street . . . Wiman refuses easeful conclusions, he celebrates the verse and the two-faced joy at the hub of our lives--Nietzsche's tragic joy--and in doing so he has written what will be for many a life-changing book." —William Giraldi, Virginia Quarterly Review
"My Bright Abyss gives us eleven essays that are at once personal and philosophical, critical and inclusive. If it is possible to prolifically and empathetically investigate each existential imperative--death, art, love, and God--Wiman has offered us the closest thing . .. The essays are not unlike a poem in a collection, adding bone to the body, yet strong enough to stand alone. Each is immersed in conversation with the others, anchored to a common ambition: to restore the sacred extrapolation of our imaginations, the unfurling of faith and love in the moment of creating . . . Wiman writes with forceful honesty. His hope lays on the inchoate edge of impossibility and because of that becomes nearly tangible . . . The maturity of Wiman's voice, the quiet that suffuses his words and indicates his gravity of introspection, and the gorgeous cadence offered in damn near every sentence make this one book I'll relentlessly recommend to those peering into the terrifying and beautiful abyss--which is to say, anyone and everyone. We are indebted to him, a poet who revels in the limitations of language in My Bright Abyss and therefore, consequently and in a blaze, transcends those limitations." —Caitlin Mackenzie, HTMLGiant
"In My Bright Abyss: Meditation of a Modern Believer . . . Christian Wiman--himself a fine poet and translator of the Russian poet and essayist Osip Mandelstam--contemplates the meaning of poetic incarnation in specifically Christian terms, drawing on a wide range of authors. He blends poetry (his own and others'), criticism, theological speculation, and memoir in ways that defy easy categorization . . . Throughout My Bright Abyss, Wiman avoids formulaic responses. His prose is poetry in the truest sense: language adequate to one person's experience . . . Wiman's book is a moving argument for the use of poetry as a spiritual guide . . . [Wiman] shows us what happens to a man when his relation to the divine is reawakened, his mind becoming alert in ways previously unimaginable. That alertness carries over into his readings of poetry, which occur in a pressured context, as the language of the poems becomes part of his evolving mental landscape, part of his recovery, his spiritual (as well as physical) survival . . . In My Bright Abyss, Wiman offers a demonstration of what faith means to a critic: not a new way of life but, more mysteriously, the old life freshly understood, filtered through a range of texts. He reminds us that revelation comes not in a whirlwind or fire, but in that 'still, small voice' that came to Elijah in the desert. 'The voice is always there, for everyone,' writes Wiman. 'For some of us, unfortunately, it takes terror and pain to make us capable of hearing it.' It is this urgency that separates the wheat from the chaff among critics." —Jay Parini, The Chronicle Review
"Wiman isn't the least bit sentimental or nostalgic about the deeply Christian faith that provides the bedrock for his meditation . . . I can think of only a handful of writers I've read who have diagnosed the contemporary spiritual condition as poignantly as Wiman. But he doesn't stop at 'reading the times.' Wiman weaves an intensely personal account of the hard work of maintaining belief in the midst of a culture determined to identify itself as secular . . . The poet is always wide-eyed and available to the world, but Wiman has the kind of gaze that Flannery O'Connor says is peculiar to the Catholic writer: their seeing continues deep beneath the surface of what all of us can plainly see . . . [My Bright Abyss] is breathtakingly beautiful and astonishing in its wisdom. . . hands down, the best book I've read in more than a decade." —Kurt Armstrong, Geez Magazine
"A set of sublimely original spiritual reflections . . . Beyond the autobiographical elements of the book, beyond the translucent prose that this gifted poet offers us, its more universal value is its presentation of a modern believer . . . This is a book to take in small bites, to savor and study. You cannot read it impatiently. It will challenge you, believer or not, to think again about the things that are most important. Above all, Wiman demonstrates how to be fully human and deeply religious in a way that is free of cant and fully open to sharing the pain of the world, perhaps in order to bring it to new life . . . Wiman speaks to today in ways that very few other spiritual writers have attained, causing his readers to become a little more alive, with all that might mean for a fuller insertion into the pain and the joy of the world." —Paul Lakeland, National Catholic Reporter
"Wiman infuses his writing with lyricism and a playfulness with language . . . He augments his own mastery of language with the liberal use of quotations from other poets and writers, spanning an impressive range of literary backgrounds. Wiman's depth of knowledge as a reader truly undergirds this work, as he invokes everyone from George Herbert to Simone Weil, Dietrich Bonheoffer to Seamus Heaney. As the author struggles to understand God, he also struggles to comprehend the institution of Christianity, seeing in it deep flaws, an inability to fully grasp the depth of the God it proclaims, and what he sees as a childish clinging to legend and myth . . . Poignant and focused . . . Wiman's grasp of the written word carries this unconventional faith memoir." —Kirkus