Lila (Oprah's Book Club): A Novel (Hardcover)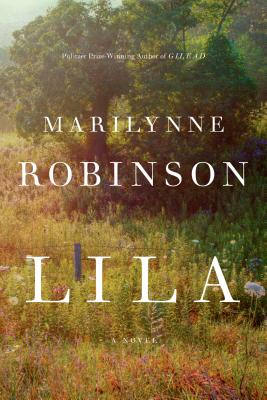 Email orders@greenlightbookstore.com for information about this item.
Out of Print / Unavailable
October 2014 Greenlight First Editions Club Selection
October 2014 Indie Next List
---
"Robinson revisits the characters from the Pulitzer Prize-winning Gilead and its companion novel, Home, with her new novel covering the backstory of minister John Ames' young wife, whose raffish beginnings as a migrant worker are told in a series of time shifts. The ebb and flow of the story and the rhythm of the sentences seem effortless, and the skill of a master storyteller at work is fully on display. In Gilead, Iowa, Robinson has created her own Yoknapatawpha County, and if Alice Munro is regarded as our modern-day Chekhov, surely Robinson is our contemporary Faulkner. An impressive work."
— Matthew Lage, Iowa Book L.L.C., Iowa City, IA
Description
---
The New York Times Bestseller
Winner of the National Book Critics Circle Award
National Book Award Finalist

A new American classic from the Pulitzer Prize-winning author of Gilead and Housekeeping

Marilynne Robinson, one of the greatest novelists of our time, returns to the town of Gilead in an unforgettable story of a girlhood lived on the fringes of society in fear, awe, and wonder.

Lila, homeless and alone after years of roaming the countryside, steps inside a small-town Iowa church-the only available shelter from the rain-and ignites a romance and a debate that will reshape her life. She becomes the wife of a minister, John Ames, and begins a new existence while trying to make sense of the life that preceded her newfound security.

Neglected as a toddler, Lila was rescued by Doll, a canny young drifter, and brought up by her in a hardscrabble childhood. Together they crafted a life on the run, living hand to mouth with nothing but their sisterly bond and a ragged blade to protect them. Despite bouts of petty violence and moments of desperation, their shared life was laced with moments of joy and love. When Lila arrives in Gilead, she struggles to reconcile the life of her makeshift family and their days of hardship with the gentle Christian worldview of her husband which paradoxically judges those she loves.

Revisiting the beloved characters and setting of Robinson's Pulitzer Prize-winning Gilead and Home, a National Book Award finalist, Lila is a moving expression of the mysteries of existence that is destined to become an American classic.
About the Author
---
Marilynne Robinson is the author of Gilead, winner of the 2005 Pulitzer Prize for Fiction and the National Book Critics Circle Award; Home (2008), winner of the Orange Prize and the Los Angeles Times Book Prize; Lila (2014), winner of the National Book Critics Circle Award; and Jack (2020), a New York Times bestseller. Her first novel, Housekeeping (1980), won the PEN/Hemingway Award. Robinson's nonfiction books include The Givenness of Things (2015), When I Was a Child I Read Books (2012), Absence of Mind (2010), The Death of Adam (1998), and Mother Country (1989). She is the recipient of a 2012 National Humanities Medal, awarded by President Barack Obama, for "her grace and intelligence in writing." Robinson lives in California
Praise For…
---
"Writing in lovely, angular prose that has the high loneliness of an old bluegrass tune, Ms. Robinson has created a balladlike story . . . The novel is powerful and deeply affecting . . . Ms. Robinson renders [Lila's] tale with the stark poetry of Edward Hopper or Andrew Wyeth." —Michiko Kakutani, The New York Times

"Lila is a book whose grandeur is found in its humility. That's what makes Gilead among the most memorable settings in American fiction . . . Gilead [is] a kind of mythic everyplace, a quintessential national setting where our country's complicated union with faith, in all its degrees of constancy and skepticism, is enacted." —Sam Sacks, The Wall Street Journal

"My message is simple. Even if you haven't found the two previous books to your taste, give Lila a try . . . what we get . . . is the highest fictional magic: a character who seems so real, it's hard to remember that she exists only in the page of this book." —John Wilson, Chicago Tribune

"Lila, Marilynne Robinson's remarkable new novel, stands alone as a book to read and even read again. It's both a multilayered love story and a perceptive look at how early deprivation causes lasting damage . . . Robinson is a novelist of the first order." —Ellen Heltzel, The Seattle Times

"Grade: A Emotionally and intellectually challenging, it's an exploration of faith in God, love, and whatever else it takes to survive." —Entertainment Weekly

"Gorgeous writing, an absolutely beautiful book . . . This should come as no surprise to anyone familiar with Robinson, a novelist who can make the most quotidian moments epic because of her ability to peel back the surfaces of ordinary lives . . . [a] profound and deeply rendered novel." —David L. Ulin, Los Angeles Times

"Marilynne Robinson is one of the great religious novelists, not only of our age, but any age . . . Not even gorgeous is a strong enough word for what grandeur charges the pages of Lila." —Casey Cep, New Republic

"Written in beautiful, precise language, [Lila] glows like a banked fire that provides steady illumination. Lila should prompt first-time Robinson readers to track down her other works." —Martha Woodall, Philadelphia Inquirer

"Set aside the idea that Housekeeping, Marilynne Robinson's groundbreaking 1980 debut novel, should be on anyone's short list for the Great American Novel . . . It's just as well to open Lila with no preconceptions and just star reading. The pages in this volume are dense, but once you release yourself to Robinson's rhythms, the rewards are profound and layered, and what was intimidating becomes magnetic." —The Denver Post

"Ever since the publication of Robinson's thrilling first novel, Housekeeping, reviewers have been pointing out that, for an analyst of modern alienation, she is an unusual specimen: a devout Protestant, reared in Idaho. She now lives in Iowa City, where she teaches at the Iowa Writers' Workshop and where, for years, she has been accustomed to interrupting her career as a novelist to produce essays on such matters as the truth of John Calvin's writings. But Robinson's Low Church allegiance has hugely benefited her fiction . . . This is an unflinching book." —Joan Acocella, The New Yorker

"Marilynne Robinson tracks the movements of grace as if it were a wild animal, appearing for fleeting intervals and then disappearing past the range of vision, emerging again where we least expect to find it. Her novels are interested in what makes grace necessary at all--shame and its afterlife, loss and its residue, the limits and betrayals of intimacy. In Lila, her brilliant and deeply affecting new novel, even her description of sunlight in a St. Louis bordello holds a kind of heartbreak." —Leslie Jamison, The Atlantic

"Radiant . . . As in Gilead and Home, Robinson steps away from the conventions of the realistic novel to deal with metaphysical abstractions, signaling by the formality of her language her adoption of another convention, by which characters inhabiting an almost Norman Rockwell-ish world . . . live and think on a spiritual plane . . . [Lila is] a mediation on morality and psychology, compelling in its frankness about its truly shocking subject: the damage to the human personality done by poverty, neglect and abandonment." —Diane Johnson, The New York Times Book Review

"In her new novel, Lila, Marilynne Robinson has written a deeply romantic love story embodied in the language and ideas of Calvinist doctrine. She really is not like any other writer. She really isn't . . . Robinson has created a small, rich and fearless body of work in which religion exists unashamedly, as does doubt, unashamedly." —Cathleen Schine, The New York Review of Books

"Robinson's genius is for making indistinguishable the highest ends of faith and fiction . . . The beauty of Robinson's prose suggests an author continually threading with spun platinum the world's finest needle." —Michelle Orange, Bookforum

"The protagonist of the stunning Lila is as lost a character as can be found in literature . . . Don't hesitate to read Lila . . . It's a novel that stands on its own and is surely one of the best of the year." —Holly Silva, St Louis Post-Dispatch

"Existence and 'all the great storms that rise in it' are at the heart of Marilynne Robinson's glorious new novel, Lila . . . Lila is--at once--powerful, profound, and positively radiant in its depiction of its namesake, a child reared by drifters who finds a kindred soul in 'a big, silvery old man,' the Rev. John Ames . . . Life, death, joy, fear, doubt, love, violence, kindness--all of this, and more, dwells in Lila, a book, I will venture, already for the ages, its protagonist engraved upon our souls." —Karen Brady, The Buffalo News

"Lila is a dark, powerful, uplifting, unforgettable novel. And Robinson's Gilead trilogy--Gilead, Home, and Lila--is a great achievement in American fiction." —Bryan Wooley, Dallas Morning News

"Starred Review This third of three novels set in the fictional plains town of Gilead, Iowa, is a masterpiece of prose in the service of the moral seriousness that distinguishes Robinson's work . . . Lila is a superb creation. Largely uneducated, almost feral, Lila has a thirst for stability and knowledge." —Publishers Weekly

"*Starred Review* Robinson has created a tour de force, an unforgettably dynamic odyssey, a passionate and learned moral and spiritual inquiry, a paean to the earth, and a witty and transcendent love story--all within a refulgent and resounding novel so beautifully precise and cadenced it wholly tranfixes and transforms us." —Donna Seaman, Booklist

"*Starred Review* This is a lovely and touching story that grapples with the universal question of how God can allow his children to suffer. Recommended for fans of Robinson as well as those who enjoyed Elizabeth Strout's Olive Kitteridge, another exploration of pain and loneliness set against the backdrop of a small town." —Evelyn Beck, Library Journal

"Literary lioness Robinson--she's won a Pulitzer Prize for fiction, a Hemingway Foundation/PEN Award, and a National Book Critics Circle Award, among other laurels--continues the soaring run of novels with loosely connected story lines and deep religious currents that she launched a decade ago, almost a quarter century after her acclaimed fiction debut, Housekeeping . . . Lila's journey--its darker passages illuminated by Robinson's ability to write about love and the natural world with grit and graceful reverence--will mesmerize both longtime Robinson devotees and those coming to her work for the first time." —Elle
Coverage from NPR