Breathing Fire: Female Inmate Firefighters on the Front Lines of California's Wildfires (Hardcover)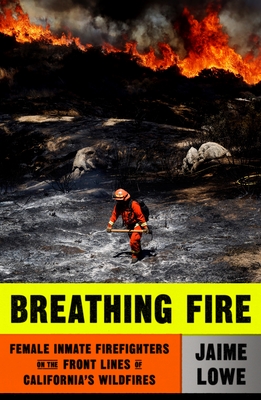 $27.00

Not In Store / Available To Order (allow for shipping time to bookstore or direct-to-home)
Description
---
A dramatic, revelatory account of the female inmate firefighters who battle California wildfires.

Shawna was overcome by the claustrophobia, the heat, the smoke, the fire, all just down the canyon and up the ravine. She was feeling the adrenaline, but also the terror of doing something for the first time. She knew how to run with a backpack; they had trained her physically. But that's not training for flames. That's not live fire.

California's fire season gets hotter, longer, and more extreme every year — fire season is now year-round. Of the thousands of firefighters who battle California's blazes every year, roughly 30 percent of the on-the-ground wildland crews are inmates earning a dollar an hour. Approximately 200 of those firefighters are women serving on all-female crews.

In Breathing Fire, Jaime Lowe expands on her revelatory work for The New York Times Magazine. She has spent years getting to know dozens of women who have participated in the fire camp program and spoken to captains, family and friends, correctional officers, and camp commanders. The result is a rare, illuminating look at how the fire camps actually operate — a story that encompasses California's underlying catastrophes of climate change, economic disparity, and historical injustice, but also draws on deeply personal histories, relationships, desires, frustrations, and the emotional and physical intensity of firefighting.

Lowe's reporting is a groundbreaking investigation of the prison system, and an intimate portrayal of the women of California's Correctional Camps who put their lives on the line, while imprisoned, to save a state in peril.
About the Author
---
Jaime Lowe is the author of Mental, a memoir about lithium and bipolar disorder, and Digging for Dirt: The Life and Death of ODB, a biography of Ol' Dirty Bastard, a founding member of the Wu-Tang Clan. She is a frequent contributor to the New York Times magazine and other national and international publications. Lowe has contributed to This American Life and Radiolab, and has been featured on NPR and WNYC numerous times.
Praise For…
---
"[Breathing Fire is] gripping and heartbreaking. No elegiac spin on young women and fire, this hard-hitting book weaves together the stories of women . . . with a broader examination of [California's] history of exploiting incarcerated laborers, as well as the role that prison firefighters play during our time of intensifying, climate-change-fueled wildfires."
—MATT JAFFE, San Francisco Chronicle

"Lowe's compassionate and deeply empathetic book . . . show[s] how a significant portion of California's response to the ravages of climate change has been built upon the backs of incarcerated labor . . . [Breathing Fire] brings into sharp relief how an entire class of people are performing labor under conditions approaching complete enslavement. Her important book also points to the uncomfortable truth that the front lines of the fight against climate change are peopled with those society has forgotten."
—LORRAINE BERRY, The Minneapolis Star Tribune

"Riveting from the first page, Jaime Lowe's Breathing Fire is an unsentimental and vividly human portrait of a group of women in an inmate firefighting program that every Californian relies on—a program that the state presents as transformative and redemptive even as these women risk their lives for dollars a day and emerge into abandonment. Lowe's writing is kinetic, her focus is resolutely intimate even as her frame remains far-reaching, and her reporting is essential. This book is a lasting entry in the pantheon of California nonfiction, that literature of desperation and promise and emergency."
—JIA TOLENTINO, author of Trick Mirror

"In recent years, women inmates have joined the army of prison labor that California relies upon to fight its wildfires, whether defending the Sequoias or celebrity homes on the Malibu Coast. It is dangerous, relentless work that ultimately depends upon the arduous personal transformations that create unity and fighting spirit within each fire crew. Against the background of recent megafires, Lowe chronicles the transcendent moments of triumph and tragedy that stir ambitions of a new life, but then recounts the systemic cruelty that undermines every hope of translating their new skills and hard-won self-confidence into civilian careers. Lionesses betrayed."
—MIKE DAVIS, author of City of Quartz and Ecology of Fear

"Breathing Fire is a powerful examination of the lives of the Malibu 13, whose labor, like that of the hundreds of incarcerated women who live (and sometimes die) fighting wildland fires, keeps the residents of the State of California safe each year. But this book is so much more. It is the story of friendship, and of prisons, jails, and foster homes, and of love and family life and labor in the wake of mass incarceration. Lowe's vivid and sensitive account walks us through a history of confinement in California through the arrest, imprisonment, release and collective mourning of a generation of women caught in the gears of the American criminal justice system."
—REUBEN JONATHAN MILLER, author of Halfway Home: Race, Punishment and the Afterlife of Mass Incarceration

"With dogged reporting, and an unforgettable cast of strong women as its memorable characters, Breathing Fire tells a powerful story. The heroes here are women inmates fighting for their lives on burning hillsides, and inside prison yards and bad relationships. They seek redemption with chainsaws, shovels and axes in hand. Jaime Lowe tells their story with respect and compassion, and with a sharp eye for injustice."
—HÉCTOR TOBAR, author of Deep Down Dark

"Jaime Lowe's deeply reported, intimate account of the women on the front lines of climate change and its horrific tolls knocked the wind out of me. Breathing Fire is about risk and loss and injustice and terror, told through keenly inscribed individual stories; it is riveting and heartbreaking."
—REBECCA TRAISTER, author of Good and Mad: The Revolutionary Power of Women's Anger and All the Single Ladies: Unmarried Women and the Rise of an Independent Nation

"We see and hear and breathe with the women Jaime Lowe profiles as they fight forest fires while also doing time. Her deep reporting and immersive storytelling animates every page of this intimate and powerful book, which is also a snapshot of unnerving environmental change."
—EMILY BAZELON, author of Charged: The New Movement to Transform American Prosecution and End Mass Incarceration

"A book as humane, generous and brave as its heroines, Breathing Fire is the journalism we need now, an urgent story from our carceral front lines given to us by a writer brilliantly alert to vulnerability and strength. A very good book about fire; a profound book about courage and care."
—JEFF SHARLETT, New York Times bestselling author of The Family

"There is no bleaker glimpse of the superheated future we're all hurtling toward than the fact that female inmates, many of them women of color, are earning roughly $1 an hour protecting the rest of wealthy California from its growing wildfires. Jaime Lowe's powerful, immersive book makes it impossible to ignore the reality of their lives—and the reality that we can do better."
—MCKENZIE FUNK, author of Windfall: The Booming Business of Global Warming

"A detailed and infuriating depiction of America's inhumane practice of deploying inmate firefighters . . . Lowe writes compellingly . . . [Breathing Fire] is a story of 21st-century chain gangs in the star-studded hills of Malibu battling the consequences of climate change and of a country lost in the mire of seemingly endless mass incarceration."
—KIRKUS REVIEWS

Breathing Fire brings nuance to the lived experiences of the women inmates who are helping the state face an increasingly grim future of wildfire, and to Jones, the first of them to die on the job. But it never loses sight of the central truth: they should never have been asked to do this in the first place.
—ERIN BERGER, Outside