Man of My Time: A Novel (Hardcover)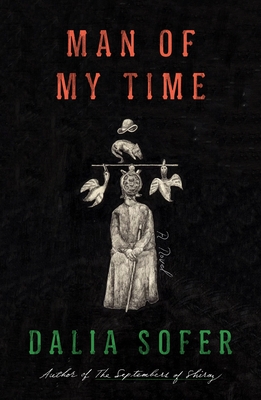 $27.00
Email orders@greenlightbookstore.com for information about this item.
Description
---
One of The New York Times's 100 Notable Books of 2020. A New York Times Book Review Editors' Choice.

"Finely wrought, a master class in the layering of time and contradiction that gives us a deeply imagined, and deeply human, soul." --Rebecca Makkai, The New York Times Book Review

From the bestselling author of The Septembers of Shiraz, the story of an Iranian man reckoning with his capacity for love and evil

Set in Iran and New York City, Man of My Time tells the story of Hamid Mozaffarian, who is as alienated from himself as he is from the world around him. After decades of ambivalent work as an interrogator with the Iranian regime, Hamid travels on a diplomatic mission to New York, where he encounters his estranged family and retrieves the ashes of his father, whose dying wish was to be buried in Iran.

Tucked in his pocket throughout the trip, the ashes propel him into a first-person excavation—full of mordant wit and bitter memory—of a lifetime of betrayal, and prompt him to trace his own evolution from a perceptive boy in love with marbles to a man who, on seeing his own reflection, is startled to encounter someone he no longer recognizes. As he reconnects with his brother and others living in exile, Hamid is forced to reckon with his past, with the insidious nature of violence, and with his entrenchment in a system that for decades ensnared him.

Politically complex and emotionally compelling, Man of My Time explores variations of loss—of people, places, ideals, time, and self. This is a novel not only about family and memory but about the interdependence of captor and captive, of citizen and country, of an individual and his or her heritage. With sensitivity and strength, Dalia Sofer conjures the interior lives of the "generation that had borne and inflicted what could not be undone."
About the Author
---
Dalia Sofer is the author of the national bestseller The Septembers of Shiraz, winner of the PEN/Robert Bingham Prize, a finalist for the National Jewish Book Award, long-listed for the Orange Prize, and a New York TimesNotable Book. It was published in sixteen countries. Sofer is a recipient of a Whiting Award, and her work has appeared in The New York Times Book Review, The Believer, the Los Angeles Review of Books, and elsewhere. She was born in Tehran, Iran, and moved to the United States with her family as a child.
Praise For…
---
"With Sofer's considerable talents, the betrayals (of both self and others) that leave Hamid a brittle shell of a man are fully worthy of our intense gaze . . . [Man of My Time is] finely wrought, a master class in the layering of time and contradiction that gives us a deeply imagined, and deeply human, soul." --Rebecca Makkai, The New York Times Book Review

"Sofer is at her best evoking Hamid's pugnacious youth. The novel's prerevolutionary Iran is a cauldron of disparate discontents . . . The aphoristic elegance of Sofer's writing is one of the book's attractions." --Sam Sacks, The Wall Street Journal

"Assured, accomplished . . . [Sofer's] portrait of [Hamid's] political evolution and interior deterioration is extraordinary . . . Certainly there is some horror and violence in Man of My Time, but it is all the more chilling for its restraint." --Azadeh Moaveni, The Times Literary Supplement

"An exploration of how political and social upheavals leave their marks on entire generations, and irrevocably alter those involved . . . Sofer's lyrical, underline-worthy sentences contrast with Hamid's lack of remorse and awareness . . . The novel's most poignant insight derives from the irony that we as readers are trapped in a chronicle of a man who lacks self-awareness." --Julie Hakim Azzam, Pittsburgh Post-Gazette

"Mesmerizing and unsettling . . . The tension between the elegance of Sofer's language and the nihilistic unraveling of her antihero emphasizes the irony of the title, which lays bare the conceit that a person's actions might be excused by historical context. Readers will find Sofer's meditation on power's ability to corrupt as relevant and disturbing as the day's headlines." --Publishers Weekly (starred review)

"In her powerful second novel, Sofer portrays a man whose principles have estranged him from his loved ones . . . A gorgeously written character study that examines, with sensitivity and pathos, the small steps that lead a man down an unexpected and ultimately isolating path." —Kristine Huntley, Booklist (starred review)

"Sofer brings compassion, insight, and acerbic humor to her depiction of a man at once too intelligent to altogether ignore the consequences of his behavior yet helpless to withstand the turbulent momentum of history. A perceptive, humane inquiry into Iran's history and soul." --Kirkus (starred review)

"A memorable and difficult character who can be seen as embodying the spiritual distress of Iran since the 1978 revolution. A powerful, complex, and profoundly anguished novel made more relevant by current tensions." --Library Journal (starred review)

"Now more than ever the world needs Dalia Sofer's voice. Man of My Time is a brilliant, gripping account of countries, politics, and the long reach of history. But it's also a story of family, the human soul and what it means to be alive today—for Iranians and Americans alike. This book could not have arrived at a more urgent time." —Saïd Sayrafiezadeh, author of Brief Encounters With the Enemy and When Skateboards Will Be Free

"With Iran so intensely before us, Man of My Time does what only fiction can do. We are inside the mind of a man whose choices keep stunning us, in the violence of politics and in the intimacy of family. A masterful novel, eye-opening in its tale of the multiplying costs of betrayal." —Joan Silber, author of Improvement

"In Dalia Sofer's engrossing and deeply moving novel, the revolution devours it children. Her memorably flawed narrator Hamid imperfectly navigates violence, inheritance, betrayal, and "so much sorrow" in post-revolutionary Iran. It is a beautifully conceived and heartbreaking family portrait." —Mark Sarvas, author of Memento Park

"In the grand tradition of confessionals, Dalia Sofer's wry but troubled narrator unfolds a riveting tale of a man rotting from the inside, just as his nation, Iran, and so much of the rest of the world today is also in moral convulsions. Both wrenching and wise, Man of My Time gives the reader food for thought in every elegantly-wrought sentence and on every level at once: the political, personal, historical and philosophical. A brilliant examination of the roots and fragility of human morality, this is one of the great books of our age." —Helen Benedict author of Wolf Season and Sand Queen

"Dalia Sofer's bold and beautiful novel explores boundaries that are geographical, political, ethical, and temporal. Her unsparing yet empathic portrait of Hamid Mozaffarian challenges facile notions about the distance between good and evil, right and wrong, judgment and redemption. At once haunted and haunting, Man of My Time is very much a book for our time." —Michael Frank, author of What is Missing