Punch Me Up To The Gods: A Memoir (Paperback)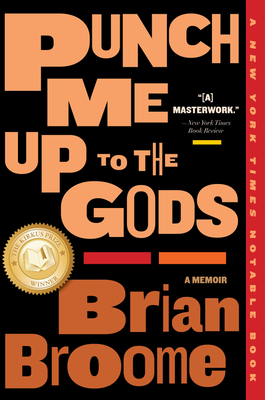 $17.99

Available In Store Now (while supplies last)
Staff Reviews
---
This memoir is poetic, graceful, and gorgeous and simultaneously raw, heart-wrenching, and brutal. Brian Broome has so generously shared with us his very honest and evocative journey to allowing himself the permission to exist in his own skin and take up space in this world. I will never be able to recommend this book highly enough. 
— Autumn
Description
---
WINNER OF THE KIRKUS PRIZE • WINNER OF A LAMBDA LITERARY AWARD • NEW YORK TIMES NOTABLE BOOK • NEW YORK TIMES EDITORS' PICK • STONEWALL HONOR BOOK • NAMED A BEST BOOK OF THE YEAR BY PUBLISHERS WEEKLY, KIRKUS REVIEWS, LIBRARY JOURNAL, AMAZON AND APPLE BOOKS • TODAY SUMMER READING LIST PICK • ENTERTAINMENT WEEKLY BEST DEBUT OF SUMMER PICK • PEOPLE BEST BOOK OF SUMMER PICK
A raw, poetic, coming-of-age "masterwork" (The New York Times)
Punch Me Up to the Gods introduces a powerful new talent in Brian Broome, whose early years growing up in Ohio as a dark-skinned Black boy harboring crushes on other boys propel forward this gorgeous, aching, and unforgettable debut. Brian's recounting of his experiences—in all their cringe-worthy, hilarious, and heartbreaking glory—reveal a perpetual outsider awkwardly squirming to find his way in. Indiscriminate sex and escalating drug use help to soothe his hurt, young psyche, usually to uproarious and devastating effect. A no-nonsense mother and broken father play crucial roles in our misfit's origin story. But it is Brian's voice in the retelling that shows the true depth of vulnerability for young Black boys that is often quietly near to bursting at the seams.
Cleverly framed around Gwendolyn Brooks's poem "We Real Cool," the iconic and loving ode to Black boyhood, Punch Me Up to the Gods is at once playful, poignant, and wholly original. Broome's writing brims with swagger and sensitivity, bringing an exquisite and fresh voice to ongoing cultural conversations about Blackness in America.
About the Author
---
BRIAN BROOME's debut memoir Punch Me Up to the Gods is an NYT Editor's Pick and the winner of the 2021 Kirkus Prize for Nonfiction, the GLAAD Award for Gay Nonfiction, the Publishing Triangle Randy Shilts Award, and was voted an American Library Association Stonewall Honor Book. He is a contributing columnist at The Washington Post.
Broome has been a finalist in The Moth storytelling competition and won the grand prize in Carnegie Mellon University's Martin Luther King Writing Awards. He also won a VANN Award from the Pittsburgh Black Media Federation for journalism in 2019. Broome's film Garbage won the Audience Choice Award at the Cortado Short Film Festival and was a semi-finalist in the Portland Short Fest. His work has appeared in The Guardian, Esquire, and Men's Health.
Praise For…
---
"Punch Me Up to the Gods feels like a gift. There will come a day when some Black child . . . will have read Broome's masterwork and possibly commit to staying alive because of Broome's words. They will tell him that Punch Me Up to the Gods is a testament to the insurgent and ineradicable power of Black queer being. That it reveals that Black queer men are our own best creations." — New York Times Book Review
"An electrifying read. Vulnerable and poetic but filled with a ferocious fire, it grabs you from the first page to the last. Perfect for fans of Sarah Broom, Kiese Laymon, and Barry Jenkins's Moonlight." — Chicago Review of Books
"This devastatingly beautiful memoir about growing up Black and gay in rural Ohio introduces a major literary talent in Broome." — Entertainment Weekly
"Broome debuts with a magnificent and harrowing memoir that digs into the traumas of growing up Black and gay in Ohio in the late 1970s and early '80s . . . There are no easy victims or villains in Broome's painful, urgent telling—his testimony rings out as a searing critique of soul-crushing systems and stereotypes." — Publishers Weekly (starred review)
"An engrossing memoir about growing up Black and gay and finding a place in the world. Structured around Gwendolyn Brooks' poem "We Real Cool," Broome's thought-provoking, emotional journey unfolds through a clever use of parallel stories and juxtaposition . . . Beautifully written, this examination of what it means to be Black and gay in America is a must-read. A stellar debut memoir." — Kirkus Reviews (starred review)
"Bursting at the seams with raw power . . . Broome is a debut author, but you wouldn't know it by his writing. He commands his story and readers' attention in a way that will have them laughing, crying, and screaming along with him . . . Punch Me Up to the Gods is an exquisite and important memoir." — Library Journal (starred review)
"Punch Me Up to the Gods is a pain-filled tour de force of incredible beauty. The writing is as exquisite as the story is at times horrific. A true work of art. Not one of the best new books I've read this year, but quite simply the best." — Sapphire, author of Push and The Kid
"Punch Me Up to the Gods feels like a scream at the end of a summit.... Broome has shattered every rule and has come to make a mess of what we think of as family, Blackness, sexuality, and most importantly, the memoir. With unflinching honesty, he delivers a necessary testament of his refusal to allow the strangling expectations of life to rob him of his personhood. We should all hope to be this courageous, not only in our writing, but in our living." — Jason Reynolds, New York Times best-selling author of Long Way Down and Look Both Ways
"Black, dark, queer, and poor. These are the vectors of Punch Me Up to the Gods. Brian Broome, literary son of the Black modernist giant Gwendolyn Brooks, writes from the center as one declared wrong among the wronged, one cast out of those cast aside, and one who desperately seeks tenderness. And on the hard road of growing up he finds wisdom, poetry, and love. This spectacular, unforgettable, and wholly innovative book is an ethical reckoning that tears us away from cruelty and invites us to witness real beauty." — Imani Perry, author of Looking for Lorraine and Breathe
"This book is light forged from darkness, in the way that James Baldwin's writing is or in the way that Barry Jenkins's Moonlight is but also in a way that is singular and vivid and wholly original.... Punch Me Up to the Gods is furious and dazzling, poetic and gritty. It is vital for every type of reader and a gift to every reader who has had to fight to affirm their existence in this country." — R. Eric Thomas, national best-selling author of Here for It and Reclaiming Her Time
"This hard-hitting, unflinching memoir recounts the horrors of addiction, racism, and homophobia—and how one man survived them all." — Saturday Evening Post
"Broome's debut tells of growing up Black, gay, and poor in a country that values none of those things. Taking his titles from Gwendolyn Brooks's 'We Real Cool,' Broome's writing, even when recalling the roughest experiences, is rich and satisfying, often funny, and always alive." — Boston Globe
"Brian Broome has penned a powerful, emotional memoir about his experience growing up as a sensitive, dark-skinned Black boy in rural Ohio . . . this memoir stands in its own unique lane, strong and true." — Shondaland
"Broome's powerful, sharp-edged memoir, often equal parts horrifying and bleakly funny, is made up of essays focusing on key moments in his life." — Columbus Dispatch
"With conscious nods to Gwendolyn Brooks, Punch Me Up to the Gods is a stunning introduction to a new literary star on the rise." — Bustle
"In his thoroughly electric debut, PUNCH ME UP TO THE GODS, Brian Broome will shatter your heart. Then make you laugh, sweat and cringe. And—all while eviscerating stereotypes and expanding notions of Black masculinity and queer identity—he'll shatter your heart again, then carefully, exquisitely, piece it back together." — Shelf Awareness (starred review)
"Punch Me Up to the Gods obliterates what we thought were the limitations of not just the American memoir, but the possibilities of the American paragraph. I'm not sure a book has ever had me sobbing, punching the air, dying of laughter, and needing to write as much as Brian Broome's staggering debut. This sh*t is special." — Kiese Laymon, New York Times best-selling author of Heavy
"Punch Me Up to the Gods is some of the finest writing I have ever encountered and one of the most electrifying, powerful, simply spectacular memoirs I—or you—have ever read. And you will read it; you must read it. It contains everything we all crave so deeply: truth, soul, brilliance, grace. It is a masterpiece of a memoir and Brian Broome should win the Pulitzer Prize for writing it. I am in absolute awe and you will be, too." — Augusten Burroughs, New York Times best-selling author of Running with Scissors
"In Punch Me Up to the Gods, Brian Broome breaks the rules, and in doing so, breaks our hearts and our minds wide-open. He forces us to question what we think we know about the way narratives are constructed or who becomes a final authority. Memory carries its own weight in this work, the anchor drawing us back to what we already know but are retaught by experiencing Broome's bright and curious language. This thrilling debut sparkles with deft honesty and shakes alive something hiding deep in the night of our psyches." — Camonghne Felix, author of Build Yourself a Boat
"I wish there was a way to teleport Punch Me Up to the Gods back to a twelve or a fifteen or even a twenty-five-year-old me to prove that the anxiety and pressure I felt to perform 'appropriate masculinity' wasn't singular. Brian Broome's remarkable memoir removes the veil from all of the performing, all of the acting, all of the preening, and just reveals, us—as flawed and as funny and as scared and as weird and as human.... But since time machines don't exist (yet), I'll settle for adult me reading Broome's hilarious and heat-seeking missile of a memoir." — Damon Young, author of What Doesn't Kill You Makes You Blacker