Wow in the World: Wow in the Wild: The Amazing World of Animals (Hardcover)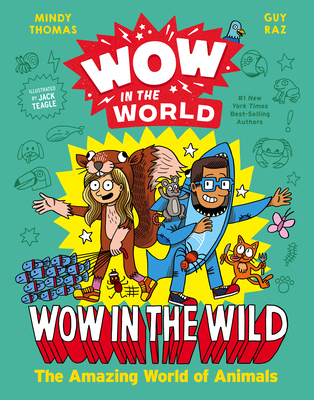 $19.99

Available In Store Now (while supplies last)
Description
---
Based on their #1 kids podcast, Wow in the World, hosts Mindy Thomas and Guy Raz take readers on a hilarious, fact-filled, and highly illustrated journey through the animal kingdom!
Feathers, fins, fur, feet—the animal kingdom is made up of nearly 9 million known species! From flying fish to flightless birds, each living creature has a unique role to play in the life of planet Earth. In this book, Mindy Thomas and Guy Raz, hosts of the mega-popular kids' podcast Wow in the World, will take you on a fact-filled adventure to explore the funniest and most fascinating animals known to humankind.
Sections include:
Build your own insect!
Play hide and seek, chameleon-style!
Look for six signs you might be a fish!
And much, much more!
Featuring hilarious illustrations and filled with facts, jokes, photos, and quizzes, this book is a call to the wild kids of the world. Join us as we venture onto land and into the sky and sea to discover the WOW of Earth's creatures, both big and small.
About the Author
---
Mindy Thomas, co-author of the #1 New York Times bestseller The How and Wow of the Human Body, has been living out her childhood radio dreams for almost two decades by creating radio and audio programs for kids. She's the cocreator, cohost, and head writer of the award-winning Wow in the World and Two Whats?! and a Wow! podcasts. She is also a Gracie award-winning host of the Absolutely Mindy Show. Mindy believes that childhood thrives at the intersection of imagination and curiosity and finds that her best work does too. She lives in northern Virginia with her husband and two kids, and has no plans of ever growing up.
Jack Teagle is a freelance illustrator who has worked in editorial; character design; storyboarding; poster, product, and textile design; and as a cartoonist. Jack paints in his free time and has exhibited his work worldwide. He lives in Southwest England.
GUY RAZ—author of the New York Times bestseller How I Built This and coauthor of the #1 New York Times bestseller The How and Wow of the Human Body and Two Whats?! and a Wow! Think & Tinker Playbook—has been called "one of the most popular podcasters in history" by the New York Times. He is the co-creator and cohost of Wow in the World and Two Whats?! and a Wow! and is the host and creator of NPR's How I Built This podcast and Wisdom from the Top on Luminary. Previously, Guy cocreated and hosted NPR's TED Radio Hour and The Rewind on Spotify. He's been on the radio for more than two decades and has served as a foreign and war correspondent and as a host of All Things Considered. Guy is the father of two boys and lives in the Bay Area where he can often be seen riding his bike in red pants.