In At The Deep End (Paperback)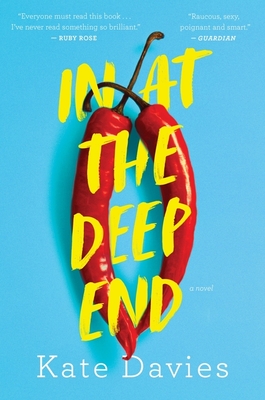 $15.99

Not In Store / Available To Order (allow for shipping time to bookstore or direct-to-home)
Staff Reviews
---
You know when a book ends but you want to keeping flipping the pages, not quite ready to get off the ride? That's In at the Deep End for you. Kate Davies will take you on nothing short of an exhilarating ride and she'll makes no apologizes for it. Poor Julia stumbling through her self-proclaimed and newly minted "lesbian life" is the perfect remedy for readers who wanted The Pisces to be an extra 200 pages. At its core this book is an examination of the wetland between self-discovery and self-assurance, teeming with risqué sex parties, love and things that look like it, and wit! It's everything you need from a rom-com, in book form.
— Ikwo
Description
---
* A Finalist for the Bollinger Everyman Wodehouse Prize for Comic Fiction * One of Autostraddle's Best Queer Books of 2019 * 

A deliciously disarming debut novel about a twenty-something Londoner who discovers that she may have been looking for love—and pleasure—in all the wrong places (i.e., from men).

Julia has had enough. Enough of the sex noises her roommate makes. Enough of her dead-end government job. Enough of the one-night stand who accused her of breaking his penis. The only thing she hasn't had enough of is orgasms; she hasn't had proper sex in three years.

So when Julia gets invited to a warehouse party in a part of town where trendy people who have lots of sex go on a Friday night, she readily accepts. And that night she meets someone: a figurative artist who also happens to be a woman.

Julia's sexual awakening begins; her new lesbian life is exhilarating. She finds her tribe at queer swing-dancing classes, and guided by her new lover Sam, she soon discovers London's gay bars and BDSM clubs—and the complexities of polyamory. Soon it becomes clear that Sam needs to call the shots, and Julia's newfound liberation comes to bear a suspicious resemblance to entrapment . . . 

In at the Deep End is an unforgettable and audacious odyssey through the pitfalls and seductions we encounter on the treacherous path to love and self. 
About the Author
---
KATE DAVIES was born and brought up in north-west London. She studied English at Oxford University before becoming a writer and editor of children's books. She also writes comedy scripts, and had a short-lived career as a burlesque dancer that ended when she was booed off stage at a Conservative club, dressed as a bingo ball. Kate lives in east London with her wife. In at the Deep End is her debut novel.
Praise For…
---
*A Finalist for the Bollinger Everyman Wodehouse Prize for Comic Fiction*  *One of iBooks' 2019 Most Anticipated Books*   *A Publishers Marketplace Buzz Book*  *One of Autostraddle's Best Queer Books of 2019*    "Everyone must read this book. It's absolutely hilarious and devastating. I've never read something so brilliant."  —Ruby Rose    "[A] raucous and raunchy comedy of (bad) manners."  —O, the Oprah Magazine, "30 of the Best LGBTQ Books That'll Change the Literary Landscape in 2019"    "Without a doubt, In at the Deep End by Kate Davies, is the afterparty book for anyone looking to extend their 'Fleabag' fun...Davies' book is raucous, sexy, poignant and smart, and is definitely the most fun you will have with lesbian BDSM short of doing it yourself."  —Hadley Freeman, Guardian (UK)    "This laugh out loud funny British tale follows Julia as she discovers she's been looking for love and pleasure from the wrong place: men. As she explores her new lesbian life, Julia starts dating Sam. What starts out as liberating soon turns dark."  —Autostraddle, "55 of the Best Queer Books of 2019"    "The beauty of this novel is not the copious amounts of beautiful queer intimacy, though that's also a validating and important part of it. Rather, the beauty of this novel is how adeptly Davies captures the surreal experience of coming out and being out of one's depth—and she manages to do it with humility and a good deal of humor, to boot...We need stories like these in the world. We need raw stories of how challenging and fun and beautiful and complicated and obsessive this love can be. We need visibility for abuse within queer relationships. And we need levity, for God's sake, we do. Thank goodness this novel exists. We can expect great things from Kate Davies."  —Lambda Literary Review    "Not since Lady Gaga's Bad Romance has a piece of art so perfectly captured the exhilarating rush and sweet self-sabotage of a toxic relationship and the cruel truth that sometimes love and obsession are hard to tell apart. Rah rah ah-ah-ah!"  —Camille Perri, author of The Assistants and When Katie Met Cassidy    "I read In at the Deep End in a laughing (sometimes cringing) flash and then handed it to my wife who did the same. And then we talked and talked about it. (And then we made out.)"  —Emily M. Danforth, author of The Miseducation of Cameron Post    "A sapphic sexual odyssey...In this energetically explicit new take on the coming-of-age lesbian novel, Julia is a 26-year-old civil servant who wants a more exciting sex life...You can feel the influences here – Fleabag and Girls – but weirdly enough the strongest voice is Bridget Jones."  —Guardian (UK)    "This is a book about sex — and lots of it. Julia breaks a long dry spell with an awakening at a party; she doesn't like men and never has. She dives head-first into her new lesbian identity and has lots of adventures. The sweet, clever novel places a woman's sexual coming-of-age on a pedestal."  —Refinery29, "35 Outstanding LGBTQ+ Books Of 2019"    "In equal parts side-splittingly hilarious and brutally honest, In at the Deep Endis the story of a twenty-something young woman making her first foray into queer —