A Marker to Measure Drift (Paperback)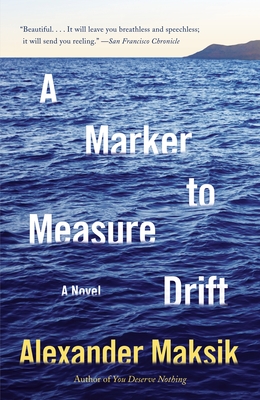 Email or call us for information about purchasing this item.
July 2013 Greenlight First Editions Club Selection
August 2013 Indie Next List
---
"I'm haunted by the power of A Marker to Measure Drift by Alexander Maksik. Shattering, gorgeous, each sentence is a dagger to the heart. This is the story of a young Liberian female refugee, Jacqueline, who has come to a Greek island, whose shaky memories are suffused with profound loss and shadowy images: holding the feet of her beloved sister, an orange cat, the Rolex watch on her father's wrist, the clink of ice mixed with gin and lime in her mother's glass, ghost boys with machetes. The novel explores profound themes, both political and existential: Where does one find the courage to survive something horrific beyond description? How is it possible to negotiate incipient madness? Is there a context in which to describe barbarism? Can the tiniest connection with another human being, the merest act kindness lead one out of despair? Can a life that has been traumatized, pared down to the most elemental of human requirements - safety, shelter, food - find hope? The ending is breathtaking. I'm still dazed. - Amy V Palmer Northshire Bookstore Manchester Center, VT"
— Amy Palmer, Northshire Bookstore, Manchester Center, VT
Description
---
A New York Times Notable Book

In the aftermath of Charles Taylor's fallen regime, a young Liberian woman named Jacqueline has fled to the Aegean island of Santorini. She lives in a cave accessible only at low tide. During the day, she offers massages to tourists, battling her hunger one or two euros at a time. Her pressing physical needs provide a deeper relief, obliterating her memories of unspeakable violence.
        But slowly, the specters of her former life resurface: her adoring younger sister; her unshakably proper mother; her father, who believed in his president; her journalist lover, who knew that Taylor would be overthrown. Now Jacqueline must face the ghosts that haunt her—or tip into full-blown madness. Hypnotic in its depiction of physical and spiritual hungers, this is a novel about ruin, faith, and the devastating memories can destroy and redeem us. 

About the Author
---
Alexander Maksik is the author of the novels You Deserve Nothing and A Marker to Measure Drift. His writing has appeared or is forthcoming in Best American Nonrequired Reading, Harper's, Tin House, Harvard Review, The New York Times Magazine, The Atlantic, Condé Nast Traveler, Salon and Narrative, among other publications, and has been translated into more than a dozen languages. A graduate of the Iowa Writers' Workshop, he is the recipient of fellowships from the Truman Capote Literary Trust and The Corporation of Yaddo. He lives in New York City.

Praise For…
---
"Immensely powerful. . . . Beautifully written. . . . Jacqueline is a mesmerizing heroine." —The Boston Globe

"Haunting and sensual, Maksik's prose deftly intertwines the tenderness and torment of memory with the hard reality of searching for sustenance and shelter." —Harper's 

"Beautiful. . . . It will leave you breathless and speechless; it will send you reeling." —San Francisco Chronicle

"No novel I read this year affected me more powerfully than Alexander Maksik's A Marker to Measure Drift." —Richard Russo 

"Maksik's lean, affecting prose burns . . . stripped of any excess, entirely attuned to the prospect of survival, beautifying the simple things that sustain life." —The Atlantic
 
"Beautiful. . . . Compelling and visceral. . . . One rushes until the fever breaks, dazed and haunted by its power." —Chicago Tribune (Editor's Choice)

"A bold book, and an instructive one. . . . [Maksik] has illuminated for us, with force and art, an all too common species of suffering." —Norman Rush, The New York Times Book Review

"A Marker to Measure Drift is a haunting, haunted novel. Things get stripped down to essentials—food, water, where to sleep for the night, a state of solitary desperation brought on by the most profound kind of loss. Every line of this excellent novel rings true as Maksik leads us toward the catastrophe at the story's core. This is one of those books that leaves you staring into space when you finish, dazed from the sheer power of what's been said." —Ben Fountain

"Beautifully written. . . . Through an impressionistic stream of consciousness, Maksik slowly reveals Jacqueline's ordeal. . . . A novel that measures the ripple effect of trauma and violence." —The Daily Beast

"A work of stupendeous imagination. . . . [A] truly breathtaking accomplishment." —Ayelet Waldman

 "Gorgeously written, tightly wound, with language as precise as cut glass. . . . I was undone by this novel. I challenge anyone to read it and not come away profoundly changed." —Marisa Silver, author of Mary Coin and The God of War

"This novel is spellbinding. In its tenderness, grandeur and austerity, it reminds us that there is no country on earth as foreign, as unreachable, as the frantic soul of another human being." —Susanna Sonnenberg

"Arresting. . . . Here is a human, detached from humanity, in pain and need. The world swirls around, the past lingers, but this human is at the center, small and yet deep. Maksik's prose brilliantly delivers—I think he has fully realized what this story could be, and has told it in the best way possible. An amazing accomplishment." —Lydia Netzer, author of Shine Shine Shine

"A moving, deeply felt and lyrical novel about past and present." —Kirkus Reviews (starred)

"A vivid depiction of disillusionment, shock, and resilience. . . . Sheds light on a setting great in both its beauty and violence. . . . An exploration of terrible brutality and the effort it takes to survive." —Library Journal

"Gorgeous and evocative." —Publishers Weekly