At the Bottom of Everything: A Novel (Vintage Contemporaries) (Paperback)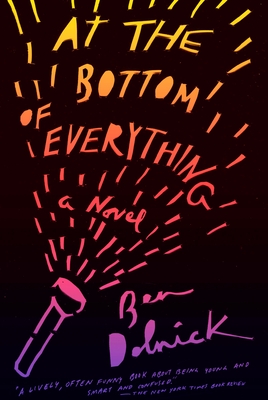 $15.95
Email orders@greenlightbookstore.com for information about this item.
Description
---
It's been ages since the "incident" that estranged former best friends Adam and Thomas, and Adam has long since decided he's better off, even if his own life hasn't exactly turned out as planned. Ten years after the two friends spoke their last words, Adam is working as a tutor, sleeping with the mother of a student, and spending most of his nights looking up his ex-girlfriend on Facebook.
 
But when he receives an email from Thomas's mother begging for his help, he finds himself drawn back into his old friend's world. Thomas hasn't been doing well, and now he's disappeared while traveling in India. As Adam embarks upon a magnificently strange and unlikely journey, Ben Dolnick unspools a tale of friendship, spiritual reckoning, and redemption.
About the Author
---
Ben Dolnick is the author of the novels You Know Who You Are and Zoology, and his work has appeared in The New York Times and on NPR. He lives in Brooklyn with his wife.
Praise For…
---
"Warmhearted and strikingly perceptive. . . . A lively, often funny book about being young and smart and confused." —The New York Times Book Review 
 
"Gripping. . . . At the Bottom of Everything shines as an examination of the ephemeral foundations of youth and friendship." —Drew Toal, NPR
 
"Terrific, seemingly effortless. . . . Dolnick's prose has abundant charm, humor, and intelligence, a knack for vivid details and stunning metaphors, and so many richly imagined characters that it calls to mind an updated Fitzgerald." —Village Voice
 
"An engaging novel brimming over with humor and sympathetic characters." —San Francisco Chronicle

"Dolnick nails the casual brutality with which teenagers drop people they were once close to . . . . There is a lifelike complexity to the way it all plays out . . . . [A] slim, surprisingly haunting book."  —The New York Times Book Review
 
"An engrossing, often wrenching novel about the limits of love and friendship, not to mention self-knowledge. Dolnick writes with wisdom, humor, and real grace." —Sam Lipsyte, author of Home Land and The Fun Parts
 
"An unlikely friendship develops between the uptight, brilliant Thomas and the easygoing Adam . . . Conjures the memory of familiar movies and books like Lucas and A Separate Peace." —Cameron Martin, The Daily Beast

"The characters in Ben Dolnick's new novel, At the Bottom of Everything . . . have a trauma in their shared past—not that friendships need a reason to disintegrate. . . . The best parts of this novel involve watching the effect of this distance on its two eccentric and well-drawn characters. They're a bit reminiscent of Martin Amis types in that they are both intelligent and flawed—the sort of combination that makes you want to hop on their backs and see where the story takes them." —The Observer (London)

"Expertly magnifies the minutiae of youth, loneliness, and a friendship gone wrong. . . . An invigorating and transcendent reminder of how haunting old friendships can be." —Booklist

"Dolnick writes with the assurance and wisdom of an author twice his age. . . . This book does something more important than depict the 'way we live now.' It asks whether the way we live now is really 'living' at all." —Victor LaValle, author of The Devil in Silver

 "A remarkable story about the enduring nature of childhood friendship and the burdens that such a friendship can impose on a person regardless of age or will. It's a clear-eyed, unwavering look into the nature of guilt and the ways in which a split-second decision can change the lives of people forever. I found myself both breathlessly racing to the end of the book and also terrified to turn the final pages. It is one of those stories that will remain in my mind and heart for a long, long time." —Matthew Dicks, author of Memoirs of an Imaginary Friend