Young Mathematicians at Work: Constructing Number Sense, Addition, and Subtraction (Paperback)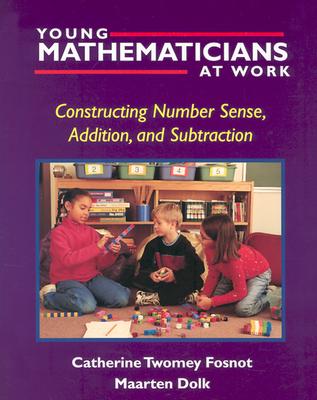 Email or call us for information about purchasing this item.
Special Order; please email orders@greenlightbookstore.com for more information
Description
---
In our efforts to reform mathematics education, we've learned a tremendous amount about young students' strategies and the ways they construct knowledge, without fully understanding how to support such development over time. The Dutch do. So, funded by the NSF and Exxon, Mathematics in the City was begun, a collaborative inservice project that pooled the best thinking from both countries. In
Young Mathematicians at Work
, Catherine Fosnot and Maarten Dolk reveal what they learned after several years of intensive study in numerous urban classrooms.
The first in a three-volume set, Young Mathematicians at Work focuses on young children between the ages of four and eight as they construct a deep understanding of number and the operations of addition and subtraction. Rather than offer unrelated activities, Fosnot and Dolk provide a concerted, unified description of development, with a focus on big ideas, progressive strategies, and emerging models. Drawing from the work of the Dutch mathematician Hans Freudenthal, they define mathematics as mathematizingthe activity of structuring, modeling, and interpreting one's lived world mathematically. And they describe teachers who use rich problematic situations to promote inquiry, problem solving, and construction, and children who raise and pursue their own mathematical ideas.
In contrast to other books on math reform, Young Mathematicians at Work provides a new look at the teaching of computation. It moves beyond the current debate about algorithms to argue for deep number sense and the development of a repertoire of strategies based on landmark numbers and operations. Sample minilessons on the use of the open number line model are provided to show you how to support the development of efficient computation.
About the Author
---
Cathy Fosnot is a leading voice in mathematics education. She is Professor Emerita of Education at the City College of New York and the founder of Mathematics in the City, a national center for professional development located at the college. In 2007 she established New Perspectives on Learning to devote her time to speaking around the world, fostering school change through professional learning and support, and producing new resources and materials. Watch Cathy talk about the importance of context in math. Follow Cathy on Twitter @ctfosnot Maarten Dolk is a researcher and developer at the Freudenthal Institute for science and mathematics education in the Netherlands. He is involved in the development and research of in-service and multimedia in-service materials for teachers, staff developers, and teacher educators in a number of countries. He has been a collaborating partner in Mathematics in the City since its inception and is co-author of the first three books in the Young Mathematicians at Work series.