Author: The Portraits of Beowulf Sheehan (Hardcover)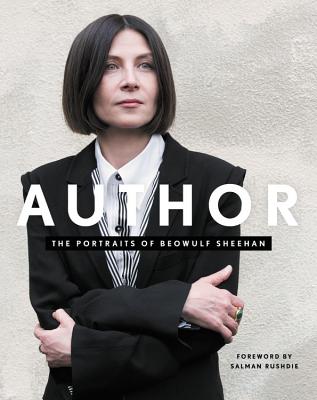 Description
---
A beautiful and moving collection of photographs by Beowulf Sheehan, whose work captures the essence of 200 of our most prominent writers, historians, journalists, playwrights, and poets.

Beowulf Sheehan is considered to be his generation's foremost literary portrait photographer, having made portraits of the literary luminaries of our time across the globe, from Roxane Gay to Masha Gessen, Patti Smith to Zadie Smith, Karl Ove Knausgaard to J.K. Rowling, and Jonathan Franzen to Toni Morrison.

In Authors Sheehan presents the most insightful, intimate, and revealing portraits of these artists made in his studio, in their homes, in shopping malls and concert halls, on rooftops and in parking lots, on the beach and among trees, surrounded by flowers and in clock towers. Following an enlightening foreword by Salman Rushdie, Beowulf Sheehan shares an essay offering insights in the poignant and memorable moments he experienced while making these portraits.

A treasure gift for readers and lovers of portrait photography, Authors is the only book of its kind to appear in more than a decade.
About the Author
---
Beowulf Sheehan's childhood love of stories in books and music grew into an adulthood love of storytellers in the arts, entertainment, and humanities. His photographs have been published in Elle, Esquire, Glamour , the New Yorker, Newsweek, Time, Vanity Fair, Vogue , and others. He lives in New York City.
Praise For…
---
"Beowulf Sheehan reveals authors pictured in that twilight place between how we see ourselves and how the world sees us, and in every perfect shot he takes his love for words and books and the people who make them shows through."—Neil Gaiman

"Beowulf Sheehan is a photographer whose vision is psychologically and aesthetically astute."—Ian McEwan

"Sheehan has breathed new life into literary photography."—The Los Angeles Times, "Fall 2018 Book Preview"

"Photographer Beowulf Sheehan's subjects are a who's who of the contemporary literary world, including Donna Tartt, Salman Rushdie (who wrote the foreword), Margaret Atwood, J.K. Rowling, Colson Whitehead, Louise Erdrich and more. They may be in color or black & white, serious or playful, spontaneous or posed -- Sheehan's pictures capture the literary community in all its range and complexity."—Newsday, 'Best Books to Give'

"Beowulf Sheehan is a poet, working with light."—George Saunders

"Stunning. Beowulf Sheehan approaches his portraits with the soul of a poet, finding in his authors those flashes of desire and vulnerability and hurt and hope that drove them to write their books in the first place. Author is an anthology of that humanity, its photographs united by their glimpses of the secret, inner lives that dwell in all of us-uncanny, surprising, both darker and brighter than we could have imagined."—Leslie Jamison

"In the literary community Beowulf Sheehan has earned a special place of distinction for his portraits of authors. Beyond their beautiful composition and haunting moods, his photos exhibit a keen insight into their subjects and testify to his intimate knowledge of writers and their works. He succeeds in capturing whole even the most elusive scribes."—Ron Chernow

"Beowulf is a visionary artist, and his work is beautiful and moving and revelatory. Like all great artists, he has the ability to see into and through his subject, and then to reveal the hidden strengths and vulnerabilities of those subjects in his portraiture. Each portrait will open a window for you to see in new ways, with new clarity, new perception."—Jesmyn Ward

"In Author, Beowulf Sheehan presents writers in repose, mercifully free of the preen and strut demanded by their literary profiles. Through the wit and wisdom of his artistry and his genius for capturing the one character most slippery to writers--themselves--he gives us intimate portraits that overwhelm the limits of their frames."—Gregory Pardlo

"Beowulf's work not only represents one of the freshest and most insightful photographic glimpses of 'Authors' in their truest moment, but the most diverse look at portraiture that I have seen in a long time--expressing each subject as a unique individual and each portrait as its own entity. A breakout work!"—Greg Gorman

"Author is perfect for book lovers, photography buffs, and philanthropists."—Kirkus

"Beowulf Sheehan's Author is a collection of 100 mesmerizing portraits, ranging from close studies (James McBride, Patti Smith) to arty cropped images (half of Jonathan Ames, Noam Chomsky with a backlit nose). Some are smiling (Louise Erdrich, Roddy Doyle), some look disapproving (Chad Harbach), some are laughing (Claudia Rankine). I look and look and feel that by studying these portraits I can better understand the work."—Star Tribune