Shit, Actually: The Definitive, 100% Objective Guide to Modern Cinema (Hardcover)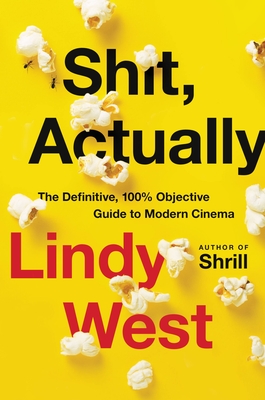 $27.00

Not In Store / Available To Order (allow for shipping time to bookstore or direct-to-home)
Description
---
One of the "Best Books of 2020" by NPR's Book Concierge

**Your Favorite Movies, Re-Watched** New York Times opinion writer and bestselling author Lindy West was once the in-house movie critic for Seattle's alternative newsweekly The Stranger, where she covered film with brutal honesty and giddy irreverence. In Shit, Actually, Lindy returns to those roots, re-examining beloved and iconic movies from the past 40 years with an eye toward the big questions of our time: Is Twilight the horniest movie in history? Why do the zebras in The Lion King trust Mufasa-WHO IS A LION-to look out for their best interests? Why did anyone bother making any more movies after The Fugitive achieved perfection? And, my god, why don't any of the women in Love, Actually ever fucking talk?!?!

From Forrest Gump, Honey I Shrunk the Kids, and Bad Boys II, to Face/Off, Top Gun, and The Notebook, Lindy combines her razor-sharp wit and trademark humor with a genuine adoration for nostalgic trash to shed new critical light on some of our defining cultural touchstones-the stories we've long been telling ourselves about who we are. At once outrageously funny and piercingly incisive, Shit, Actually reminds us to pause and ask, "How does this movie hold up?", all while teaching us how to laugh at the things we love without ever letting them or ourselves off the hook.

Shit, Actually is a love letter and a break-up note all in one: to the films that shaped us and the ones that ruined us. More often than not, Lindy finds, they're one and the same.
About the Author
---
Lindy West is a contributing opinion writer for The New York Times and a contributor to This American Life. She is the bestselling author of the essay collection The Witches Are Coming as well as Shrill, a memoir, which she adapted into a comedy for Hulu starring Aidy Bryant. She lives in Seattle.
Praise For…
---
NPR's Book Concierge, "Best Books of 2020" (Staff Picks; Funny Stuff; No Biz Like Show Biz; Short Stories, Essays & Poetry)

Kobo, "Top Nonfiction Titles of 2020", "Top 20 Ebooks of 2020"

*Pacific Northwest Indie Bestseller List for nonfiction*

The Buzz Magazine, "Best nonfiction books of 2020"

St. Louis Post-Dispatch, "Bestselling Books for the first week of November"

BookRiot, "Best Audiobooks for Nonfiction November," "Book Recommendations for October 2020," and "Nonfiction Favorite of 2020" Fortune, "Five New Books to Read in October"

BookTribe, "Editors' pick for October's best audiobooks"

LitHub, "14 New Books to Treat Yourself To" SeattleMet, "11 Localish Books to Read This Autumn" Up News Info, "5 new books to read in October"

Writers' Bone, "A book that should be on your radar"

TBR, ETC. "New Books for the Week!"

New York Times, Holiday Gift Guide

Bustle, Holiday Gift Guide

The Globe and Mail, Holiday Gift Guide

Campus Circle, Best Holiday Gift Books

"TWO
THUMBS UP."—SAMANTHA IRBY

"Oh
God, I hope something I make is skewered by Lindy West--what an honor!"—ELIZABETH BANKS

"It's
annoying how many good, funny, and laser-precise books Lindy has written. Here's
another damn great book! It's the opposite of shit, actually."—AIDY BRYANT

"[A] laugh out loud romp... [these essays are] warmhearted, acutely self-aware, and surprisingly timely, providing insight into modern society through movies first sold on VHS... Like catching up with a dear and funny friend, this insightful and irreverent book is a soothing balm for turbulent times."—Kirkus Reviews

"Queen of keenly observed, hilariously rendered cultural criticism, West offers this delicious distraction from reality....a cathartic, joyful exploration of entertainment....in true West form she reads like your smartest, funniest, and warmest friend. A perfect blend of substance, escapism, and laughter - a gift from West to the rest of us."—Booklist Review (starred)

"It's
a no-holds-barred romp through modern movie-making."—LitHub

"[A] hilarious, sharp collection..."—BookRiot

"In our opinion, Lindy West is the ultimate authority, and we agree with her on all matters--including her assessments of beloved iconic movies... Shit, Actually is the ultimate read for the pop culture-obsessed."—Hello Giggles

"In Shit, Actually, New York Times columnist and bestselling author Lindy West unpacks the world of beloved rom-coms and other genre cult classics to dissect the culture (and monsters) they created.... From Dirty Dancing to The Texas Chainsaw Massacre, West leans on her razor-sharp wit in dissecting some of the most well-known movies of the past several decades."—Fortune

"Very funny."—Crosscut

"[Lindy's] tone and attitude are brutal, honest, and outrageously funny."—AudioFile Magazine

"This book is a perfect balm for how hard and scary and awful it can feel to be a human this year."—Smart Bitches Trashy Books

"When the world is crappy, we need some brevity to cheer ourselves up. SHIT, ACTUALLY is that brevity."—Celebration of Books

"[Reading this book is like] being on West's couch with her, having giggly conversations."—Seattle TImes

"There's a poignancy here, along with the laughs."—Toronto Star

"[West] read the audiobook, and her witty remarks and perfect delivery had me doubled over in laughter more once."—BookRiot

"I laughed out loud at some of your commentary."—It's Either Sadness or Bookphoria

"Absolutely hysterical."—The Buzz Magazine

"Lindy West writes with wit, heart and intelligence. Her books of essays are great gifts for friends…"—Campus Circle

"[Lindy West is] human sunshine and [the] conjurer of endless LOLs."—BOMB Magazine

"Sidesplittingly funny."—Seattle Times