Princess Hair (Paperback)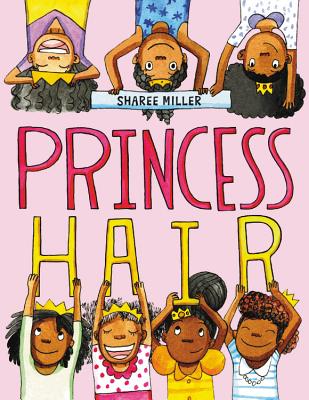 Description
---
Now available in paperback, debut author-illustrator Sharee Miller celebrates black hair of different shapes, textures, and styles in this self-affirming picture book.
Princesses with head wraps take long naps.
Princesses with curls wear pearls.
And princesses with teeny-weeny afros wear teeny-weeny bows.
Debut author-illustrator Sharee Miller's picture book celebrates different shapes, textures, and styles of black hair, from dreadlocks, to blowouts, to braids (and more!), shining a spotlight on the beauty and diversity of black hair with playful, colorful illustrations and an endearing text with great read-aloud quality.
About the Author
---
Sharee Miller has a BFA in communication design from Pratt Institute. She lives in Brooklyn, where she enjoys spending time with her two cats, illustrating fun stories, and playing with her princess hair. Sharee invites you to visit her website at shareemiller.com and her Instagram @coilyandcute.
Praise For…
---
* "After decades of white princesses' domination of American fairytales, Miller expands the vision of what princess hair can look like to black girls....A sweet and joyful affirmation of the truth that 'NAPPY princesses are HAPPY princesses.'"—Kirkus Reviews, starred review

"This is the perfect book for young girls, but especially girls who might not be happy with their hair because it's different from the hair that they see on others."—The Huffington Post

"This exuberant, colorful collection of words and pictures is a stylish pick-me-up for any little princess who's ever had a bad hair day. Delightful."—USA Today

"In this adorably illustrated book for early readers, debut author Sharee Miller celebrates the diversity of black hair...showing young girls that whether you wear dreadlocks or puffs, you're still a princess."—Real Simple