Parasite (Parasitology #1) (Hardcover)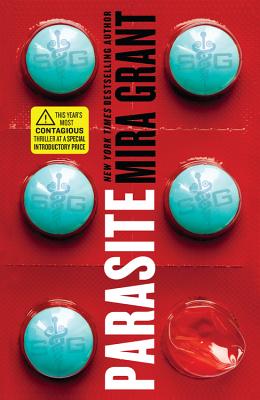 Other Books in Series
This is book number 1 in the Parasitology series.
Description
---
From New York Times bestselling author Mira Grant comes a vision of a decade in the future, where humanity thrives in the absence of sickness and disease.
 
We owe our good health to a humble parasite — a genetically engineered tapeworm developed by the pioneering SymboGen Corporation. When implanted, the Intestinal Bodyguard worm protects us from illness, boosts our immune system — even secretes designer drugs. It's been successful beyond the scientists' wildest dreams. Now, years on, almost every human being has a SymboGen tapeworm living within them.

But these parasites are getting restless. They want their own lives . . . and will do anything to get them.
 
"A riveting near-future medical thriller that reads like the genetically-engineered love child of Robin Cook and Michael Crichton." —John Joseph Adams
 
 
More from Mira Grant:
 
Parasitology
Parasite
Symbiont
Chimera
 
Newsflesh
Feed
Deadline
Blackout
Feedback
 
Rise
About the Author
---
Mira Grant lives in California, sleeps with a machete under her bed, and highly suggests you do the same. Mira Grant is the pseudonym of Seanan McGuire -- winner of the 2010 John W. Campbell Award for best new writer. Find out more about the author at www.miragrant.com or follow her on twitter @seananmcguire.
Praise For…
---
"A riveting near-future medical thriller that reads like the genetically-engineered love child of Robin Cook and Michael Crichton."—John Joseph Adams

"Readers with strong stomachs will welcome this unusual take on the future."—Kirkus Reviews

"Fans of [the Newsflesh] series will definitely want to check this new book out. But fans of Michael Crichton-style technothrillers will be equally enthralled: as wild as Grant's premise is, the novel is firmly anchored in real-world science and technology."—Booklist

"Grant extends the zombie theme of her Newsflesh trilogy to incorporate thoughtful reflections on biomedical issues that are both ominously challenging and eerily plausible. Sally is a complex, compassionate character, well suited to this exploration of trust, uncertainty, and the price of progress."—Publishers Weekly

"It's a well-grounded medical wariness that gets at the heart of what the Parasitology series will be asking: What happens when the cure is worse than the disease?"—NPR Books

"An exceptionally creepy medical-horror thriller that's the perfect spine-tingling read for Halloween... [a] roller coaster ride."—Fort Worth Star-Telegram