Then We Came to the End: A Novel (Paperback)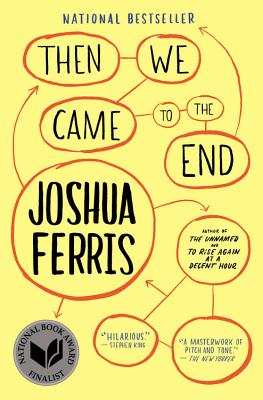 Before my life began as a bookseller, I worked in an office. I can attest that Ferris has distilled something unexpected from the plain potatoes of office culture and bottled it here like happy-hour vodka. Then We Came to the End plucks the lid off the office of a downsizing ad agency to show us those inside scrambling to protect their monotonous existences. From its top-down view, in a voice omniscient and excruciatingly gossipy (first-person plural narration, anyone?), the story summons something so unique from the materials of the mundane. Prior office experience not needed to apply.
Picked by Austin in Prospect Lefferts Gardens
Description
---
No one knows us quite the same way as the men and women who sit beside us in department meetings and crowd the office refrigerator with their labeled yogurts.  Every office is a family of sorts, and the ad agency Joshua Ferris brilliantly depicts in his debut novel is family at its strangest and best, coping with a business downturn in the time-honored way: through gossip, pranks, and increasingly frequent coffee breaks.
     With a demon's eye for the details that make life worth noticing, Joshua Ferris tells a true and funny story about survival in life's strangest environment--the one we pretend is normal five days a week.
About the Author
---
Joshua Ferris's first novel,
Then We Came to the End
, won the PEN/Hemingway Award, the Barnes and Noble Discover Award, and was a National Book Award finalist. It has been translated into 24 languages. His fiction has appeared in
The New Yorker
,
Granta
, Best New American Voices, New Stories from the South,
Prairie Schooner
, and
The Iowa Review
. He lives in
New York
.
Praise For…
---
"What looks at first glance
like a sweet-tempered satire of workplace culture is revealed upon closer
inspection to be a very serious novel about, well, America. It may even be, in
its own modest way, a great American novel." —Los Angeles Times

"A masterwork of pitch and tone. . . . Ferris brilliantly captures the fishbowl quality of contemporary office life."—The New Yorker

"Not too many authors have written the Great American Office Novel. Joseph Heller did it in Something Happened (the one book of his to rival Catch-22). And Nicholson Baker pulled it off in zanily fastidious fashion in The Mezzanine. To their ranks should be added Joshua Ferris, whose THEN WE CAME TO THE END feels like a readymade classic of the genre. . . . A truly affecting novel about work, trust, love, and loneliness."—Michael Upchurch, Seattle Times
Coverage from NPR