Blood Secrets: Chronicles of a Crime Scene Reconstructionist (Hardcover)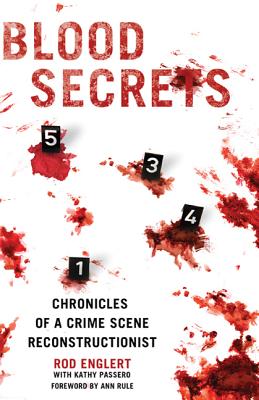 $34.99

Not In Store / Available To Order (allow for shipping time to bookstore or direct-to-home)
Description
---
Blood Secrets reveals how forensic experts read the story of a murder told in the traces of blood left behind, providing crucial evidence that has helped convict criminals who might have otherwise walked free.

When Rod Englert began his career in law enforcement, virtually no police force in the world knew how to correctly examine blood spatter. He spent years studying and testing how blood behaves, pioneering a vital new tool that is now a part of any criminal investigation. In Blood Secrets he demonstrates how detectives and forensic experts use blood-spatter analysis to solve real cases.

How can the police tell what type of murder weapon was used when the body is missing and all that's left is a trace of gore? How can they tell if a victim was moved, or which person in a room fired the fatal shot? Englert lays out what he's learned on a variety of intriguing cases, from puzzling murders in tiny, remote towns to the highest-profile celebrity trials--including O. J. Simpson, Robert Blake, and many others.

Filled with fascinating details of forensic science and real-life CSI stories, Blood Secrets shows the techniques and tools used to decipher blood spatter's code.
About the Author
---
Rod Englert, the author of Blood Secrets, is a forty-four-year veteran of law enforcement and a graduate of the FBI National Academy, where he was president of the 159th Session. He is a member of the International Homicide Investigator's Association; a past president of the Association of Crime Scene Reconstructionists; and a past president of the International Association of Blood Pattern Analysts. He lives in Oregon.

Kathy Passero is an award-winning writer and reporter and is the author of non-fiction books on a variety of subjects.
Praise For…
---
"This is one great read, and I hope for more. . . . keeps the reader engaged and interested in every turn of the 268 page hardcover." —The Portlander

"A fascinating collection of human stories and emerging science that includes discussions of blood basics. . . . If crime novels and shows like "CSI" are in your blood, Englert's book is a must-read." —The Sunday Oregonian

"Providing that one person's bloody mess is another's treasure trove of clues, blood spatter analyst Englert takes readers on a fascinating journey into the study of crimson drops. . . . With the help of reporter Passero, Englert deftly balances real-life examples and detailed scientific analysis, giving readers a richer understanding of this developing avenue of forensic science." —Publishers Weekly

"Has backgrounding value for true-crime and crime-fiction fans in its revelatory detail about the particular component of criminal investigation on which it focuses." —Booklist

"In this engaging and readable book, Englert includes many different types of cases, some involving celebrities, some with a vexing mystery, and some from long ago, including a bullet trajectory analysis from the 1863 battle at Gettysburg. . . . Gives readers a human side as much as an educational source-- there's something for true crime readers as well as for experts in the field." —Writers Forensics Blog

"[Englert] has transcended his own distress and sorrow at man's (or woman's) inhumanity to man to offer remarkable insights into what the dead can tell us, even after they can no longer speak. Blood Secrets is a fascinating book." —Ann Rule, from the foreword

"From the crime scene to the courtroom Rod Englert bridges the myriad of gaps between fantasy and forensic reality. This book is packed with sensational murder cases articulated in such a manner that it will have you reading voraciously and wanting more." —Detective Tom Lange, author of Evidence Dismissed: The Inside Story of the Police Investigation of O.J. Simpson

"Rod Englert is the ideal forensics professional. Blood Secrets shares many special insights and lessons learned from his long and storied law-enforcement career. The reader will appreciate his honesty and conviction as he weaves his way through the world of forensics and criminal investigation." —Dayle Hinman, criminal profiler, host of Body of Evidence: from the case files of Dayle Hinman