And Thereby Hangs a Tale: Short Stories (Mass Market)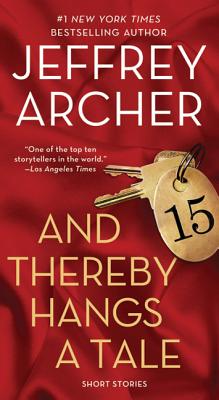 Email orders@greenlightbookstore.com for information about this item.
Out of Print / Unavailable
Description
---
Tragic, comic, outrageous—these fifteen stories in And Thereby Hangs a Tale from international bestselling author Jeffrey Archer showcase his remarkable talent for capturing an unforgettable moment in time…

In India, in "Caste-Off," a man and woman fall in love while waiting for a traffic light to turn green on the streets of Delhi…

From Germany comes "A Good Eye," about a priceless oil painting that has remained in the same family for over two hundred years, until...

To the Channel Islands and "Members Only," where a golf ball falls out of a Christmas cracker, and a young man's life will never be the same...

To Italy and "No Room at the Inn," where a young man who is trying to book a hotel room ends up in bed with the receptionist, unaware that she...

To England, where, in "High Heels," a woman has to explain to her husband why a pair of designer shoes couldn't have gone up in flames...
About the Author
---
JEFFREY ARCHER was educated at Oxford University. He served five years as a Member of Parliament in the House of Commons and has served twenty-seven years as a Member of the House of Lords. Now published in 97 countries and more than 37 languages, all of his novels and short story collections—including Kane & Abel, Only Time Will Tell and This Was a Man—have been international bestsellers. Jeffrey is married with two sons and three grandchildren, and lives in London, Cambridge and Majorca.
Praise For…
---
"One of the top ten storytellers in the world." —Los Angeles Times on JEFFREY ARCHER

"There isn't a better story-teller alive." —Larry King on JEFFREY ARCHER

"Archer plots with skill, and keeps you turning the pages." —The Boston Globe on JEFFREY ARCHER

"Cunning plots, silken style…. Archer plays a cat-and-mouse game with the reader." —The New York Times on JEFFREY ARCHER

"Archer is a master entertainer." —Time on JEFFREY ARCHER

"A storyteller in the class of Alexandre Dumas…unsurpassed skill." —Washington Post on JEFFREY ARCHER

"Outrageous and top-notch terror." —Vogue on SHALL WE TELL THE PRESIDENT?

"The only difference between this book and The Day of the Jackal is that Archer is a better writer." —Chicago Tribune on SHALL WE TELL THE PRESIDENT?

"Authentic, literate, and scary." —Cosmopolitan on SHALL WE TELL THE PRESIDENT?

"The countdown is the thing; the pace, the pursuit, the what-next, the how-is-it-going-to-come-out…" —Boston Globe on SHALL WE TELL THE PRESIDENT?

"Holds the reader in a vicelike grip." —Penthouse on SHALL WE TELL THE PRESIDENT?

"A compelling read." —Newsday on A PRISONER OF BIRTH

"Dynamite…plot twists and a slam-bang finale." —The Washington Post on A PRISONER OF BIRTH

"Archer plots with skill, and keeps you turning the pages." —The Boston Globe on A PRISONER OF BIRTH

"Thoroughly enjoyable." —Publishers Weekly on A PRISONER OF BIRTH

"Compulsively readable." —Library Journal on A PRISONER OF BIRTH

"Gripping." —The Vancouver Sun on A PRISONER OF BIRTH

"An exercise in wish fulfillment. The good may suffer, but the bad will get theirs in the end. The fun is watching it unfold." —St. Petersburg Times (Florida) on A PRISONER OF BIRTH

"Archer plots with skill, and keeps you turning the pages." —The Boston Globe on CAT O'NINE TALES

"The economy and precision of Archer's prose never fails to delight. The criminal doesn't always get away with his crime and justice doesn't always prevail, but the reader wins with each and every story." —Publishers Weekly (starred review) on CAT O'NINE TALES

"A worthy successor to The Da Vinci Code." —Liz Smith, New York Post on FALSE IMPRESSION

"Archer is back in top form with [this] latest thriller." —Library Journal (starred review) on FALSE IMPRESSION

"Thoroughly imagined...entertaining...thrilling." —Denver Post on FALSE IMPRESSION

"Murder and a high-stakes art-world theft are cleverly blended [in this] exciting...global thrill-ride." —Vancouver Sun on FALSE IMPRESSION