We Gon' Be Alright: Notes on Race and Resegregation (Paperback)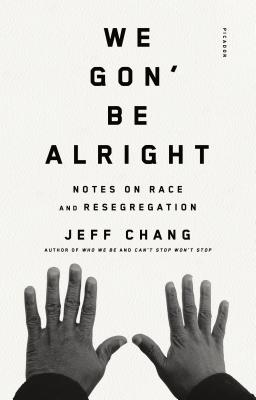 $17.00

Available In Store Now (while supplies last)
Description
---
A provocative and timely collection of essays from a celebrated cultural critic on race, diversity, and resegregation.

"The Smartest Book of the Year" (The Washington Post)

In these provocative, powerful essays acclaimed writer/journalist Jeff Chang (Can't Stop Won't Stop, Who We Be) takes an incisive and wide-ranging look at the recent tragedies and widespread protests that have shaken the country. Through deep reporting with key activists and thinkers, passionately personal writing, and distinguished cultural criticism, We Gon' Be Alright links #BlackLivesMatter to #OscarsSoWhite, Ferguson to Washington D.C., the Great Migration to resurgent nativism.

Chang explores the rise and fall of the idea of "diversity," the roots of student protest, changing ideas about Asian Americanness, and the impact of a century of racial separation in housing. He argues that resegregation is the unexamined condition of our time, the undoing of which is key to moving the nation forward to racial justice and cultural equity.
About the Author
---
Jeff Chang has been a hip-hop journalist for more than a decade and has written for The San Francisco Chronicle, The Village Voice, Vibe, The Nation, URB, Rap Pages, Spin, and Mother Jones. He is the author of several books, including the American Book Award-winning Can't Stop Won't Stop: A History of the Hip-Hop Generation. He was a founding editor of Colorlines Magazine, senior editor at Russell Simmons's 360hiphop.com, and cofounder of the influential hip-hip label SoleSides, now Quannum Projects. He lives in California.
Praise For…
---
"There is history and analysis in these pages, and there is life and experience, too, but neither form of storytelling overpowers the other. Instead, what comes through most clearly is a versatile mind in the service of a painful and protracted story, an author who ranges widely before drawing tough conclusions and one who, despite the book's optimistic title, appears deeply pessimistic about things getting any better, much less becoming all right...The limits of representation come alive in the author's unforgettable discussion of the Asian American experience."—The Washington Post

"In the song that inspired the author's title, Kendrick Lamar repeatedly asks his listeners, 'Do you feel me?' Chang's text, in essence, poses the same question. Enriched and stimulated as much by his passion as his ideas, I'm pleased to answer with a resounding yes."—Jabari Asim, Bookforum

"We Gon' Be Alright is a parade of some of the most uncomfortable and heartbreaking dances this country has seen; it looks glaringly close at buzzwords such as "affirmative action," "white flight," "gentrification," "diversity," "Beyoncé," and—of course—"Donald Trump." Its topics are so current, its tone so raw, that readers might wonder if Chang finished it minutes before it was due to the printer."—The Rumpus

"When absorbed individually, the author's incisive essays will educate and inform readers. Collectively, Chang creates a chain-linked manifesto arguing for an end to racially charged violence and discrimination and urging global open-mindedness to the struggle of the oppressed. … A compelling and intellectually thought-provoking exploration of the quagmire of race relations."—Kirkus Reviews (starred)

"[I]f you want to ground your understanding of this cultural and political moment in a longer view of 'diversity' in America, if you wonder (secretly or out loud) why diversity matters, if you want to understand why diversity is not enough without inclusion and equity, if you want to engage your colleagues and students in nuanced conversations about race in America, you should consider reading [We Gon' Be Alright]."—The Chronicle of Higher Education

"[Carries] the conversation about race in America right into 2016. Each essay is both critically sharp and deeply affecting—both heavy with statistics and rich with evocative descriptions."—East Bay Express

"Incredible! It's a small book, but it packs a big punch."—BookRiot

"With simple, elegant prose coupled with remarkable scholarship, Jeff Chang's We Gon' Be Alright, moves us beyond autobiography into an illuminated landscape of penetrating facts and underlining unavoidable truths. In these pages, one learns the meaning and devastating effects of resegregation, inequity, and the systems of power that maintain them. Connecting the dots from federal housing policies of the 1960's and the sparks of Ferguson to the political rise of Donald Trump and the bittersweet sorrow of Beyoncé's Lemonade, We Gon' Be Alright captures the crisis of this historical moment even as it propels us toward action for a future we can only imagine. It's been a long while since 'just the facts, please' was a real page-turner. For anyone interested in the realities shaping the cultural landscape, read it and share it. The clarity of vision is unparalleled. Chang has truly nailed it!" —Carrie Mae Weems, visual artist

"Race has been fraught since its invention; this is to be expected of an enduring fiction that draws real blood. When it comes to navigating the minefields of race—its myths and material consequences, its currents and contradictions—Jeff Chang is a maestro. With eloquence and urgency, We Gon' Be Alright reveals a country whose deepening racial oppression and inequality is shrouded by myths of colorblindness and postracial triumphalism. Diversity trumps equity, racial innocence trumps history, gentrification trumps resegregation, performance trumps power, and a Trump America trumps any possibility of a liberated America. But reversing course, Chang tells us, requires truth and reconciliation, struggle and transfiguration, and a movement governed by love and full of grace." —Robin D. G. Kelley, author of Thelonious Monk: The Life and Times of an American Original

"There is no more fitting writer to chronicle an unprecedented moment in American history than Jeff Chang. We Gon' Be Alright is a seminal work about now, about who we are and who we are becoming." —Jose Antonio Vargas, Founder and CEO of Define American

"Jeff Chang's We Gon' Be Alright is an astonishing and thorough account of how decades of struggle and protest have led us to Ferguson, to Black Lives Matter, to questions of equity and diversity, and to a country that is more segregated than ever. In the midst of our tense racial debates, this book is required reading. We would do well to heed its lessons."—Michael Eric Dyson

"Chang's prose is disarming, provocative, and sure to inspire further thought and research."—Booklist