My Name is Legion: A Novel (Paperback)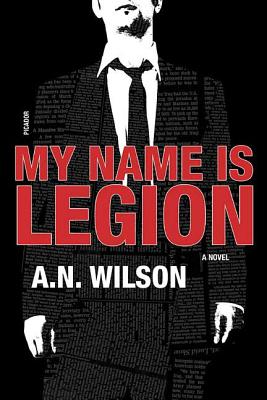 Description
---
A Bonfire of the Vanities for contemporary London

From A. N. Wilson, the renowned historian and novelist, comes a stunningly bold new work of fiction set in the darkly glamorous media world. Wilson's London is a bleak, if occasionally hilarious, place: murderous, lustful, money-obsessed, and haunted by strange gods.

The Daily Legion is a rag that peddles celebrity gossip and denounces asylum seekers. The secret is that its financial survival depends on the support of a brutal African government. Recklessly defending this corrupt dictatorship, the newspaper faces off against Father Vivyan Chell, an Anglican monk and missionary who is working to overthrow the corrupt regime. They wage a smear campaign against the priest. Freedom fighters join the battle. Violence escalates.

Called "a big, broad, sweeping book, as disturbing as it is funny" by The Guardian, My Name Is Legion is a savage satire on the morality of contemporary Britain-its press, its politics, its church, its rich, its underclass. At times shocking, at times tragic, it is a provocative take on present-day England, delivering both delicious fun and acid social commentary.
About the Author
---
A. N. WILSON is an English writer and journalist who has written numerous critical biographies, novels, essays, and popular histories. He is an occasional columnist for the Daily Mail, The Times Literary Supplement, New Statesman, The Spectator, and The Observer. His books The Victorians, Dante in Love, and After the Victorians, have garnered considerable critical and popular praise. He lives in London.
Praise For…
---
"Profoundly sobering, yet side-splittingly funny . . . brave and satisfying." —The Boston Globe

"A. N. Wilson's career has followed several paths . . . and he puts them all to good use in this sprawling comedy of ideas that gleefully skewers the newspaper business and just about everything else." —The New York Times Book Review

"Wilson never misses the mark. . . . It's a testament to the multivalent nature of Wilson's talent that he can portray this frightening family so tenderly in a novel that usually flashes with steely wit." —The Washington Post Book World

"Precise and piercing satire . . . It's Wilson's characters, though, that give the book its depth, all fully drawn, none escaping his sharp sword." —Richmond Times-Dispatch