The Great Fire: A Novel (Picador Modern Classics) (Paperback)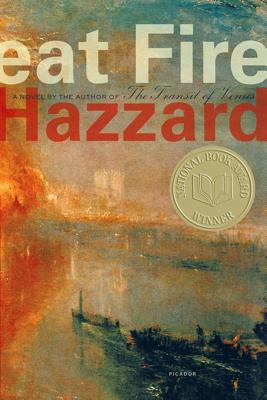 Description
---
More than twenty years after the classic The Transit of Venus, Shirley Hazzard returns to fiction with a novel that in the words of Ann Patchett "is brilliant and dazzling..."

The Great Fire is an extraordinary love story set in the immediate aftermath of the great conflagration of the Second World War. In war-torn Asia and stricken Europe, men and women, still young but veterans of harsh experience, must reinvent their lives and expectations, and learn, from their past, to dream again. Some will fulfill their destinies, others will falter. At the center of the story, a brave and brilliant soldier finds that survival and worldly achievement are not enough. His counterpart, a young girl living in occupied Japan and tending her dying brother, falls in love, and in the process discovers herself.

In the looming shadow of world enmities resumed, and of Asia's coming centrality in world affairs, a man and a woman seek to recover self-reliance, balance, and tenderness, struggling to reclaim their humanity. The Great Fire is a story of love in the aftermath of war by "purely and simply, one of the greatest writers working in English today." (Michael Cunningham)

The Great Fire is the winner of the 2003 National Book Award for Fiction.
About the Author
---
Shirley Hazzard (1931-2016) was born in Australia, and in early years traveled the world with her parents due to their diplomatic postings. At sixteen, living in Hong Kong, she was engaged by British Intelligence, where, in 1947-48, she was involved in monitoring the civil war in China. Thereafter, she lived in New Zealand and in Europe; in the United States, where she worked for the United Nations Secretariat in New York; and in Italy. In 1963, she married the writer Francis Steegmuller, who died in 1994.

Ms. Hazzard's novels are The Evening of the Holiday (1966), The Bay of Noon (1970), The Transit of Venus (1981) and The Great Fire (2003). She is also the author of two collections of short fiction, Cliffs of Fall and Other Stories (1963) and People in Glass Houses (1967). Her nonfiction works include Defeat of an Ideal (1973), Countenance of Truth (1990), and the memoir Greene on Capri (2000). She lived in New York, with sojourns in Italy.
Praise For…
---
"Beauty is felt in almost every line of this austerely gorgeous work." —Chicago Tribune

"So majestic in scope and so sophisticated in diction it evokes a rhapsodic gratitude in the reader...Calls to mind the writerly command of A.S. Byatt, Lawrence Durrell, Nadine Gordimer, and Graham Greene." —The San Diego Union-Tribune

"The last masterpiece of a vanished age of civility." —The Wall Street Journal

"[The Great Fire] sails into port like a magnificent ship of fiction from another era." —Entertainment Weekly

"The Great Fire is about both the destructive conflagrations of war and the restorative conflagrations of the heart. Hazzard's moving, generous story paints love as the greatest rescuer of all--as apt today in our troubling, troubled world as it was 55 years ago." —San Francisco Chronicle

"Hazzard writes with an extraordinary command of geography and time.... Flashes of violence cut through the contemplative narrative, but in her exquisitely cut sentences, hazzard concentrates on the subtler movements of these hearts cauterized by violence." — Ron Charles, The Christian Science Monitor

"A hypnotic novel that unfolds like a dream: Japan, Southeast Asia, the end of one war and the beginning of another, the colonial order gone, and at the center of it all, a love story."—Joan Didion, author of Where I Was From

"Stunning . . . Shirley Hazzard has gifted us, in The Great Fire, a novel of indispensable happiness and sorrow. I loved this novel beyond dreams."
—Howard Norman, The Washington Post Book World

"A classic romance . . . the greatest pleasure is [Hazzard's] subtle and unexpected prose."
—Regina Marler, Los Angeles Times Book Review

"What better gift . . . than a novel that confirms the value of the individual—the individual heart, mind, spirit—even amidst the obfuscating demands of history and politics and culture … . [The Great Fire] is a novel of incredible emotional wisdom, full of authentic characters, vivid places, and language that is both precise and beautiful."
—Alice McDermott, Commonweal magazine

"The Great Fire . . . streaks through a reader's ken in the manner of a comet."
—Thomas Mallon, The Atlantic Monthly

"[Hazzard's] prose remains one of the glories of English literature."
—Charles Taylor, Newsday, "Our Favorite Books of 2003"

"The Great Fire is a perfect book, without a superfluous word . . . radiant."
—Eve Claxton, Time Out (New York)

"The most interesting novel published this year . . . Exquisitely crafted … Every sentence hits its mark."
—The Economist

"Brilliant and dazzling . . . A book that is worth a twenty-year wait."
—Ann Patchett

"The Great Fire is a brilliant, brave, and sublimely written novel that allows the literate reader the consolation of having touched infinity. This wonderful book, which must be read at least twice simply to savor Hazzard's sentences and set pieces, is among the most transcendent works I've ever had the pleasure of reading."
—Anita Shreve

"Purely and simply, one of the greatest writers working in English today."
—Michael Cunningham