Happy Cruelty Day!: Daily Celebrations of Quiet Desperation (Paperback)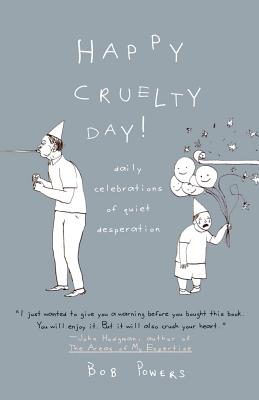 $27.99

Not In Store / Available To Order (allow for shipping time to bookstore or direct-to-home)
Description
---
For everyone looking to find a little extra magic in a life with little to celebrate, Happy Cruelty Day! is here. Beginning on January 1, this book features 365 new holidays, each accompanied by a strange, dark and humorous short story explaining the day you woke up in and how to celebrate it. These 365 daily doses of delight, perversion, and nonsense include "Hire Someone Attractive To Pretend To Love You Day," "Hang on to Your Wide-Eyed Innocence Day," "Sit in Abject Terror Day," and, of course, "Cruelty Day."

Far more than just a humor book, Happy Cruelty Day! is like a daily instructional manual written by a psychopath. On one page, the book has you joining a community crime watch group in an effort to make friends (it won't work). Flip the page, and you'll find the details of your attempt to rescue your husband from a POW camp (you'll fail). Flip it again, and Happy Cruelty Day! will have important insight into how best to befriend a runaway teen (offer her some soup).

These holidays celebrate everything from that pivotal point in your life when everything changes, to the day you're not going to do anything but sit on the edge of your bed and get very drunk. When people realize they've fallen in love, or when they realize their love was just a lie. And of course, when love of whatever incarnation brings an index finger to clench tight around the trigger of a gun.

Raw, ridiculous, and laugh-out-loud funny, this is a sharp-edged satire on the subtleties, shallowness, and stupidity of daily life.
About the Author
---
Bob Powers has performed at HBO's Aspen Comedy Festival, and he co-hosts and performs in the monthly reading series "How to Kick People" in New York City. He is the author of Happy Cruelty Day!, among other books. Bob has written for Flaunt magazine, The Onion A.V. Club, and the New York Press.
Praise For…
---
"My kind of book. Mean, but in a way that makes me smile. It's like a pleasant nightmare." —Saturday Night Live cast member Fred Armisen

"Never again we will wonder why every day is the same. Now each day can be horribly, hilariously different." —Sam Lipsyte, author of Home Land

"Wickedly funny work - a writer to be reckoned with, and maybe just a little afraid of." —Chris Regan, Emmy Award-winning writer, The Daily Show with Jon Stewart, and co-author, America: The Book

"So much more than a humor book - hilarious, wise, and truly original - the daily psalmbook of the absurd." —Mike Albo, author of The Underminer

"Bob Powers is the kind of man who can inform you that you'll be waking up in a dilapidated budget motel in Denver. That you'll be jumped by drug-addled corporate embezzlers; that you're prone to robbing your personal physician for his wedding ring and cash; that you're the last milkman in the country, and that you sleep with any boozed-up piece of office trash who wins the weekly trivia night at the local bar-and when he tells you all of this, it somehow makes your day. Hell, even your entire year." —Dan Kennedy, author of Loser Goes First; McSweeney's advice columnist