The God of His Word Bible Study Guide Plus Streaming Video (Paperback)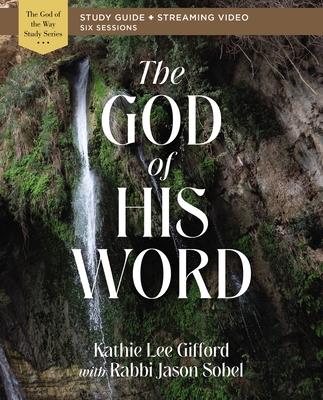 $21.99

Coming Soon - Available for Pre-Order Now
Description
---
God's love for you is the same yesterday, today, and forever.
If you want to know about God, all you have to do is open the pages of his Word. The Bible reveals that God is a creator and lover of justice. He is all-powerful and merciful. He is wise and shines the light of his truth to guide you. He is a God of all people, for he sent his only Son into the world, so that "whoever believes in him shall not perish but have eternal life" (John 3:16).
In this six-session video Bible study, bestselling authors Kathie Lee Gifford and Rabbi Jason Sobel explore some of the names for God used in Scripture and reveal what they say about his nature and character. You will discover--as so many of the men and women in Scripture discovered before you--that God's love, mercy, and care for his creation never changes. The God of his Word always keeps his Word . . . and he promises to always care for you.
Each session includes clips from The Way oratorios, featuring Kathie Lee Gifford and other well-known personalities, that bring the story of Scripture to life with contemporary orchestral arrangements, powerful narration, and stunning visuals.
This study guide includes:
Individual access to six streaming video sessions
A guide to best practices for leading a group
Video notes and a comprehensive structure for group discussion time
Personal study for deeper reflection between sessions
Sessions and video run times:
God of Creation (20:00)
God of Mercy (19:30)
God of Power (19:00)
God of Wisdom (20:00)
God of Light (21:00)
God of All People (21:00)
This study guide has everything you need for a full Bible study experience, including:
The study guide itself--with discussion and reflection questions, video notes, and a leader's guide.
An individual access code to stream all video sessions online. (You don't need to buy a DVD )
Streaming video access code included. Access code subject to expiration after 12/31/2028. Code may be redeemed only by the recipient of this package. Code may not be transferred or sold separately from this package. Internet connection required. Void where prohibited, taxed, or restricted by law. Additional offer details inside.