Sorry Please Thank You: Stories (Vintage Contemporaries) (Paperback)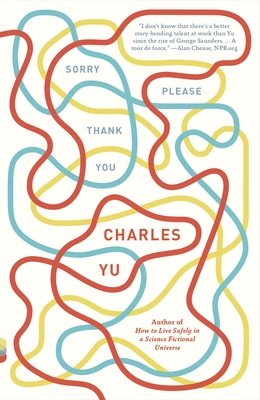 $16.00

Available In Store Now (while supplies last)
Description
---
From the National Book Award–⁠winning author of Interior Chinatown, comes a hilarious, heartbreaking, and utterly original collection of short stories.

A big-box store employee is confronted by a zombie during the graveyard shift, a problem that pales in comparison to his inability to ask a coworker out on a date . . . A fighter leads his band of virtual warriors, thieves, and wizards across a deadly computer-generated landscape, but does he have what it takes to be a hero? . . . A company outsources grief for profit, its slogan: "Don't feel like having a bad day? Let someone else have it for you."
 
Drawing from both pop culture and science, Charles Yu is a brilliant observer of contemporary society, and in Sorry Please Thank You he fills his stories with equal parts laugh-out-loud humor and piercing insight into the human condition. He has already garnered comparisons to such masters as Kurt Vonnegut and Douglas Adams, and in this new collection we have resounding proof that he has arrived (via a wormhole in space-time) as a major new voice in American fiction.
About the Author
---
CHARLES YU is the author of four books, including Interior Chinatown (the winner of the 2020 National Book Award for fiction), and the novel How to Live Safely in a Science Fictional Universe (a New York Times Notable Book and a Time magazine best book of the year). He received the National Book Foundation's 5 Under 35 Award and was nominated for two Writers Guild of America Awards for his work on the HBO series, Westworld. He has also written for shows on FX, AMC, and HBO. His fiction and nonfiction have appeared in The New Yorker, The New York Times, The Wall Street Journal, and Wired, among other publications. Together with TaiwaneseAmerican.org, he established the Betty L. Yu and Jin C. Yu Writing Prizes, in honor of his parents.
Praise For…
---
"What Charles Yu does very well—it is a long list, but this may be its most notable entry—is to create strange and disturbingly normal alternate realities. In his first novel, How To Live Safely In a Science Fictional Universe, Yu conceived of Minor Universe 31, a universe filled with people widely, albeit unhappily, using time machines. He took sci-fi theories and ran them through a sort of literary normalizer, applying ample wit, pop-culture references, psychological insight, metaphorical flair, and a vital sweetness (his young, isolated protagonist, in search of his father, even has a stray dog for a pet). Overflowing with quasi-scientific jargon, the novel was exciting and funny and, at times, downright spooky, much like the quantum theories that Yu invoked. But most of all, for a story about a time travel mechanic, it was unfailingly realistic. . . . In his new collection of stories, Sorry Please Thank You, Yu no longer constrains himself to the pre-requisites of realism—or, to be more accurate, the appearance of realism. Freed from this yoke, he takes off in every narrative direction with the glee of a school-kid released for summer vacation. . . . While Yu has drawn many comparisons to Kurt Vonnegut for his entertaining and adept satire, and to Douglas Adams for his intelligent and inventive silliness, Donald Barthelme seems an overlooked literary forebear. . . . As readers, we are all the better for Yu's astonishing mix of wild imagination and meticulous restraint. Of the three polite phrases that comprise his title—Sorry Please Thank You—only the last is of true relevance here. No sorries, Charles. Just thanks." —Los Angeles Review of Books

"There's some of the cerebral gamesmanship of Jonathan Lethem, the resigned sadness of Kurt Vonnegut, the Phil Dickian paranoiac distrust of consumer culture. But Yu's voice, sensibility and approach are unique, especially in the ways he wrings humor and pathos out of stripped-down syntax and seemingly passive protagonists . . . The stories deliver more than their fair share of bitter laughs, philosophical conundrums and existential gut punches."
—San Francisco Chronicle

"A mix of science fiction, absurdist humor and Beckettian monologue, with storytelling techniques that twist narrative into a computer-esque objectivism; think Donald Barthleme's strangest pyrotechnics in a Philip K. Dick or Haruki Murakami world . . . [Charles Yu is ] the computer century's heir to Philip K. Dick and Ray Bradbury."
—Shelf Awareness

"Yu's workman-like sentences are unexpectedly emotive, while also being almost always very funny . . . As with his critically acclaimed, much-adored 2010 debut novel, How to Live Safely in a Science Fictional Universe, Yu's new baker's dozen of satiric stories tell of a future that's really just an exaggerated present . . . Like the best science fiction writers, Yu provides seemingly gratuitous logistical information to mitigate any hint of farce . . . Yu is a master of the slow reveal. It sometimes takes pages to understand where we are and why, but as the chatty protagonists joke and confess their deepest pains, details accrue and outlines fill in. And when we are finally oriented, the universe he has created feels eerily complete . . . Imaginary lands become possible worlds; cunning tricks grow into game theory; playing pretend morphs into explorations of false consciousness. Each story in Sorry Please Thank You is staggeringly smart, and none feel like anything but entertainment. Cultish fans of the NBC comedy "Community,'' this book is for you."
—The Boston Globe

"I don't know that there's a better story-bending talent at work than Yu since the rise of George Saunders . . . If you take a longer view you can see that Yu's success has many parents, from the oft-quoted Stein, the tone of Hemingway and Beckett, Virginia Woolf's fanciful short creations (as in, say, the story "Kew Gardens"), Calvino's game-faced fantasies and the low-key but powerful satire of Kurt Vonnegut . . . a tour-de-force."
—Alan Cheuse, NPR.org
 
"Lovely and heartfelt . . . A brilliantly manic ride . . . Yu has an undeniable gift for describing, in clean, economical prose, the mechanics of things that don't exist or are impossible."
—The Wall Street Journal

"Stand back. The lead story in Sorry Please Thank You, this spritely new collection by L.A. writer Charles Yu, has the title 'Standard Loneliness Package' and it announces that a sly, nimble fantasist with a speculative edge is at work here. [An] adroit piece of work . . . Experiment plus emotion, we don't often find these two elements together, but when it happens, as it does in most of these stories . . . it makes for terrific reading for the heart as well as the head."
—Alan Cheuse for NPR's All Things Considered
 
"Charles Yu won us over with his weird, melancholy novel How to Live Safely in a Science Fictional Universe and now he's back . . . [These] stories are psychological studies of neurotic nerds, struggling to stay alive as they fight liches and loneliness. They're beautiful, strange, and funny."
—io9
 
"Yu's bold, playful voice evokes a computer-era Donald Barthelme, but his stylistic journey into the vast universe that is the human mind is refreshingly distinctive."
—Booklist

"Laugh-out-loud moments of strangeness artfully exist in a contemporary fictional structure . . . With this collection, steeped in originality, we get echoes of David Foster Wallace's early collection, Girl with the Curious Hair. Like Wallace, Yu abandons the more self-serving, insular metafiction of the past 40 years for a fresher form. Using technology, pop culture, etc., he attempts to write fiction that can be best shared with readers, not just critics or scholars. Yu, in fact, marries science and literature . . . Characteristic of his work, Yu mixes the beauty of human emotion with the science fiction to invent highly original, highly entertaining scenes and stories. He poses questions of reality and existence. You first think you're chuckling to yourself. Then, without warning, you've got that 'reaching final altitude' feeling in your stomach—a sudden change . . . Yu examines what it means to exist now and, in his own way, what it will mean in the future. It's almost as if these stories, through their science fiction and futuristic themes twinned with a humorous yet moving style, strive to reinvent what we know as metafiction . . . Yu follows Vonnegut and Wallace in this style of metafictional, literary pilgrimage"
—Paste Magazine

 "Grade A- . . . Pick it up and kiss your weekend good-bye . . . The best comparisons, though it feels a little hyperbolic to say, might be made with Vonnegut's more pessimistic novels, books like Cat's Cradle, Deadeye Dick, and Timequake. With Sorry Please Thank You, Yu has achieved something rare: an aggressively imagined work of fiction in which the concepts (mostly) serve the characters."
—Boston Phoenix

"Charles Yu's outstanding collection Sorry Please Thank You collects short fiction by the author who gave us the terrific How to Live Safely in a Science Fictional Universe. Yu's blend of literary fiction's style with sci-fi's wild ideas is beautifully realized here, especially in the moving gem "Standard Loneliness Package." One of the year's best collections in any genre."
—The Austin American-Statesman

"Enchanting . . . Yu's ability to assume widely diverging roles as a storyteller is dazzling . . . Those not bothered by diverse writing styles will find reading Yu to be an exciting adventure."
—Library Journal 
 
"Like his debut novel, How to Live Safely in a Science Fictional Universe, Charles Yu's new collection of stories mixes humor and clever conceits with a perfect deadpan delivery . . . Sharp, crisp insights that will have you chuckling and shaking your head."
—Los Angeles Times
 
"The author behind three of the most unusual books of fiction published in the past five years . . . Untraditional but weirdly glorious narratives that, for all their experimental form, end up carrying as much or even more emotional force as your original, more conventional vessel would have."
—Poets and Writers
 
"In his new collection, Charles Yu applies his trademark winking, pop-culture-infused, sci-fi mentality to a series of short stories . . . Clever and cutting."
—Flavorwire
 
"Whether Yu's work is dark, thought provoking, humorous, or all of the above, it's always compulsively readable."
—Owl and Bear

"Looking for the next great voice in fiction? Young author Charles Yu's short stories beg comparisons to Kurt Vonnegut and Douglas Adams, but he's funnier than both."
—Men's Health
 
"Entertaining . . . Like a friend who stops by unexpectedly with a bunch of mind-bending tales to share . . . had me laughing . . . go order a copy."
—Geekdad, Wired Magazine
 
"Impressive . . . Charts eclectic territory, from a zombie in a megamart to a new pharmaceutical drug that generates a sense of purpose, and explores retreats from reality and emotion . . . [Am] amusing send up American consumer culture."
—Publishers Weekly