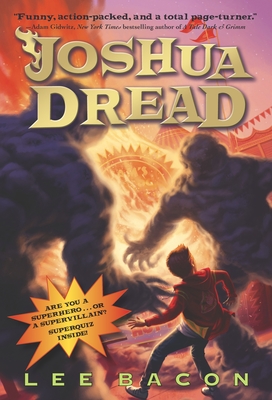 $7.99
Email orders@greenlightbookstore.com for information about this item.
Other Books in Series
This is book number 1 in the Joshua Dread series.
Description
---
The first book in the series! Middle school is tough already—but when your parents are evil supervillains and you've just discovered you have powers of your own, life can be a real challenge.  Not only do bullies pick on Joshua, but do you see those supervillains over there trying to flood the world? The ones that everyone, including his best friend Milton, are rooting for Captain Justice to take down? They're the Dread Duo, and they just happen to be his parents. As if trying to hide his identity wasn't hard enough, Joshua has started leaving a trail of exploding pencils and scorched handprints in his wake, and only Sophie, the new girl in town with a mysterious past, seems unsurprised. When a violent attack at the Vile Fair makes it clear someone is abducting supervillains, and that his parents may very well be next, Joshua must enlist both Sophie and Milton's help to save them.

"Joshua Dread is funny, action-packed, and a total page-turner. You'll want to read to the bitter end—unless Joshua's parents destroy the world first. Which is a distinct possibility."—Adam Gidwitz, author of A Tale Dark & Grimm
 
"Villainy! Mayhem! Family! From supervillains to killer houseplants, Joshua Dread has it all. I couldn't put it down and I didn't dare, not until I'd devoured every last page!" -C. Alexander London, author of the Accidental Adventure series
About the Author
---
LEE BACON grew up in Texas with parents who never once tried to destroy the world (at least, not that he knew of). He is the author of the Joshua Dread series and lives in Brooklyn, New York.