Brooklyn Brew Shop's Beer Making Book: 52 Seasonal Recipes for Small Batches (Paperback)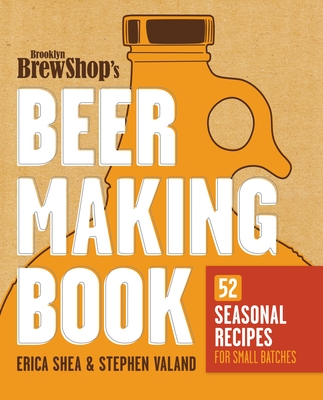 $19.99
Email orders@greenlightbookstore.com for information about this item.
Description
---
Brooklyn Brew Shop's Beer Making Book takes brewing out of the basement and into the kitchen. Erica Shea and Stephen Valand show that with a little space, a few tools, and the same ingredients breweries use, you too can make delicious craft beer right on your stovetop.

Greenmarket-inspired and seasonally brewed, these 52 recipes include Everyday IPA and Rose Cheeked & Blonde for spring; Grapefruit Honey Ale and S'More Beer for summer; Apple Crisp Ale and Peanut Butter Porter for fall; Chestnut Brown ale and Gingerbread Ale for winter; and even four gluten-free brews. You'll also find tips for growing hops, suggestions for food pairings, and recipes for cooking with beer.

Brooklyn Brew Shop's Beer Making Book offers a new approach to artisanal brewing and is a must-own for beer lovers, seasonally minded cooks, and anyone who gets a kick out of saying "I made this!"
About the Author
---
ERICA SHEA & STEPHEN VALAND are co-owners and -founders of the Brooklyn Brew Shop. They sell their beer making kits and ingredient mixes at BrooklynBrewShop.com, the Brooklyn Flea, Williams-Sonoma, Urban Outfitters, West Elm, and Whole Foods. Both they and their kits have been featured in Food & Wine, the New York Times, Real Simple, Cosmopolitan, Serious Eats, and on the Early Show, Regis & Kelly, ABC, NBC, and Fox. They live in Brooklyn.
Praise For…
---
"Both inspiring and practical, greenmarket foragers and home brewing teachers Erica & Steve have brought their impressive wisdom to this wonderfully simple book that has me inspired to brew some of their Cardamom Ale at home."
—Bill Covaleski, Brewmaster & President, Victory Brewing Company
 
"Erica and Stephen epitomize the DIY mentality that has captivated Brooklyn--and the rest of the country for that matter--over the past few years. After seeing them for years at the Brooklyn Flea Market teaching people how to brew in small batches, it's awesome to see how their impact has now spread to all corners of the country."
—Shane Welch, President, Sixpoint Brewery
 
"Since their launch of homebrew kits at the Brooklyn Flea, Erica and Stephen have been creating seasonal, easy to follow recipes and kits for the home brewer. Now with the Brooklyn Brew Shops Beer Making Book they have defined a true year-round farm-to-bottle guide for the home brewer that brings the joy of making beer to the farmers market.  Make beer/Drink beer/Enjoy!"
—Adams Dulye, Executive Chef, The Monk's Kettle
 
"Erica and Stephen are a triple threat—master marketers, whip-smart, kitchen creative—and they're one of the Flea's sweetest success stories, having grown from a cute booth at the market to a full-blown national brand in three short years. If you can make it (beer) in Brooklyn, you can make it anywhere!"
—Eric Demby, Co-Founder, Brooklyn Flea and Smorgasburg
 
"This brewing book is easy to read, easy to follow and proves that it's easy to build your own versions with your own, local ingredients."
—Samuel Merritt, President, Civilization of Beer

"Whether you're brewing on your apartment stove, or on a propane burner in your back yard, Erica and Stephen make it easy and fun to craft and make your own beer in one or five gallon batches. With 52 different recipes, you'll be able to make your favorite style, and have endless inspiration to try something new -- every week of the year if you want to. I love this book as much as I love making beer, and I really love making beer. Cheers!"
- Wil Wheaton