Promise Me: How a Sister's Love Launched the Global Movement to End Breast Cancer (Paperback)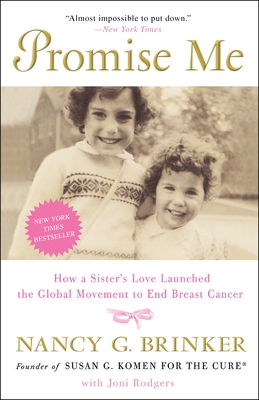 $16.00
Email orders@greenlightbookstore.com for information about this item.
Description
---
Suzy and Nancy Goodman were more than sisters. They were best friends, confidantes, and partners in the grand adventure of life. For three decades, nothing could separate them. Not college, not marriage, not miles. Then Suzy got sick. She was diagnosed with breast cancer in 1977; three agonizing years later, at thirty-six, she died.

It wasn't supposed to be this way. The Goodman girls were raised in postwar Peoria, Illinois, by parents who believed that small acts of charity could change the world. Suzy was the big sister—the homecoming queen with an infectious enthusiasm and a generous heart. Nancy was the little sister—the tomboy with an outsized sense of justice who wanted to right all wrongs. The sisters shared makeup tips, dating secrets, plans for glamorous fantasy careers. They spent one memorable summer in Europe discovering a big world far from Peoria. They imagined a long life together—one in which they'd grow old together surrounded by children and grandchildren.
Suzy's diagnosis shattered that dream.

In 1977, breast cancer was still shrouded in stigma and shame. Nobody talked about early detection and mammograms. Nobody could even say the words "breast" and "cancer" together in polite company, let alone on television news broadcasts. With Nancy at her side, Suzy endured the many indignities of cancer treatment, from the grim, soul-killing waiting rooms to the mistakes of well-meaning but misinformed doctors. That's when Suzy began to ask Nancy to promise. To promise to end the silence. To promise to raise money for scientific research. To promise to one day cure breast cancer for good. Big, shoot-for-the-moon promises that Nancy never dreamed she could fulfill. But she promised because this was her beloved sister.
I promise, Suzy. . . .  Even if it takes the rest of my life.

Suzy's death—both shocking and senseless—created a deep pain in Nancy that never fully went away. But she soon found a useful outlet for her grief and outrage. Armed only with a shoebox filled with the names of potential donors, Nancy put her formidable fund-raising talents to work and quickly discovered a groundswell of grassroots support. She was aided in her mission by the loving tutelage of her husband, restaurant magnate Norman Brinker, whose dynamic approach to entrepreneurship became Nancy's model for running her foundation. Her account of how she and Norman met, fell in love, and managed to achieve the elusive "true marriage of equals" is one of the great grown-up love stories among recent memoirs. 

Nancy's mission to change the way the world talked about and treated breast cancer took on added urgency when she was herself diagnosed with the disease in 1984, a terrifying chapter in her life that she had long feared. Unlike her sister, Nancy survived and went on to make Susan G. Komen for the Cure into the most influential health charity in the country and arguably the world. A pioneering force in cause-related marketing, SGK turned the pink ribbon into a symbol of hope everywhere. Each year, millions of people worldwide take part in SGK Race for the Cure events. And thanks to the more than $1.5 billion spent by SGK for cutting-edge research and community programs, a breast cancer diagnosis today is no longer a death sentence. In fact, in the time since Suzy's death, the five-year survival rate for breast cancer has risen from 74 percent to 98 percent.

Promise Me is a deeply moving story of family and sisterhood, the dramatic "30,000-foot view" of the democratization of a disease, and a soaring affirmative to the question: Can one person truly make a difference?
About the Author
---
NANCY G. BRINKER is the founder and CEO of Susan G. Komen for the Cure. She has served as Ambassador to Hungary and United States Chief of Protocol and is currently the Goodwill Ambassador for Cancer Control for the United Nations World Health Organization.  She has been the recipient of many prestigious awards, including the 2009 Presidential Medal of Freedom, the nation's highest civilian honor. Visit Nancy at nancygbrinker.com.

JONI RODGERS is the New York Times bestselling author of Bald in the Land of Big Hair, a memoir of her cancer treatment and recovery.
Praise For…
---
"In this deeply thoughtful, assertive, sensitive memoir of the sisters' growing up and devotion to each other in life and death, Brinker chronicles the long path she trod to create Susan G. Komen for the Cure."
--Publishers Weekly

"These stories of joy, fear, love and heartache are told in a captivating voice that brings a highly personal dimension to [Susan G. Komen for the Cure] and to the subject of breast cancer in general…. A touching, inspiring look behind the scenes at the founding of one of the most famous nonprofit organizations in the world."
—Kirkus Reviews

"More than twenty-five years ago, Nancy's love for her cherished sister sparked a promise to fight breast cancer. Today that promise has launched a global movement to end breast cancer, and Nancy is fulfilling her promise to women all around the world. Promise Me is an inspiring tribute to a sister's love and a must-read for all who know the pink ribbon."
—LAURA BUSH, former First Lady and author of Spoken from the Heart

"Promise Me emotionally and elegantly chronicles how sisterly love changed the course of modern medicine by catalyzing women around the world to battle breast cancer."
—MEHMET OZ, M.D., host, The Dr. Oz Show and professor and vice-chair of surgery, New York Presbyterian/Columbia

"This is the story of what happens when a big heart meets an iron will. Nancy Brinker will make you sit back in wonder."
—KELLY CORRIGAN, bestselling author of Lift and The Middle Place

"Susan G. Komen for the Cure has become a brand name in the fight against breast cancer, thanks to the tireless devotion of Nancy Brinker. In Promise Me we learn about the remarkable work of that organization, and also finally get to know the woman behind the name—Suzy Goodman Komen's sense of fun and family comes through these pages as a bright light leading her sister through trials and triumphs."
—COKIE ROBERTS, news analyst and author of We Are Our Mothers' Daughters and Founding Mothers

"This is three beautiful books rolled into one: a poignant memoir, a guide to running an entrepreneurial foundation, and a set of inspiring stories about the struggle against breast cancer. When her beloved sister, Suzy, died, Nancy Brinker's life's work began. This book is about the meaning of life. It will move and enlighten you."
—WALTER ISAACSON, bestselling author of Einstein: His Life and Universe and Benjamin Franklin: An American Life
Coverage from NPR