Revolutionary Road (Movie Tie-in Edition) (Paperback)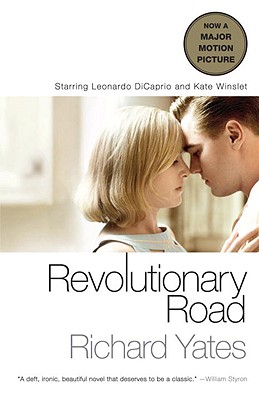 Email or call us for information about purchasing this item.
Staff Reviews
---
Richard Yates' 1961 classic is so much more than the on-screen reunion of Leo and Kate. April and Frank Wheeler are suburban perfection, a middle-class family who seems to have it all but fumble for more. Yates writes with heartbreaking clarity about identity, familial roles and dreams just out of reach. The truth revealed and the suspense created linger long after the last page.
Picked by Wynne in Prospect Lefferts Gardens
Spring/Summer '09 Reading Group List
---
"Set in the Connecticut suburbs of 1955, Revolutionary Road portrays the essential, continuing, now exacerbated American dilemma: How a young person might well live in America without conforming to the tedium of upward mobility and suburban family life. Nothing I have ever been told could have prepared me for this book's brilliance."
— Richard Howorth, Square Books, Oxford, MS
Description
---
In the hopeful 1950s, Frank and April Wheeler appear to be a model couple: bright, beautiful, talented, with two young children and a starter home in the suburbs. Perhaps they married too young and started a family too early. Maybe Frank's job is dull. And April never saw herself as a housewife. Yet they have always lived on the assumption that greatness is only just around the corner. But now that certainty is about to crumble.With heartbreaking compassion and remorseless clarity, Richard Yates shows how Frank and April mortgage their spiritual birthright, betraying not only each other, but their best selves.
About the Author
---
Richard Yates was born in 1926. The author of several acclaimed works of fiction, including Revolutionary Road, Eleven Kinds of Loneliness, Disturbing the Peace, and The Easter Parade, he was lauded during his lifetime a"s "the foremost novelist of the post-war "age of anxiety." He died in 1992.
Praise For…
---
"Primary and forceful. . . . Revolutionary Road looks straight at us . . . and invites us to pay attention, have a care, take heed, and live life as if it mattered what we do." —Richard Ford "A powerful treatment of a characteristically American theme…. A moving and absorbing story."—The Atlantic Monthly"The great Gatsby of my time."—Kurt Vonnegut"Yates allows his characters to reveal themselves-- which they do with an intensity that excites the reader's compassion [and] interest."—The New York Times