Backlash: The Undeclared War Against American Women (Paperback)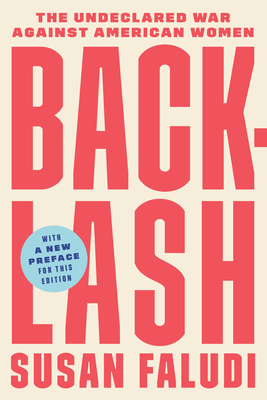 Though the 1970s saw great gains for American women, Backlash focuses instead on the 1980s, a decade revealed through Faludi's reporting as fraught with subtle anti-feminist agitprop and an escalating culture war that enlisted consumerism, mass media, and politics to warp the message of feminism and roll back the gains earned by 1970s activism. The work suggests that those unwilling to learn from feminist history will stumble blindly through its darkest chapters. No less relevant in our own time, Backlash persists as one of the most essential pieces of journalism for understanding the importance of the women's movement in America.
Picked by Austin in Prospect Lefferts Gardens
Description
---
From the author of In the Darkroom, a feminist classic and skillful examination of the attack on women's rights.

Today's political climate leaves no doubt that American women are still being assaulted by the same antifeminist backlash messages that Susan Faludi brilliantly exposed in her 1991 bestseller. When it was first published, Backlash made headlines for puncturing popular media myths like the "infertility epidemic" and the "man shortage." The statistic-defying, willfully fictitious coverage, Faludi pointed out, contributed to an anti-woman backlash. The fifteenth anniversary edition, with an updated preface by the author, brings backlash consciousness into the 21st century.

Faludi's words seem especially prophetic in post-Trump America. That glass ceiling remains unshattered, women are still punished for wanting to succeed, and reproductive rights are still hanging by a thread. But Backlash is an alarm bell for women of every generation—waking us up to the dangers that we all face.
About the Author
---
A former Wall Street Journal reporter, Susan Faludi won the Pulitzer Prize in 1991 for explanatory journalism and the National Book Critics' Circle award for Backlash. She is the author of Stiffed: The Betrayal of the American Man, which was published in 1999, and has written for many publications, including The New Yorker, The Nation, Newsweek, and the New York Times.
Praise For…
---
"Faludi uses her dazzling investigative powers to zap the smug detractors of feminism, the hypocrites, backsliders, and antifeminists. The result is a rich and juicy read, informed by powerful logic and moral clarity."
—Barbara Ehrenreich, author of Nickel and Dimed

"The backlash against women is real. This is the book we need to help us understand it, to struggle through the battle fatigue, and to keep going."
—Alice Walker

"As groundbreaking . . . as its two important predecessors, Simone de Beauvoir's The Second Sex and Betty Friedan's The Feminine Mystique . . . gripping."
—Laura Shapiro, Newsweek

"Faludi argues with great passion and impressive research . . . Backlash may even be the catalyst for a new wave of activism."
—Vanity Fair

"[Backlash is] wholly convincing and more than a little alarming."
—The New Yorker 

"If you believe . . . that equality if good for women, and that traditional gender roles are mandated unfairly by culture, not nature, you'll find this book a valuable resource."
—Wendy Kaminer, The Atlantic

"Faludi gives so many examples of reporting skewed to emphasize the adverse effects if independence and nontraditional roles for women, when ample evidence exists that such effects are often transitory, that one is left with no doubt that she is right."
—Diane Johnson, The New York Review of Books 

 "Backlash is a crucial book on a crucial subject. With great insight and wit, Faludi identifies the obstacles to women's equality and directs us toward more promising responses."
—Deborah L. Rhode, Professor of Law, Stanford Law School, and former Director, Institute on Women and Gender, Stanford

"Thought-provoking, inspiring, and truly groundbreaking, Backlash is a must-read for women across the nation."
—Eleanor Smeal, President, The Fund for the Feminist Majority

"Spellbinding and frightening, this book is a wake-up call to the men as well as the women who are struggling to build a gender-respectful society."
—Robert Reich, author of The Work of Nations

"Smartly written, extraordinarily reported."
—M Magazine

"Thorough, carefully documented and persuasive."
—Chicago Tribune

"Enraging, enlightening, and invigorating, Backlash is, most of all, true."
—New York Newsday 

"Withering commentary . . . This eloquent, brilliantly argued book should be read by everyone concerned about gender equality."
—Publishers Weekly

"Powerful and long-overdue myth-buster—an instant classic . . . Brilliant reportage . . . a stunning debut."
—Kirkus Reviews

"Fiery, scintillating . . . deserves the largest possible readership."
—Booklist