Broccoli and Other Tales of Food and Love (Paperback)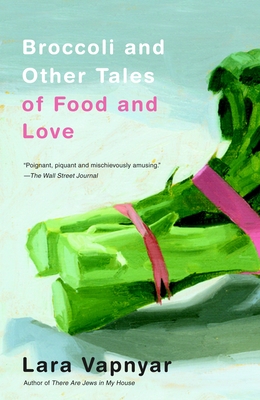 Click on "Ask A Bookseller" to contact us via email for more information about this title.
Description
---
Each of Lara Vapnyar's six stories invites us into a world where food and love intersect, along with the overlapping pleasures and frustrations of Vapnyar's uniquely captivating characters. Meet Nina, a recent arrival from Russia, for whom colorful vegetables represent her own fresh hopes and dreams . . . Luda and Milena, who battle over a widower in their English class with competing recipes for cheese puffs, spinach pies, and meatballs . . . and Sergey, who finds more comfort in the borscht made by a paid female companion than in her sexual ministrations. They all crave the taste and smell of home, wherever—and with whomever—that may turn out to be. A roundup of recipes are the final taste of this delicious collection.
About the Author
---
Lara Vapnyar emigrated from Russia in 1994. She is also the author of of the novel Memoirs of a Muse. There are Jews in My House was nominated for the Los Angeles Times Book Prize and the New York Public Library Young Lions Fiction Award, and won the Prize for Jewish Fiction by Emerging Writers from the National Foundation for Jewish Culture. Her work has appeared in The New York Times, The New Yorker, and Open City. She lives on Staten Island.
Praise For…
---
"Poignant, piquant and mischievously amusing." —Wall Street Journal"Elegant. . . . In these stories, food has the power to define characters, propel plots, cause riots and even commit manslaughter." —The New York Times"The comedy of these amusing character studies would, perhaps, have delighted Chekhov. . . . With Vapnyar, we're seeing the weird and wonderful development of a sophisticated artist." —San Francisco Chronicle"Charming.... The stories come alive, inviting the reader to explore the kitchen tables and anxious stomachs of the characters."—The New York Observer