Trouble: Stories (Vintage Contemporaries) (Paperback)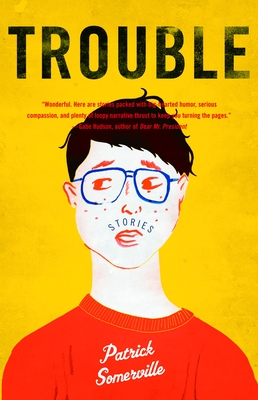 $12.95
Email orders@greenlightbookstore.com for information about this item.
Description
---
A VINTAGE ORIGINAL

In this hilarious and wildly inventive debut, including a title story that was nominated for the Pushcart Prize, Patrick Somerville charts the dangerous territories of adolescence and adulthood for the American male.

In "Puberty," Brandon takes the matter of his reticent hormones into his own hands. In "English Cousin," Terry's enigmatic relative arrives, looking to learn about love, stateside. And in "The Future, the Future, the Future," Dan's carefully planned life falters when he sees his wife kissing her boss. Trouble explodes with wicked humor, exuberant braininess, and unforgettable style.
About the Author
---
Patrick Somerville was born and raised in Wisconsin and attended the University of Wisconsin-Madison. He taught English and creative writing at Cornell, where he also earned his MFA. Trouble is his first book of fiction. He currently lives in Chicago.
Praise For…
---
"A darkly comic portrayal of men afraid of their destructive power. . . . Somerville crafts stories that, with equal parts grace and humility, highlight mordant absurdity." —Publishers Weekly

"Trouble is a wittily demented and off-beat collection of stories about the peculiar joys and perversions of the ordinary lives of an eclectic group of boys and men. . . . Wildly entertaining and remarkably funny. . . . Reminiscent of such great, dark storytellers as T.C. Boyle and even Ray Carver." —Artvoice

"Trouble is a great collection of stories, full of the true adventures of life and what it means to be a man." —Hannah Tinti, author of Animal Crackers

"These gorgeous stories, written with wit and precision, are energized by Patrick Somerville's improvisational humor and the authentic sympathy he brings to the tempest of ordinary lives. It is hard to think of another book quite like this one. Every story is provocative, revelatory, and satisfying." —Stephanie Vaughn, author of Sweet Talk

"Wonderful. Here are stories packed with big-hearted humor, serious compassion, and plenty of loopy narrative thrust to keep you turning the pages. Patrick Somerville's characters exist in a modern world where love and cruelty are indistinguishable, and he imbues their struggle with real grace. Oddly tender, dementedly funny, this book is a pleasure to read." —Gabe Hudson, author of Dear Mr. President