A Bad Idea I'm About to Do: True Tales of Seriously Poor Judgment and Stunningly Awkward Adventure (Paperback)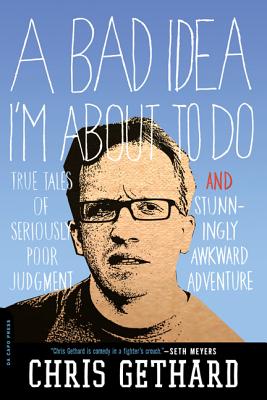 $16.00
Email orders@greenlightbookstore.com for information about this item.
Description
---
Chris Gethard has often found himself in awkward situations most people, including you, probably would have safely avoided. The good news is now, thanks to this book, you can enjoy the painfully funny consequences of his unfortunate decisions at a safe distance.

A Bad Idea I'm About to Do invites readers to join Chris as he navigates an adolescence and adulthood mired in hilariously ill-fated nerdom, and to take comfort in the fact that - as his experiences often prove - things could always be much, much worse.
About the Author
---
Chris Gethard is an actor, comedian, and writer as well as the star and creator of Half My Life. He also hosts the BeautifulAnonymous podcast. In addition to numerous appearances on Comedy Central, Late Night with Conan O'Brien, Late Night with Jimmy Fallon, MTV's Human Giant, CollegeHumor.com, and FunnyorDie.com, he is a longtime performer at the Upright Citizens Brigade Theatre. Raised in West Orange, New Jersey, he now lives in Queens, New York. 
Praise For…
---
"If you like underdog stories told by a secret comedy superhero, Chris Gethard is your man. Each story is the perfect combination of hilarious and heartbreaking." —
Amy Poehler
"Chris Gethard is comedy in a fighter's crouch." —
Seth Meyers
"There's truly no poorer judgment than not buying this book. Except maybe diving into a swimming pool full of malaria."—
Patton Oswalt
"Whenever I'm felling down on myself or think that I'm slowly going crazy, I think of one of Gethard's stories. Then I realize that, hey, I don't got it so bad after all."
—
Jack McBrayer
,
actor, 30 Rock
"Chris Gethard stories are like a roller coaster-at times you are scared, shocked, and ultimately exhilarated by the hilarity each story contains-and once you finish one, you wanna hear another one right away."—
Paul Scheer
,
actor, FX's The League and Adult Swim's NTSF: SD: SUV
"Chris Gethard tells the amazing stories an eccentric old man would tell...if that man had lived his f#@king life with any balls. His stories are hilarious and riveting-but more importantly, real." —
Rob Huebel
,
actor, Adult Swim's Childrens Hospital and MTV's Human Giant
"Chris Gethard is one of my favorite storytellers. He's amazing! He's always getting into the most unusual situations....Even normal situations become amazing when you're Chris Gethard. Seriously, when Geth is talking, I stop and listen."—
Rob Riggle
,
actor
"Self-hating funny guy comes to terms with his depression...He's easy to root for...The author has a good time laughing at himself."—
Kirkus Reviews
"In this collection of tales from a nerdy, stumbling adolescence, up-and-coming comedian Chris Gethard will make you laugh, cry, and glad that you aren't him."—
Huffington Post
"Mr. Gethard's storytelling is very good, and this book is most definitely worth reading."—
Penthouse