Howardena Pindell: Reclaiming Abstraction (Hardcover)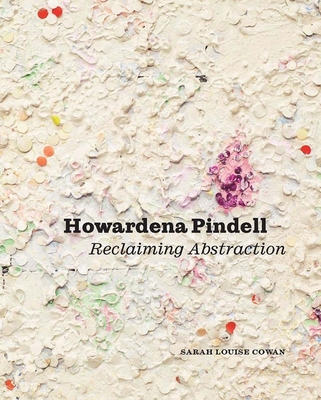 $60.00

Available In Store Now (while supplies last)
Description
---
Exploring the art and life of this important American artist whose work bridged the gaps between abstraction, feminism, and Blackness
 
"A deeply informative, inventive monograph that adroitly traces Pindell's multi-media practice, the intermingling evolution of her aesthetic and political positions, and the critical context in which her work was received and evaluated."—Blake Oetting, caa.reviews
 
Howardena Pindell: Reclaiming Abstraction is a fascinating examination of the multifaceted career of artist, activist, curator, and writer Howardena Pindell (b. 1943). It offers a fresh perspective on her abstract practice from the late 1960s through the early 1980s—a period in which debates about Black Power, feminism, and modernist abstraction intersected in uniquely contentious yet generative ways. Sarah Louise Cowan not only asserts Pindell's rightful place within the canon but also recenters dominant historical narratives to reveal the profound and overlooked roles that Black women artists have played in shaping modernist abstraction. Pindell's career acts as a springboard for a broader study of how artists have responded during periods of heightened social activism and used abstraction to convey political urgency. With works that drew on Ghanaian textiles, administrative labor, cosmetics, and postminimalism, Pindell deployed abstraction in deeply personal ways that resonated with collective African diasporic and women's practices. In her groundbreaking analysis, Cowan argues that such work advanced Black feminist modernisms, diverse creative practices that unsettle racist and sexist logics.
About the Author
---
Sarah Louise Cowan is assistant professor of art and art history at DePauw University.
Praise For…
---
"Cowan's book illuminates the artist's decades-long strategy of modeling, evading and eroding those critical expectations that attempted to define her. The result is a deeply informative, inventive monograph that adroitly traces Pindell's multi-media practice, the intermingling evolution of her aesthetic and political positions, and the critical context in which her work was received and evaluated."—Blake Oetting, caa.reviews

"Cowan's focus on the influence of Africa and African textiles on Howardena Pindell's work and her convincing presentation of abstraction as politically meaningful make this book entirely unique."—Lisa Farrington, Howard University

"Cowan creates an important and compelling analysis of the life and career of a grossly understudied American artist. This book has the potential to change the way we understand Howardena Pindell."—Jordana Moore Saggese, University of Maryland