Always Reaching: The Selected Writings of Anne Truitt (Paperback)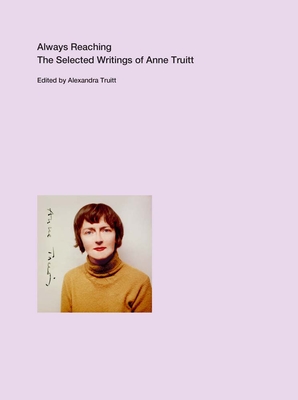 $38.00

Available In Store Now (while supplies last)
Description
---
An expansive collection of texts providing insight into the inner life, creativity, and practice of the innovative American artist Anne Truitt
 
Spanning more than fifty years, this comprehensive volume collects the letters, journal entries, interviews, lectures, reviews, and remembrances of the groundbreaking twentieth-century artist Anne Truitt (1921–2004). Alexandra Truitt, the artist's daughter and a leading expert on her work, has carefully selected these writings, most of which are previously unpublished, from the artist's papers at Bryn Mawr College as well as private holdings.
 
Revelations about the artist's life abound. Among Truitt's earliest writings are excerpts from journals written more than a decade before her first artistic breakthrough, in which she establishes themes that would occupy her for decades. In later texts she shares uncommon insights into the practices of other artists and writers, both predecessors and peers. Like Truitt's published journals, these writings offer a compelling narrative of her development as an artist and efforts to find her voice as a writer. They show that Truitt's creative impulse to translate the inner workings of her mind into a symbolic language, so important to understanding her sculpture, predates her art.
About the Author
---
Anne Truitt was an American artist often associated with minimalism. She was the author of four journal-based books, including Daybook (1982) and Yield (Yale, 2022). Alexandra Truitt manages her mother's estate and is a leading expert on her work. Miguel de Baca is author of Memory Work: Anne Truitt and Sculpture.
Praise For…
---
"Anne Truitt has been my lodestar throughout my life as a writer. To hear her voice once more in this exquisite selection of her personal writings is a gift beyond measure. Truitt's searching intellect, wise heart, and disciplined attention to her own artistic sensitivities are profoundly instructive. This book will interest Truitt scholars and art historians, to be sure, but it really should be required reading for anyone embarking on a creative life."—Dani Shapiro, author of Inheritance

"A precedent without peer and an archival treasure, Always Reaching presents the writing and thinking of someone deeply engaged in the art world of her time."—Suzanne Hudson, University of Southern California