The Newspaper Axis: Six Press Barons Who Enabled Hitler (Hardcover)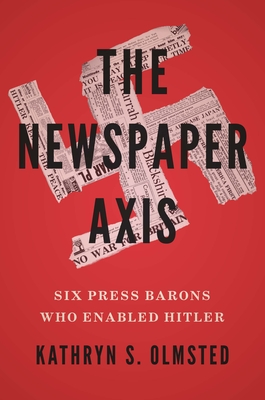 $30.00

Not In Store / Available To Order (allow for shipping time to bookstore or direct-to-home)
Description
---
How six conservative media moguls hindered America and Britain from entering World War II
 
"A damning indictment. . . . The parallels with today's right-wing media, on both sides of the Atlantic, are unavoidable."—Matthew Pressman, Washington Post
 
"A first-rate work of history."—Ben Yagoda, Wall Street Journal
 
As World War II approached, the six most powerful media moguls in America and Britain tried to pressure their countries to ignore the fascist threat. The media empires of Robert McCormick, Joseph and Eleanor Patterson, and William Randolph Hearst spanned the United States, reaching tens of millions of Americans in print and over the airwaves with their isolationist views. Meanwhile in England, Lord Rothermere's Daily Mail extolled Hitler's leadership and Lord Beaverbrook's Daily Express insisted that Britain had no interest in defending Hitler's victims on the continent.
 
Kathryn S. Olmsted shows how these media titans worked in concert—including sharing editorial pieces and coordinating their responses to events—to influence public opinion in a right-wing populist direction, how they echoed fascist and anti-Semitic propaganda, and how they weakened and delayed both Britain's and America's response to Nazi aggression.
About the Author
---
Kathryn S. Olmsted is a professor of history at the University of California, Davis. She is the author of Right Out of California: The 1930s and the Big Business Roots of Modern Conservatism. She lives in Davis, CA.
Praise For…
---
"A damning indictment against six of the most powerful English-language publishers of the World War II era. . . . The parallels with today's right-wing media, on both sides of the Atlantic, are unavoidable."—Matthew Pressman, Washington Post

"Reminds readers that nationalist press outlets that disseminate fake news, praise foreign autocrats, and practice dog-whistle politics are nothing new."—Andrew Moravcsik, Foreign Affairs

"A first-rate work of history."—Ben Yagoda, Wall Street Journal

A Foreign Affairs Best Book of 2022

"An eye-opening, wonderfully researched, deftly written account of the impact six reactionary media barons had on the political culture of Great Britain and the United States on the eve of and during World War II. This timely study fills a huge gap in the history of twentieth-century media and politics."—Brooke L. Blower, author of Becoming Americans in Paris: Transatlantic Politics and Culture between the World Wars

"A fascinating and original study that brings a collective lens to the influence of mass circulation press barons during an important period of world history."—Everette E. Dennis, Northwestern University

"Kathryn Olmsted's deeply insightful narrative reveals the immense power enemies of liberal internationalism wielded on both sides of the Atlantic. The Newspaper Axis is a landmark in the political history of journalism."—Michael Kazin, author of What It Took to Win: A History of the Democratic Party

"A salutary lesson about what happens when media barons dominate the dissemination of news."—Rhodri Jeffreys-Jones, author of The Nazi Spy Ring in America: Hitler's Agents, the FBI, and the Case that Stirred a Nation

"Kathryn Olmsted's powerful book shows how the right-wing media in the United States and Great Britain helped to popularize fascist dictators and undermine efforts to bring them down. The Newspaper Axis is an eye-opening and compelling book for anyone who wants to understand the origins of the right-wing media today."—Jeremi Suri, author of The Impossible Presidency: The Rise and Fall of America's Highest Office