The Neighborhoods of Brooklyn (Neighborhoods of New York City) (Paperback)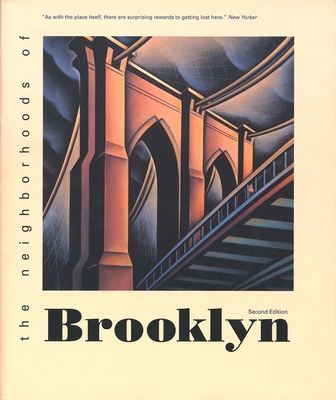 $25.00

Available In Store Now (while supplies last)
Description
---
Brooklyn—famed for its bridge, its long-departed Dodgers, its Botanic Garden, and its accent—is the most populous borough in New York City and arguably the most colorful. Its many neighborhoods boast diverse and shifting ethnic enclaves, an abundance of architectural styles, and an amazing number of churches and festivals. Generously illustrated with both historical and contemporary photographs, The Neighborhoods of Brooklyn is an indispensable and entertaining guide.

Begun as an offshoot of The Encyclopedia of New York City, which provides much of the historical background, the book takes its character from the neighborhoods themselves, as detailed by the Citizens Committee for New York City and Brooklyn Borough Historian John Manbeck. Taking us on a tour of some 90 neighborhoods (including ghost neighborhoods that no longer exist), the book identifies the boundaries of each one through a neighborhood profile and a street map. There is also an essay on each neighborhood as well as an insert with practical tips on subways, buses, libraries, police precincts, fire departments, and hospitals. In addition, each entry includes eclectic neighborhood facts: Erasmus Hall Academy, in Flatbush, boasts such famous graduates as Barbra Streisand and Bobby Fischer; during Poland's 1990 elections, more than 5,000 absentee ballots were postmarked Greenpoint. The introduction by Kenneth T. Jackson gives an overview of Brooklyn, while an index allows readers to locate key sites within the borough.

In 1898, when it was the third largest city in the United States, the City of Brooklyn merged with New York City to become one of its five boroughs. A century later it is time to salute this unique community in a book that will be an essential resource for past, present, and future residents.

The Neighborhoods of Brooklyn is the first in a series on New York's five boroughs.


About the Author
---
The Citizens Committee for New York City has been active for more than two decades in providing information, skills, and funding to help New York's citizens build and improve their neighborhoods. Kenneth T. Jackson is the Jacques Barzun Professor of History and the Social Sciences and chairman of the history department at Columbia University. He is the author or editor of many books, including The Encyclopedia of New York City, published by Yale University Press.



Praise For…
---
This generously illustrated book takes us on a tour of the ninety neighborhoods of Brooklyn, with their diverse ethnic enclaves, abundance of architectural styles, and many churches and festivals. For each neighborhood the book provides an essay, street maps, practical tips, and fascinating facts. The introduction gives an overview of Brooklyn, and an index allows readers to locate key sites.


"The big folio "Encyclopedia of New York City" that [Jackson] edited in 1995 has become an instant classic. . . . The Neighborhoods of Brooklyn continues the project of a pro-urban history, this time by detailing in charming and highly accessible form the facts about a city that works."—William R. Everdell, New York Times Book Review