Slavery and Sexuality in Classical Antiquity (Hardcover)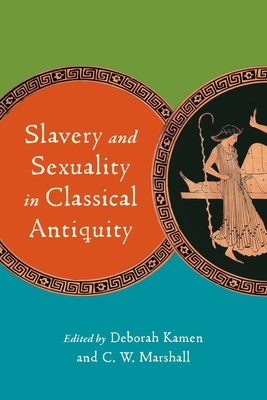 Click on "Ask A Bookseller" to contact us via email for more information about this title.
Description
---
Slavery and sexuality in the ancient world are well researched on their own, yet rarely have they been examined together. This volume is the first to explore the range of roles that sex played in the lives of enslaved people in antiquity beyond prostitution, bringing together scholars of both Greece and Rome to consider important and complex issues. Chapters address a wealth of art, literature, and drama to analyze a wide range of issues, including gendered power dynamics, sexual violence in slave revolts, same-sex relations between free and enslaved people, and the agency of assault victims.
 
Slavery and Sexuality in Classical Antiquity reveals the often hidden and contradictory attitudes concerning the sexual identities and expression of enslaved people. These individuals were typically objectified by both social convention and legal description but were also recognized as human subjects, with subjectivity and sexual desires of their own. The contributors provoke valuable and fascinating questions that not only recognize the trauma and struggles of enslaved people but also point to the apparent inconsistencies in the mindsets of the enslavers. The resulting volume expands our understanding of both sexuality and slavery in ancient Greece and Rome, as separate subjects and as they impacted each other.
About the Author
---
Deborah Kamen is a professor of classics at the University of Washington and the author of Insults in Classical Athens and Status in Classical Athens. C. W. Marshall is a professor of Greek at the University of British Columbia and the author of Aeschylus: Libation Bearers and The Structure and Performance of Euripides' Helen.
Praise For…
---
"A set of detailed, theoretically informed and compassionate studies of the sexual existence of enslaved persons. Using textual, visual, and archaeological evidence, this valuable book builds on and challenges earlier work to illuminate crucial aspects of forms of domination in the long histories of Ancient Greece and Rome."—Page duBois, author of Slaves and Other Objects

"This brilliant collection of essays will deepen our knowledge of how slavery and sexuality were inseparable in classical antiquity. Ranging from Archaic Greece to the Roman Empire, this book is full of new insights into the power dynamics of ancient societies."—Kyle Harper, University of Oklahoma

"An invaluable addition to the study of slavery in the ancient Mediterranean. . . . Various methodological techniques for uncovering the voices of silenced individuals are employed by the authors, thus creating not only an informative and complex approach to the subject, but also an exemplary model for future scholars."—Bryn Mawr Classical Review

"An impressive and highly readable account."—Classics for All