A Black Gaze: Artists Changing How We See (Paperback)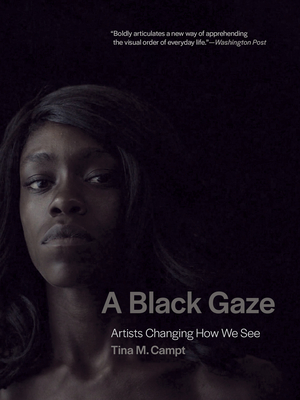 $24.95

Available In Store Now (while supplies last)
Description
---
Examining the work of contemporary Black artists who are dismantling the white gaze and demanding that we see--and see Blackness in particular--anew.

In A Black Gaze, Tina Campt examines Black contemporary artists who are shifting the very nature of our interactions with the visual through their creation and curation of a distinctively Black gaze. Their work--from Deana Lawson's disarmingly intimate portraits to Arthur Jafa's videos of the everyday beauty and grit of the Black experience, from Kahlil Joseph's films and Dawoud Bey's photographs to the embodied and multimedia artistic practice of Okwui Okpokwasili, Simone Leigh, and Luke Willis Thompson--requires viewers to do more than simply look; it solicits visceral responses to the visualization of Black precarity.

Campt shows that this new way of seeing shifts viewers from the passive optics of looking at to the active struggle of looking with, through, and alongside the suffering--and joy--of Black life in the present. The artists whose work Campt explores challenge the fundamental disparity that defines the dominant viewing practice: the notion that Blackness is the elsewhere (or nowhere) of whiteness. These artists create images that flow, that resuscitate and revalue the historical and contemporary archive of Black life in radical ways. Writing with rigor and passion, Campt describes the creativity, ingenuity, cunning, and courage that is the modus operandi of a Black gaze.
About the Author
---
Tina M. Campt, Black feminist theorist of visual culture and contemporary art, is Roger S. Berlind '52 Professor of Humanities in the Department of Art and Archeology and the Lewis Center for the Arts at Princeton University. Her books include Listening to Images, Image Matters: Archive, Photography, and the African Diaspora in Europe, Other Germans: Black Germans and the Politics of Race, Gender, and Memory in the Third Reich, and Imagining Everyday Life: Engagements with Vernacular Photography (with Marianne Hirsch, Gil Hochberg, and Brian Wallis).
Praise For…
---
"Tina M. Campt's A Black Gaze: Artists Changing How We See is deeply invested in visibility. Through close engagement with the work of nine lens-based artists variously picturing Blackness, the book boldly articulates a new way of apprehending the visual order of everyday life....For her, a Black gaze is both a way of understanding how artists work and a term for the active modes of engagement demanded of attentive viewers...The signal contribution of A Black Gaze is its call to active engagement with art that depicts Black people not as objects but as agents. For Black viewers, it offers license to be at home in one's own skin. For non-Black viewers, it issues an invitation to action, not of a performative sympathy but of rigorous reflection. Personal identifications, Campt argues, are not the only bridges viewers can build between themselves and a work of art. One can bear witness. One can trust the vision of those who can see what you may never see."
—the Washington Post Book World

"Contemporary artists from all disciplines (Khalil Joseph, Deana Lawson, Dawoud Bey) reveal the shifting role of the viewer, from onlooker to participant — engaged, even implicated in the pain and wonder of Black life."
—New York Times Book Review

"Tina M. Campt's A Black Gaze: Artists Changing How We See offers a profound reconceptualization of the politics of visibility and spectatorship within contemporary art. The book features nine artists who work across media and demonstrates how each proposes new ways of visualizing Black experiences in complex and dynamic ways...She contributes the expansive theory of aBlack gaze while enacting a new and refreshing way to write about, to, and with art."
—caa.reviews

"A Black Gaze: Artists Changing How We See is a methodological offering, a theory of what Blackness brings to making and viewing art, and to perception in general. Campt meditates thoughtfully on eight contemporary artists and, along the way, models a positively disorienting approach to visuality, compelling us to think about the interplay between Black art and the ways we exist in the world. Rather than tethering racial identity to an essentialized mode of looking, Campt describes the Black gaze as a heuristic approach to visuality."
—Art in America

"Tina M. Campt's A Black Gaze helped me see Black visual art anew."
—Bookforum

"Campt's new book, A Black Gaze: Artists Changing How We See (MIT Press), elevates the theoretical examination of visceral and unsettling art through a deeply personal and fresh perspective...With every meticulous, sincere description and explanation, Campt reveals how and why we must dismantle the White gaze to uncover the profusion of a Black gaze. She forces us to embrace the sounds and vibrations of disconcerting art, a practice that is requisite for genuine study and appreciation."
—Black Art in America

"In this beautiful volume, Black feminist theorist of visual culture and contemporary art Tina M. Campt disrupts the normative passivity applied to art and artistry to build an (inter)active, intimate, radical and necessary Black gaze. "
—Ms.

"Campt writes with elegance and probing intellect."
—the Boston Globe

"I devoured Tina Campt's scholarly, yet accessible A Black Gaze: Artists Changing How We See."
—Natasha Gural, contributor to Forbes

"Tina Campt examines what it means to exist within a Black gaze and how our interaction with visual art and curation nurtures that existence. Visual artists such as Deana Lawson, Arthur Jafa, Khalil Joseph and Dawoud Bey form their work in such a way that the viewer is forced to reassess the way they see Black art, but how it makes them feel. 
—The Root

"Contemporary Black artists are dismantling the white gaze. This book is an exploration of that process, through the lens of contemporary Black artists like Deana Lawson and Kahlil Joseph. Curated by Tina Campt, a professor of humanities and modern culture and media at Brown University, A Black Gaze: Artists Changing How We See demands that we see Blackness anew."
—Fast Company

"Campt argues for the experiential over the historical, and in doing so, offers a comprehensive survey of contemporary Black artists…throughout the book, Campt skillfully unpacks the 'labor' of reading Black perspectives (it's 'a' not 'the' Black gaze) challenging the canonical view of art that prevents real and tangible connection."
—Aesthetica Magazine

"A Black Gaze demands that we deal with the difficulties that some art produces in us, asking us to think about the vastness of contemporary Black experiences, encouraging us to sit with them and reckon with what they stir up in us...a lyrical academic text that is alive, multidirectional and clear, even while asking readers to work with the tensions inherent in the theory she builds over the book's seven verses."
—New Frame