Chosen People: The Rise of American Black Israelite Religions (Paperback)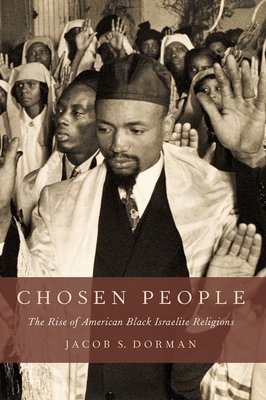 $37.95

Not In Store / Available To Order (allow for shipping time to bookstore or direct-to-home)
Description
---
Named Outstanding Academic Title by CHOICE
Winnter of the Wesley-Logan Prize of the American Historical Association
Winner of the Byron Caldwell Smith Book Prize
Winner of the 2014 Albert J. Raboteau Book Prize for the Best Book in Africana Religions Jacob S. Dorman offers new insights into the rise of Black Israelite religions in America, faiths ranging from Judaism to Islam to Rastafarianism all of which believe that the ancient Hebrew Israelites were Black and that contemporary African Americans are their descendants. Dorman traces the influence of Israelite practices and philosophies in the Holiness Christianity movement of the 1890s and the emergence of the Pentecostal movement in 1906. An examination of Black interactions with white Jews under slavery shows that the original impetus for Christian Israelite movements was not a desire to practice Judaism but rather a studied attempt to recreate the early Christian church, following the strictures of the Hebrew Scriptures. A second wave of Black Israelite synagogues arose during the Great Migration of African Americans and West Indians to cities in the North. One of the most fascinating of the Black Israelite pioneers was Arnold Josiah Ford, a Barbadian musician who moved to Harlem, joined Marcus Garvey's Black Nationalist movement, started his own synagogue, and led African Americans to resettle in Ethiopia in 1930. The effort failed, but the Black Israelite theology had captured the imagination of settlers who returned to Jamaica and transmitted it to Leonard Howell, one of the founders of Rastafarianism and himself a member of Harlem's religious subculture. After Ford's resettlement effort, the Black Israelite movement was carried forward in the U.S. by several Harlem rabbis, including Wentworth Arthur Matthew, another West Indian, who creatively combined elements of Judaism, Pentecostalism, Freemasonry, the British Anglo-Israelite movement, Afro-Caribbean faiths, and occult kabbalah. Drawing on interviews, newspapers, and a wealth of hitherto untapped archival sources, Dorman provides a vivid portrait of Black Israelites, showing them to be a transnational movement that fought racism and its erasure of people of color from European-derived religions. Chosen People argues for a new way of understanding cultural formation, not in terms of genealogical metaphors of survivals, or syncretism, but rather as a polycultural cutting and pasting from a transnational array of ideas, books, rituals, and social networks.

About the Author
---
Jacob S. Dorman is an assistant professor in the Department of History and Department of American Studies at the University of Kansas.