Federal Rules of Criminal Procedures: December 2016 (Paperback)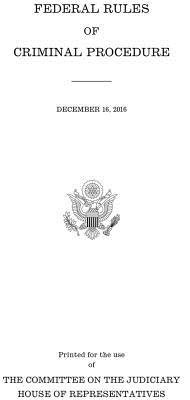 $11.00
Email orders@greenlightbookstore.com for information about this item.
Description
---
The Federal Rules outline the procedure for conducting federal criminal trials. The U.S. Constitution, the Federal Rules and the federal court system's interpretations of both provide guidance and procedural canons that law enforcement must follow. Failure to follow such procedure may result in the suppression of evidence or the release of an arrested suspect. Professionals, such as attorneys, law enforcement, corporate and Federal, state, municipal employees, especially executive managers, U.S. Courts personnel, members of the U.S. military and students pursuing degrees in criminal justice or international law may be interested in these recent topical publications produced by the US Federal Government as guidance for community safety and procedures. Related products: Federal Rules of Evidence, December 1, 2016 can be found here: https: //bookstore.gpo.gov/products/sku/052-070-07715-8Intelligence Community Legal Reference Book, Summer 2016 can be found here: https: //bookstore.gpo.gov/search/apachesolr_search/Intelligence%20Community%20Legal%20Reference%20summer%202016 Law Enforcement & Criminal Justice resources collection can be found here: https: //bookstore.gpo.gov/catalog/security-defense-law-enforcement/law-enforcement-criminal-jus.
About the Author
---
The U.S. Government Publishing Office (GPO) is the Federal Government's official, digital, secure resource for producing, procuring, cataloging, indexing, authenticating, disseminating, and preserving the official information products of the U.S. Government. The GPO is responsible for the production and distribution of information products and services for all three branches of the Federal Government, including U.S. passports for the Department of State as well as the official publications of Congress, the White House, and other Federal agencies