The Sandburg Treasury: Prose and Poetry for Young People (Paperback)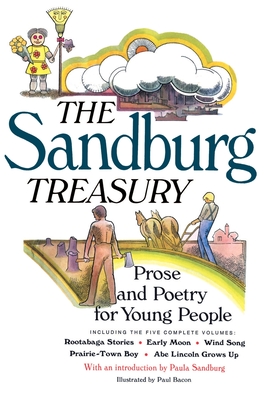 Description
---
An illustrated volume of all of Carl Sandburg's books for young readers: Rootabaga Stories, Early Moon, Wind Song, Prairie-Town Boy, and Abe Lincoln Grows Up. Introduction by Paula Sandburg.
About the Author
---
CARL SANDBURG (1878–1967) was twice awarded the Pulitzer Prize, first in 1940 for his biography of Abraham Lincoln and again in 1951 for Complete Poems. Before becoming known as a poet, he worked as a milkman, an ice harvester, a dishwasher, a salesman, a fireman, and a journalist. Among his classics are the Rootabaga Stories, which he wrote for his young daughters at the beginning of his long and distinguished literary career.

Paul Bacon (1923-2015) was a revered book designer and illustrator who created some of the most iconic book jackets of his time, including that of Catch 22 and Slaughterhouse Five.