Map to the Stars (Penguin Poets) (Paperback)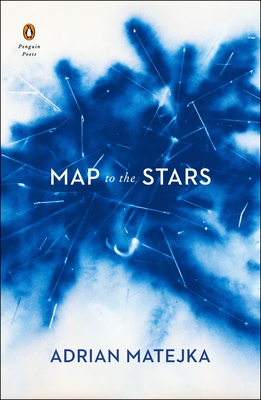 Description
---
A resonant new collection of poetry from Adrian Matejka, author of The Big Smoke, a finalist for The Pulitzer Prize and the National Book Award 

Map to the Stars, the fourth poetry collection from National Book Award and Pulitzer Prize finalist Adrian Matejka, navigates the tensions between race, geography, and poverty in America during the Reagan Era. In the time of space shuttles and the Strategic Defense Initiative, outer space is the only place equality seems possible, even as the stars serve to both guide and obscure the earthly complexities of masculinity and migration. In Matejka's poems, hope is the link between the convoluted realities of being poor and the inspiring possibilities of transcendence and escape—whether it comes from Star Trek, the dream of being one of the first black astronauts, or Sun Ra's cosmic jazz.
About the Author
---
Adrian Matejka is the author of three collections of poetry: The Devil's Garden (2002), Mixology (2009), which was a winner of the National Poetry Series competition, and The Big Smoke (2013), which won the Anisfield-Wolf Book Award and was a finalist for the Pulitzer Prize and the National Book Award. Matejka is the recipient of fellowships from the Guggenheim Foundation, the Lannan Foundation, and United States Artists. He lives in Bloomington, Indiana with his wife and daughter.
Praise For…
---
"Matejka offers a fresh set of figures for describing the youth of Black Americans now entering middle age. . .There is truly an astounding wealth of material here, cultural artifacts that add up to an ironclad allegory for the plight of urban African Americans in the '80s, which serves to point the way to where we are now."
– The Los Angeles Times

"Map to the Stars unpacks human systems like race, poverty and parenting. But it also examines larger ones – like the system of gravity and momentum.  'The things,' Matejka says, 'that make the universe spin.'"
– PBS Newshour
 
"Covers an ever-expanding emotional landscape . . . and continues Matjejka's investigation of race in the private and public spheres."
– St. Louis Post-Dispatch

"In this seismic and sonic new Matejka collection Richard Pryor is an Indiana sun god and a Black boy waits impatiently for the solar system to alight inside his mailbox. Rich and ekphrastic, this journey of boy-to-man ascendance cradles the might and memoir of motherships and other two-legged planets that lift our chins to starlight then break us in two."
--Nikky Finney

"Fueled by powdered milk, boom box tracks and Star Trek reruns, A Map to the Stars charts a poetic bildungsroman as well as a redemptive journey through music searching for 'a little city of gleaming/ gallantry.' These are mouth-watering poems full of 'tough-guy shufflebucks' and motherships 'gorgeous as comets,' a 'vernacular hubbub' that hurtles through our 'violently Technicolor heliosphere'—and beyond. For a rocket-powered poet like Adrian Matejka, where else to aim but the stars?"  
--Campbell McGrath

"Matejka's fourth book is a coming-of-age collage set in Reagan-era Indianapolis, a series of intimate verbal snapshots of African American youth and family life. The speaker of these poems is caught between lonesome artifacts of the past . . . and hopeful, strange, and complicated glimpses of possible futures . . . Matejka swirls these seemingly disparate parts into a stunningly coherent vision of life in the 1980s, growing up poor and black and full of energy and longing."
– Craig Morgan Teicher, npr.org

"In his stellar fourth collection, Matejka evokes an Indianapolis boyhood in which economic and educational privations starkly contrast with the inspiring expanses of outer space . . . Matejka's witty tour de force achieves the rare feat of making a narrative centered in memory feel bracingly urgent and fresh."
– Publishers Weekly