The Book of Sand and Shakespeare's Memory (Paperback)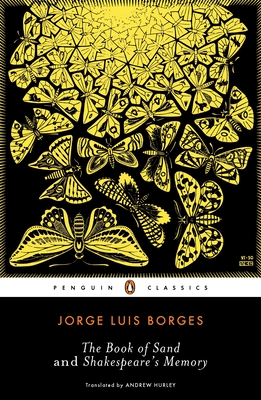 This collection is, for me, Borges' most satisfying. I love his earlier stories as well, but here I feel the old tyke relax. Instead of working to prove his paradoxes airtight, he seems more apt to grin, delivering his fairytales and fantasies without obligation. In the first story, "The Other," which recounts the meeting of two men named Borges, the older tells the younger, "Perhaps our dream will end, perhaps it won't. Meanwhile, our clear obligation is to accept the dream, as we have accepted the universe and our having been brought into it and the fact that we see with our eyes and that we breathe." 
Picked by Niko in Prospect Lefferts Gardens
Description
---
The acclaimed translation of Borges's valedictory stories, in its first stand-alone edition

Jorge Luis Borges has been called the greatest Spanish-language writer of the twentieth century. Now Borges's remarkable last major story collection, The Book of Sand, is paired with a handful of writings from the very end of his life. Brilliantly translated, these stories combine a direct and at times almost colloquial style coupled with Borges's signature fantastic inventiveness. Containing such marvelous tales as "The Congress," "Undr," "The Mirror and the Mask," and "The Rose of Paracelsus," this edition showcases Borges's depth of vision and superb image-conjuring power.

For more than seventy years, Penguin has been the leading publisher of classic literature in the English-speaking world. With more than 1,700 titles, Penguin Classics represents a global bookshelf of the best works throughout history and across genres and disciplines. Readers trust the series to provide authoritative texts enhanced by introductions and notes by distinguished scholars and contemporary authors, as well as up-to-date translations by award-winning translators.
About the Author
---
Jorge Luis Borges was born in Buenos Aires in 1989 and was educated in Europe. One of the most widely acclaimed writers of our time, he published many collections of poems, essays, and short stories before his death in Geneva in June 1986. In 1961 Borges shared the International Publisher's prize with Samuel Beckett. The Ingram Merrill Foundation granted him its Annual Literary Award in 1966 for his "outstanding contribution to literature." In 1971 Columbia University awarded him the first of many degrees of Doctor of Letters, honoris causa (eventually the list included both Oxford and Cambridge), that he was to receive from the English-speaking world. In 1971 he also received the fifth biennial Jerusalem Prize and in 1973 was given one of Mexico's most prestigious cultural awards, the Alfonso Reyes Prize. In 1980 he shared with Gerardo Diego the Cervantes Prize, the Spanish world's highest literary accolade. Borges was Director of the Argentine National Library from 1955 until 1973.
 
Andrew Hurley (editor, translator) is a translator of numerous works of literature, criticism, history, and memoir. He is professor emeritus at the University of Puerto Rico.
Praise For…
---
"[Borges] was a superb storyteller. One reads most of Borges's tales with the hypnotic interest usually reserved for reading detective fiction." —Mario Vargas Llosa