This Book Will Save Your Life (Paperback)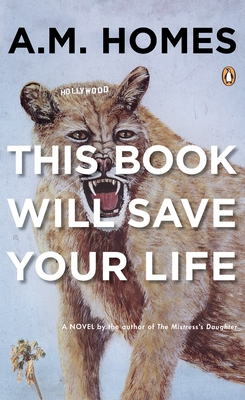 In case the title hasn't already convinced you to pick up this one up, let me give it a whirl. Earlier this year, my sister texted me to ask if I'd ever read this book, saying that reading it "felt like tasting something I used to love that I forgot all about… I forgot this is what books can do." I hadn't read it, but after that review, how could I not? A few weeks later I was texting her back how much I loved it - "it's been a long time since I've read something that made me lose sense of time" - and I haven't stopped thinking about it since. If you like voice-driven narratives with quirky, unforgettable characters who find themselves in increasingly strange situations, or if you've ever believed in second chances, this book is for you. I love it so much that I wish I could read again for the first time, with no idea what I was getting into. And while I will only ever be able to re-read it now (and believe me, I will!), you, lucky reader, have the chance to crack it open and experience it for the very first time yourself. And hey, who knows, it might just save your life.
- Katie
Description
---
Since her debut in 1989, A. M. Homes has been among the boldest and most original voices of her generation, acclaimed for the psychological accuracy and unnerving emotional intensity of her storytelling. Her ability to explore how extraordinary the ordinary can be is at the heart of her touching and funny new novel, her first in six years. This Book Will Save Your Life is a vivid, uplifting, and revealing story about compassion, transformation, and what can happen if you are willing to lose yourself and open up to the world around you.
About the Author
---
A.M. Homes was born in Washington D.C. graduated from Sarah Lawrence College and the University of Iowa, lives in New York City and teaches at Princeton University. Her work appears in ArtForum, Granta, The Guardian, McSweeney's, Modern Painters, The New Yorker, The New York Times, Electric Literature, Playboy, and Zoetrope. She works in television, most recently as as Co-Executive Producer of Falling Water and Stephen King's Mr. Mercedes, and is a contributing editor to Vanity Fair. She is the  recipient of awards including the Guggenheim, NEA, and NYFA fellowships. Her most recent novel, May We Be Forgiven, won the Women's Prize for Fiction, 2013, and has been optioned for film by Unanimous Entertainment.
Praise For…
---
Homes' dark delivery . . . is in full regalia here. . . . Laugh-outloud funny. (The Boston Globe)

An absolute masterpiece . . . Homes writes ecstatically, and like no one else. (The Philadelphia Inquirer)

I think this brave story of a lost man's reconnection with the world could become a generational touchstone, like Catch-22, The Monkey Wrench Gang, or The Catcher in the Rye. . . . And hey, maybe it will save somebody's life. (Stephen King)

Hilarious . . . Homes writes in the tradition of Kurt Vonnegut and has the talent to pull it off. (San Francisco Chronicle)