The Humanity Project: A Novel (Paperback)
* Is the book you're looking for not currently on the shelves at our stores? Consider placing your order for shipping rather than in-store pickup; orders are currently being fulfilled FASTER via our warehouse's direct-to-home shipping option than for store pickup (and shipping is free for orders over $125)!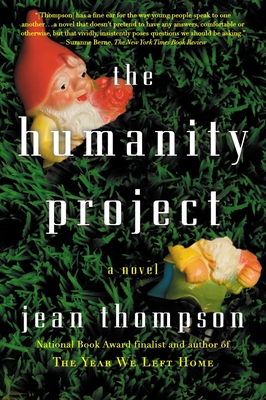 Email or call us for information about purchasing this item.
April 2013 Greenlight First Editions Club Selection
Description
---
From the New York Times bestselling author of The Year We Left Home and A Cloud in the Shape of a Girl, this dazzling novel is hailed as an "instantly addictive...tale of yearning, paradox, and hope." (Booklist)
 
After surviving a horrific shooting at her high school, fifteen-year-old Linnea is packed off to live with her estranged father, Art, in California. Art, not much more than a child himself, doesn't quite understand how or why he has suddenly become responsible for raising a sullen—and probably deeply damaged—adolescent girl. And although Linnea has little interest in her father, she becomes fascinated by the eccentric cast of characters surrounding him: Conner, a local handyman whose own home life is a war zone, and Christie, her neighbor, who has just been given the reins to a bizarrely named charity fund, the Humanity Project. As the Fund gains traction and Linnea begins to heal, the Humanity Project begs the question: Can you indeed pay someone to be good? At what price?

Thompson proves herself at the height of her powers in The Humanity Project, crafting emotionally suspenseful and thoroughly entertaining characters, in which we inevitably see ourselves. Set against the backdrop of current events and cultural calamity, it is at once a multifaceted ensemble drama and a deftly observant story of our twenty-first-century society.
About the Author
---
Jean Thompson is the New York Times bestselling author of numerous novels and story collections, among them A Cloud in the Shape of a Girl, The Year We Left Home, City Boy (a National Book Award finalist), and Wide Blue Yonder. She lives in Urbana, Illinois.
Praise For…
---
Praise for Jean Thompson and The Humanity Project

"[A] bracing narrative stance and a tart political viewpoint....[Thompson] is eerily good at inhabiting a wide range of perspectives and has a fine ear for the way young people speak to one another.... a novel that doesn't pretend to have any answers, comfortable or otherwise, but that vividly, insistently poses questions we should be asking."—Suzanne Berne, The New York Times

"Thompson achieves exceptional clarity and force in this instantly addictive, tectonically shifting novel. As always, her affection and compassion for her characters draw you in close, as does her imaginative crafting of precarious situations and moments of sheer astonishment....Thompson infuses her characters' bizarre, terrifying, and instructive misadventures with hilarity and profundity as she considers the wild versus the civilized, the "survival of the richest," how and why we help and fail each other, and what it might mean to "build an authentic spiritual self." Thompson is at her tender and scathing best in this tale of yearning, paradox, and hope."—Booklist, starred review

"[A] penetrating vision of a lower-middle-class family sinking fast....Thompson has a knack for rendering characters who are emotionally fluid but of a piece [and] caps the story with a smart twist ending that undoes many of the certainties the reader arrived at in the preceding pages. A rare case of a novel getting it both ways: A formal, tightly constructed narrative that accommodates the mess of everyday lives."—Kirkus, starred review

"[Humanity is] something that Thompson infuses into every sentence, striking true, clear notes...and telling [characters'] stories in a way that doesn't offer resolutions so much as a messy, imperfect kind of grace. And what's more human than that?"—Leah Greenblatt, Entertainment Weekly

"In prose that is gorgeously written but never showy...The Humanity Project rewards readers with the kind of immersive, thought-provoking experience that only expert storytelling can provide."—Justin Glanville, Cleveland Plain Dealer

"[I]t's Thompson's own humanity project that's really interesting, heartfelt and farther-reaching....a tribute to Jean Thompson's art, which, beginning so slowly and seemingly simply, expands and deepens to contain multitudes without ever losing sight of each singular soul."—Ellen Akins, Minneapolis Star Tribune
 
"With godlike power, Jean Thompson, author of The Humanity Project, throws her dented (and entirely recognizable) characters into the crucible of the American recession to reveal what it means to be human: flawed, and yet somehow worthy of redemption that comes in glimmers instead of bursts."—Christi Clancy, Milwaukee Journal Sentinel
 
"Virtue is thin on the ground in Ms. Thompson's book, which follows the disparate lives of a handful of Northern Californians loosely tied together by coincidence and united more firmly by their ethical lapses....Ms. Thompson neither wallows [in] hardships nor sentimentalizes the grubby, compromised realities...Her lucid, no-frills prose gives her depictions of the other half the stamp of authenticity."—Sam Sacks, Wall Street Journal

"The Humanity Project, the prolific Jean Thompson's sixth novel, weaves a rich, moving story of parents and children, money and poverty, virtue and evil....Thompson manages this complicated choreography masterfully."—Kate Tuttle, The Boston Globe

"[E]vocative [and] often colored by a smart, dark humor...Conflicted, complex and compassionate when you least expect it: That's us in a nutshell—and in Thompson's ultimately profound novel."—Connie Ogle, The Miami Herald

"Thompson has crafted an incisive yet tender novel—a disturbing portrait of a thoroughly modern, fractured family stumbling toward grace in difficult times."—Meredith Maran, People

"[A] forthright piece of social criticism...Thompson is also an accomplished story writer...attuned to the callousness of 21st-century society, its comedic elements, its misguided efforts to right itself, its often tragic results....There's real beauty in the way Thompson has [characters] serve one another, even if that loving service is often not enough. It is, however, deeply human."—Helen Schulman, The New York Times Book Review