The Hopi Survival Kit: The Prophecies, Instructions and Warnings Revealed by the Last Elders (Compass) (Paperback)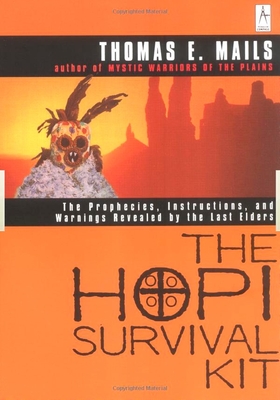 Description
---
Now made public for the first time—an ancient Hopi spiritual guide that may hold the key to our survival in the next millennium

For nearly a century the Elders of Hotevilla—a tiny village on a remote Hopi reservation in Arizona—have been guarding the secrets and prophecies of a thousand-year-old covenant that was created to ensure the well-being of the earth and its creatures. But the elders are dying, and there is no one left to pass on its remarkable teachings. Renowned Native American expert Thomas Mails was chosen by the last surviving elders to reveal to the outside world the sacred Hopi prophecy and instructions at precisely the time in history when they are most urgently needed. The Hopi Survival Kit is the first full revelation of traditional Hopi prophecy. Many of its predictions have already been realized, but the most shattering apocalyptic events are still to occur. And though this may be a sobering realization, it is also our best defense. For the Hopi teachings give detailed instructions for survival—our actions can alter the pace and intensity of what will happen and help avoid a cataclysmic end.
About the Author
---
Thomas E. Mails is the author of ten books on Native American individuals and cultures including Mystic Warriors of the Plains (which served as the primary sourcebook for the epic film Dances with Wolves), The Pueblo Children of Earth Mother, Fools Crow—Wisdom and Power, The Cherokee People, and Hotevilla, Hopi Shrine of the Covenant, Microcosm of the World.