Clouds (Let's-Read-and-Find-Out Science 1) (Paperback)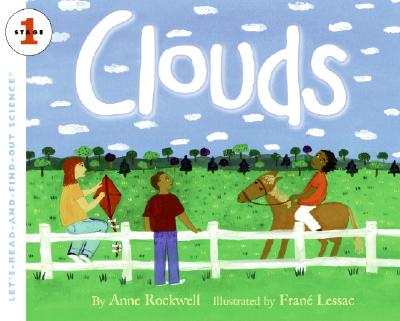 Email or call us for information about purchasing this item.
Special Order; please call or email to confirm availability
Description
---
Do you ever wake up and wonder what the weather will be? Instead of turning on the TV to find out, you can just look out your window at the clouds. How do you know what type of clouds can forecast a change of weather? Read and find out. This nonfiction picture book is an excellent choice to share during homeschooling, in particular for children ages 4 to 6. It's a fun way to learn to read and as a supplement for activity books for children.
This is a Level One Let's-Read-and-Find-Out Science title, which means the book explores more challenging concepts for children in the primary grades and supports the Common Core Learning Standards, Next Generation Science Standards, and the Science, Technology, Engineering, and Math (STEM) standards. Let's-Read-and-Find-Out is the winner of the American Association for the Advancement of Science/Subaru Science Books & Films Prize for Outstanding Science Series.

About the Author
---
Anne Rockwell is a pioneer in the field of nonfiction for very young children. She has more than a hundred books to her credit, including Why Are the Ice Caps Melting? and Clouds in the Let's-Read-and-Find-Out Science series. She lives in Greenwich, Connecticut.
Frané Lessac is an American who has traveled all over the world. She now lives in Fremantle, Australia, but always looks forward to visiting Texas with her family. To bring the Lone Star State to life with gouache paints, Frané did extensive research using a video camera, a still camera, and actual and virtual tours. She is the illustrator of more than thirty books for children, including Capital! Washington D.C. from A to Z and New York, New York! The Big Apple from A to Z, both by Laura Krauss Melmed.