Boy Parts: A Novel (Paperback)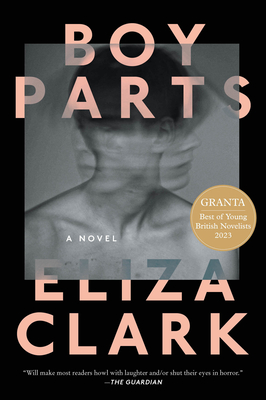 $18.99

Available In Store Now (while supplies last)
Description
---
One of Granta's Best Young British Novelists 2023 
An incendiary debut novel from a brash new talent—a pitch-black comedy, both shocking and hilarious, which fearlessly explores sexuality and gender roles in the twenty-first century.
 "Hallucinogenic, electric and sharp, Boy Parts is a whirlwind exploration of gender, class, and power."—Jessica Andrews, author of Saltwater
Exiled from the art world and on sabbatical from her dead-end bar job, Irina obsessively takes explicit photographs of the average-looking men she persuades to model for her, scouted from the streets of Newcastle.
But her talent has not gone unnoticed, and Irina is invited to display her work at a fashionable London gallery. It is a chance to revive her career and escape from the rut of drugs, alcohol, and extreme cinema she's fallen into. Yet the news instead triggers a self-destructive tailspin, centered around Irina's consuming relationship with her best friend, and a shy young man from her local supermarket who has attracted her attention. . . .
About the Author
---
A native of Newcastle, Eliza Clark lives in London, where she previously attended Chelsea College of Art. She works in social media marketing and has worked for women's creative writing magazine Mslexia. In 2018, she received a grant from New Writing North's "Young Writers' Talent Fund." Her short horror fiction has been included in Tales to Terrify, and she hosts the cultural podcast You Just Don't Get It, Do You? with her partner. Boy Parts is her first novel.
Praise For…
---
"Will make most readers howl with laughter and/or shut their eyes in horror." — The Guardian
?"It's delightfully and deviously rooted in the now with its delectable internet and culture references and evocative and real-feeling portrait of women." — Dazed Digital
"A funny and intensely readable spiral staircase down into the mind of a woman who wears a waist trainer under her clothes and who may or may not be a keen purveyor of ultra-violence." — VICE
"Explores the darkest corners of artistic practice, sexuality and violence with bold wit and fearlessness. A dazzling, horrifying debut." — Irish Times
"[Clark's] writing embraces the socially unacceptable, and wryly explores themes of gender, power and violence." — Granta Best of Young British Novelists 2023
"Hallucinogenic, electric and sharp, Boy Parts is a whirlwind exploration of gender, class and power. In funny, acerbic prose, Clark shows us how it feels to inhabit a body that moves through a world full of eyes. She illuminates the cracks that begin to appear when the subject turns voyeur and the violence inherent in the shatter." — Jessica Andrews, author of Saltwater
"Boy Parts is a carnival funhouse ride–terrifying, feverish, hilarious. Clark has created a wholly original monster and a sickeningly compulsive novel. I absolutely inhaled this book." — Julia Armfield, author of Salt Slow
"Smart, stylish and very funny, Boy Parts is a gripping and unflinching exploration of female desire, narcissism, sexuality and rage. You won't want to put it down." — Lara Williams, author of Supper Club
"The main protagonist will prove to be one of the most alluring, infuriating, and complex characters in modern British literature." — Niall Griffiths
"Eliza Clark is unflinching in this witty and shocking excavation of female rage and desire, and is sure to gain a cultish following. It is unlike anything I've read before, and it left me utterly invigorated and repulsed." — Elizabeth MacNeal, author of The Doll Factory
"Boundaries are for breaking and if anyone can crash through and reinterpret the fear of our time, Eliza Clark can." — MsLexia
"Even at its most transgressive, it all feels effortless. Dark, funny, bold, it's an exceptional debut." — The Skinny
"An impressive, fiercely current debut . . . delightful and addictive." — i News