The Thing in the Snow: A Novel (Hardcover)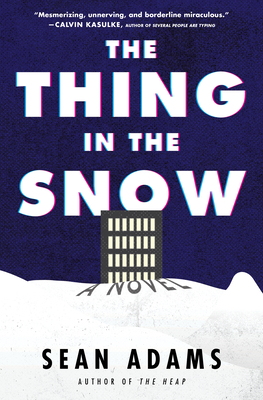 $27.99

Not In Store / Available To Order (allow for shipping time to bookstore or direct-to-home)
Description
---
From the critically acclaimed author of The Heap, a thought-provoking and wryly funny novel—equal parts satire and psychological thriller—that holds a funhouse mirror to the isolated workplace and an age of endless distraction. 
At the far reaches of the world, the Northern Institute sits in a vast expanse of ice and snow. Once a thriving research facility, its operations were abruptly shut down after an unspecified incident, and its research teams promptly evacuated. Now it's home to a team of three caretakers—Gibbs, Cline, and their supervisor, Hart—and a single remaining researcher named Gilroy, who is feverishly studying the sensation of coldness.
Their objective is simple: occupy the space, complete their weekly tasks, and keep the building in working order in case research ever resumes. (Also: never touch the thermostat. Also: never, ever go outside.) The work isn't thrilling—test every door for excessive creaking, sit on every chair to ensure its structural integrity—but for Hart, it's the opportunity of a lifetime, a chance to hone his leadership skills and become the beacon of efficiency he always knew he could be.
There's just one obstacle standing in his way: a mysterious object that has appeared out in the snow. Gibbs and Cline are mesmerized. They can't discern its exact shape and color, nor if it's moving or fixed in place. But it is there. Isn't it?
Whatever it might be, Hart thinks the thing in the snow is an unwelcome distraction, and probably a huge waste of time. Though, come to think of it, time itself has been a bit wonky lately. Weekends pass in a blur, and he can hardly tell day from night. Gravity seems less-than-reliable. The lights have been flickering weirdly, and he feels an odd thrumming sensation in his beard. Gibbs might be plotting to unseat him as supervisor, and Gilroy—well, what is he really doing anyway?
Perplexed and isolated—but most certainly not alone—Hart wrestles for control of his own psyche as the thing in the snow beguiles his team, upends their work, and challenges their every notion of what is normal.
About the Author
---
Sean Adams is the author of The Heap. He is a graduate of Bennington College and the Iowa Writers' Workshop. His fiction has appeared in Electric Literature's Recommended Reading, The Magazine of Fantasy & Science Fiction, The Normal School, Vol. 1 Brooklyn, The Arkansas International, and elsewhere. He lives in Des Moines, Iowa, with his wife, Emma, and their various pets.
Praise For…
---
"Eerily compelling." — New York Times
"Imagine Severance alley-ooped to John Carpenter only to be stolen by Kurt Vonnegut for a dunk on the other end. A subtle comedic powerhouse of claustrophobia and frigid workplace bureaucracy."
— Stephen Markley, national bestselling author of Ohio
"The absurdity of the modern workplace has inspired copious satires, and like the creators of 'Office Space' and 'Severance,' Adams winningly skewers corporate life." — Washington Post
"A soaring conflagration of absurdity, mystery, and wry humor. This story reads like a Beckett play, in a Black Mirror episode—with all parts played by comedians. A compelling, imaginative, worrying, and hilarious commentary on purpose, priorities, and leadership. Perfect for anyone who has ever questioned why we let time pass, and occupy ourselves with busywork, when there are things of concern to face." — Emily Austin, author of Everyone In This Room Will Someday Be Dead

"Adams' quirky look at a confined and isolated workspace also offers an almost Stoppard-like look into character development while making a rather bleak but humorous statement about contemporary working life. Though the world Adams created is spare, the reading mind fills every corner with all that is dreamed and feared." — Booklist
"[The Thing in the Snow is] in direct line of descent from Heller's Catch-22 . . . . A quintessential fantastical examination and dissection of the postmodern "bullshit jobs" ecosystem."  — Locus
"The strange blend of satire, mystery, and psychological thrills make for a winning combination." — Publishers Weekly
"Who knew there was so much wit in hell? The Thing in the Snow is a mystery, an office satire, and a slow-boil study of madness. Trust nothing in this book save for its deadpan brilliance." — Ryan Chapman, author of Riots I Have Known
"This brilliantly written book will have even the reader questioning everything they think they know about the story as it unfolds." — Fredericksburg Free Lance-Star
"The Thing in the Snow is mesmerizing, unnerving, and borderline miraculous. With a novel that's at once cozy and unsettling, Adams has composed a lucid anthem for both the brain-fogged and those whose perception is all too clear. . . I couldn't stop thinking about it until I finished it—I haven't stopped thinking about it afterwards, either, but now I'm not so sure that I want to." — Calvin Kasulke, author of Several People Are Typing
"Adams succeeds at building tension while exploring the lengths to which people will go to retain power, the narcissism often embodied by those in leadership positions and the effect of monotony on a person's memory. Inexplicable phenomena can be devastating to the mind, but as this perceptive novel and any undervalued employee can attest, tedium is just as destructive." — BookPage
"Sean Adams does a masterful job balancing wry humor, a mind-boggling mystery, fantastic character work, and a major creep factor. This is my favorite kind of book; a story of big ideas that demands to be finished and sticks with you after you're done."
— Rob Hart, author of The Paradox Hotel
"Adams lures readers into a world as claustrophobic as a snow globe, then shakes things up with a flurry of satirical commentary on the surreal and absurd nature of workplace culture. . . A uniquely hilarious yet frightening vision." — Little Village Magazine
"Cutting satire. . . . A compelling narrative with unexpected twists and darkly comic turns." — New York Times Book Review, Editors' Choice, on The Heap
"The Heap is dizzying in scale, but at its heart it's an endearing and downright fun story about a man who defies all odds to reestablish a familial link that's been sundered by technology, catastrophe and commerce. . . . The first great science fiction novel of 2020, The Heap is sharp, acidic and sweet." — NPR
"Like Snowpiercer's train, a George Saunders amusement park, or the fractured cityscape from a Donald Barthelme story, The Heap's Los Verticalés is a sardonic monument to our decadent culture teetering on the brink of collapse. A wry, inventive, and highly original debut." — Chandler Klang Smith, author of The Sky Is Yours
"[The Heap] recalls elaborate dystopian scenes found in Terry Gillam films. . . . Irresistibly clever commentary steeped in wit and secrets."  — Booklist
"As intellectually playful as the best of Thomas Pynchon and as sardonically warm as the best of Kurt Vonnegut, The Heap is both a hilarious send-up of life under late capitalism and a moving exploration of the peculiar loneliness of the early 21st century. A masterful and humane gem of a novel." — Shaun Hamill, author of A Cosmology of Monsters