Flight: A Novel (Hardcover)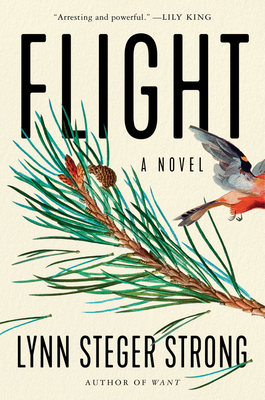 $27.99

Available In Store Now (while supplies last)
Staff Reviews
---
Greenlight is delighted to partner with author Lynn Steger Strong to offer signed and personalized copies of Flight, available now for pre-order!
If you would like a signed or personalized copy, you MUST indicate your request in Order Comments at checkout (or your order may be filled with an unsigned copy) before 11:59PM on Monday, November 7th, 2022.
The author of Want is doing something very different but equally brilliant with this novel of a fraught family gathering at Christmas. Her insights about class conflict and environmental devastation are still here though, and you will be rewarded for following where Lynn Steger Strong leads.
— Jessica
November 2022 Indie Next List
---
"An intimate exploration of complicated family dynamics with nuanced, distinct characters. A perfect book for anyone who has ever felt out of place going home for the holidays, Flight explores the nature of belonging and community."
— David Vogel, Literati Bookstore, Ann Arbor, MI
Description
---
"Arresting and powerful, Flight examines the possibility and pain of fierce love and hope in our time of looming existential threats." — Lily King, New York Times bestselling author of Writers & Lovers
"Suspenseful, dazzling and moving." — Rumaan Alam, New York Times bestselling author of Leave the World Behind 
It's December twenty-second and siblings Henry, Kate, and Martin have converged with their spouses on Henry's house in upstate New York. This is the first Christmas the siblings are without their mother, the first not at their mother's Florida house. Over the course of the next three days, old resentments and instabilities arise as the siblings, with a gaggle of children afoot, attempt to perform familiar rituals, while also trying to decide what to do with their mother's house, their sole inheritance. As tensions rise, the whole group is forced to come together unexpectedly when a local mother and daughter need help. 
With the urgency and artfulness that cemented her previous novel Want as "a defining novel of our age" (Vulture), Strong once again turns her attention to the structural and systemic failings that are haunting Americans, but also to the ways in which family, friends, and strangers can support each other through the gaps. Flight is a novel of family, ambition, precarity, art, and desire, one that forms a powerful next step from a brilliant chronicler of our time.
About the Author
---
Lynn Steger Strong is the author of Want and Hold Still. Her nonfiction has appeared in The New York Times, Time, Harper's Bazaar, Los Angeles Times, The Paris Review, The Cut, New York Magazine, and elsewhere. She teaches writing at Catapult and Columbia University.
Praise For…
---
"Quickly, deftly, Strong lays out the financial, emotional and sexual complexities of the three marriages and draws each of the family members for us. The children are as clearly differentiated as the adults, which is not an easy thing to do. Part of the sense of life in the book comes from Strong's distinctive prose style—compressed, telegraphic and gestural, one in which the sharp noticing of what might otherwise seem like ordinary details about a character or an exchange takes on a resonating depth." — New York Times Book Review
"Strong is an exacting observer of families and their idiosyncrasies, in the mode of Anne Tyler and Jonathan Franzen. … Strong keeps Flight in motion with twists of language and revelation. … More than just a domestic tale, it is a larger portrait of hearts and minds at war with the tedium of everydayness and the rote routines of relationships. … Grab a mug of egg nog, good readers, and dive in." — Washington Post
"Psychologically astute, deeply affecting. … Lynn Steger Strong's writing is economical but packs a gut punch… Emotionally transcendent." — Boston Globe
"It's fall, season of Big Family Sagas, and Strong delivers. … Pages [fly] quickly by as the story takes off." — Los Angeles Times
"With deft, discerning prose, Strong writes beautifully about mothers and the struggles, fears, and joys of motherhood. ... As the novel comes to a close, Strong offers moments of connection among the family members that feel genuine and earned. A quiet domestic novel that soars." — Kirkus Reviews
"A fateful few days in the life of two families becomes in Lynn Steger Strong's hands a clear-eyed examination of our current moment. Flight probes deeply into grief and its aftershocks, what binds us to one another, the meaning of art itself. It's a book whose fleet movements belie its ambition. Suspenseful, dazzling and moving." — Rumaan Alam
"Lynn Steger Strong is a master of family life, a wise chronicler of economic struggles real and imagined, of dreams versus responsibilities, and of nuances in relationships of all kinds. Arresting and powerful, Flight examines the possibility and pain of fierce love and hope in our time of looming existential threats." — Lily King
"With razor-sharp pacing and luminous prose, Lynn Steger Strong aims her keen eye on the complexities of siblings, marriage, motherhood and grief. Flight is a wonderfully alive look at the ways we try—defiantly and sometimes perilously—to love one another. You will want to gulp this book down in one sitting, but I urge you to slow down because its charms should be savored." — Cynthia D'Aprix-Sweeney
"Breathtakingly propulsive and insightful, Flight gripped me from the very first page and didn't let go. Strong is a writer who makes me feel reconfigured, more sharply attuned to the business of being alive; as if I have nerve endings that didn't exist before reading her. Flight is a story about how we lose and find each other again—and how this finding is never done, because we are, all of us, many selves at once." — Leslie Jamison
"A gorgeous novel, both intimate and expansive. Flight is packed full of wisdom about family, marriage, class, climate, love and loss. Lynn Steger Strong is a master of creating characters so funny, flawed and true that they feel like people you know. I couldn't put it down." — J. Courtney Sullivan
"In her brilliant new novel, Lynn Steger Strong reaches astonishing new depths of moral complexity in her depiction of family life in the aftermath of loss. Gripping, tender, and very funny, Flight proves once again that she is one of the great chroniclers of our strange and perilous times." — Andrew Martin, author of Early Work
"Richly painted and powerfully poignant." — Good Housekeeping
"Strong is adept as characterizing this loss in all its manifestations, and in rendering the challenges inherent in three families trying to celebrate together. … Once again, Strong demonstrates her talents for perception and nuance." — Publishers Weekly
"A compelling portrait of how love and resentment are often twin sides of the same coin...Steger Strong has a raw and unflinching originality." — Vogue
"[Strong's] characters feel both familiar and unique, and she is skilled at creating subtly devastating moments mixed with hope and tenderness. Written during a time of intense isolation, Flight reminds us that there is power in community, family, and those special times in which we don't have to do anything but be human." — Booklist
"An intimate exploration of complicated family dynamics featuring nuanced portraits of distinct characters. It's a perfect book for anyone who feels more than a little conflicted about going to visit family for the holidays. With compassion and a deep sense of understanding, Flight explores the nature of belonging, and what it means to truly be part of a community." — Buzzfeed
"A Family Stone-like turn."  — The Hollywood Reporter
"I am delighted to report that [FLIGHT] was even better than I hoped. ... This is the book to pack for any 'flight' you take this holiday season." — Good Morning America
"Incredibly propulsive and filled with razor-sharp insights, Lynn Steger Strong shows us the power of familial love and care, which can support us through the plentiful failings of modern life." — Chicago Review of Books
"Nuanced and multidimensional. … The myriad fissures, fractures and worries are what make this family drama feel utterly real." — BookPage
"Tightly plotted and vividly rendered." — USA Today