Spells for the Modern Mystic: A Ritual Guidebook and Spell-Casting Kit (Hardcover)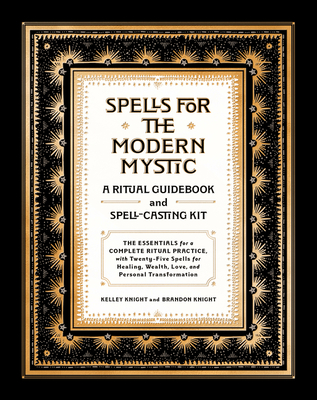 $39.99
Email orders@greenlightbookstore.com for information about this item.
Description
---
Looking to boost your self-empowerment and personal protection? Would you like to enhance your personal transformation and optimize the energy of the spaces in which you live and work? From one of the fastest growing spiritual brands comes guidance: a beautiful spell-casting book for modern mystics of all levels.  With more than 25 rituals and spells, Spells for the Modern Mystic holds the key to tapping into the universe to improve your life.
Spells for the Modern Mystic shows you step-by-step how to set up and perform rituals and cast spells in six life areas. self-protection; ancestral power; love; transformation; wealth; and personal spaces. It also includes an introductory section that explains the five essential elements of rituals—symbols, terms, and methodology, including how to set up altars—and answers frequently asked questions. With gorgeous specially commissioned black and gold patterns throughout and line drawings of essential symbols used in the spellwork, this indispensable guide written by experienced practitioners Kelley Knight and Brandon Knight will help empower you in every life area. 
Discover:
Protection and Clearing Rituals: Solar Shielding Ritual; Ritual Protection Bath; The Watcher's Call; Get the F*ck Out; Oops! Reversal Ritual
Ancestral Rituals: Setting Up an Ancestral Altar; Opening the Gates Ritual; Healing the Lineage Ritual; Inner Child Ritual; Family Healing Ritual
Transformation Rituals: Road Opener Ritual; Kali Transformation Ritual; Empowerment of the Chakras; Ritual of Command; Ritual of Power
Love Rituals: Self-Love Ritual; Removing Blocks to Love Ritual; Relationship Support Ritual; Passion Ritual; Attracting a Committed Relationship Ritual
Wealth Rituals: Setting Up a Wealth Altar; Job Obtainment or Promotion Ritual; Quick Cash Ritual 
Space Rituals: Clearing a Space; Protecting a Space; Obtaining a Space; Space Blessing
About the Author
---
Brandon and Kelley Knight own Modern Mystic Shop, a metaphysical store frequented by A-listers located in Atlanta, Georgia. Brandon is a master ritualist and teacher who performs one-on-one training and leads workshops on ritual magick at events across the country, including Bonnaroo. Kelley is a renowned tarot reader and the host of the 
Sunday School at Modern Mystic Shop
 podcast. She has been featured in 
Goop
; 
Nylon
; She's Next, Empowered by Visa; and the 
Atlanta Business Chronicle
's 40 Under 40 list. Together, they aim to make mysticism mainstream by sharing ancient spiritual knowledge applied to modern day. They live in Atlanta. 
Instagram @modernmystic_shop (40.2k followers)
Website: www.modernmysticshop.com